First is always special. From the first crush, relationship, kiss to the 1st wedding anniversary. Firsts are always memorable whether good or bad. Firsts are special because they are unforgettable. First wedding anniversary is like a milestone achieved. It is like spending a year with your best friend, lover, supporter all at the same time.
A lot of people spend lots of money on throwing the most lavish party to their better half. They want their first wedding anniversary to be earmarked. There's nothing wrong in celebrating it with your loved ones in a grand manner. However, nothing compares to the sweet little messages or notes or wishes to them on this big day. Luxuries can sure satisfy them but words reach directly to the heart. Words are thoughtful. You can show them their importance and place in your life. Make them feel wanted and loved. Here are some wishes you can send:
Happy 1st Anniversary Wishes
When you came in my life
It started smelling like Roses
The Best healer in my life
Your Ramantic Love doses.
Happy 1st Anniversary.
The Base of your relation
is love, Romance and care
one year has Passed
You still look a Honeymoon Pair.
Happy 1st Anniversary.
After watching your love
People  became your fans
Want to know from you
How to do Romance ?
Happy 1st Anniversary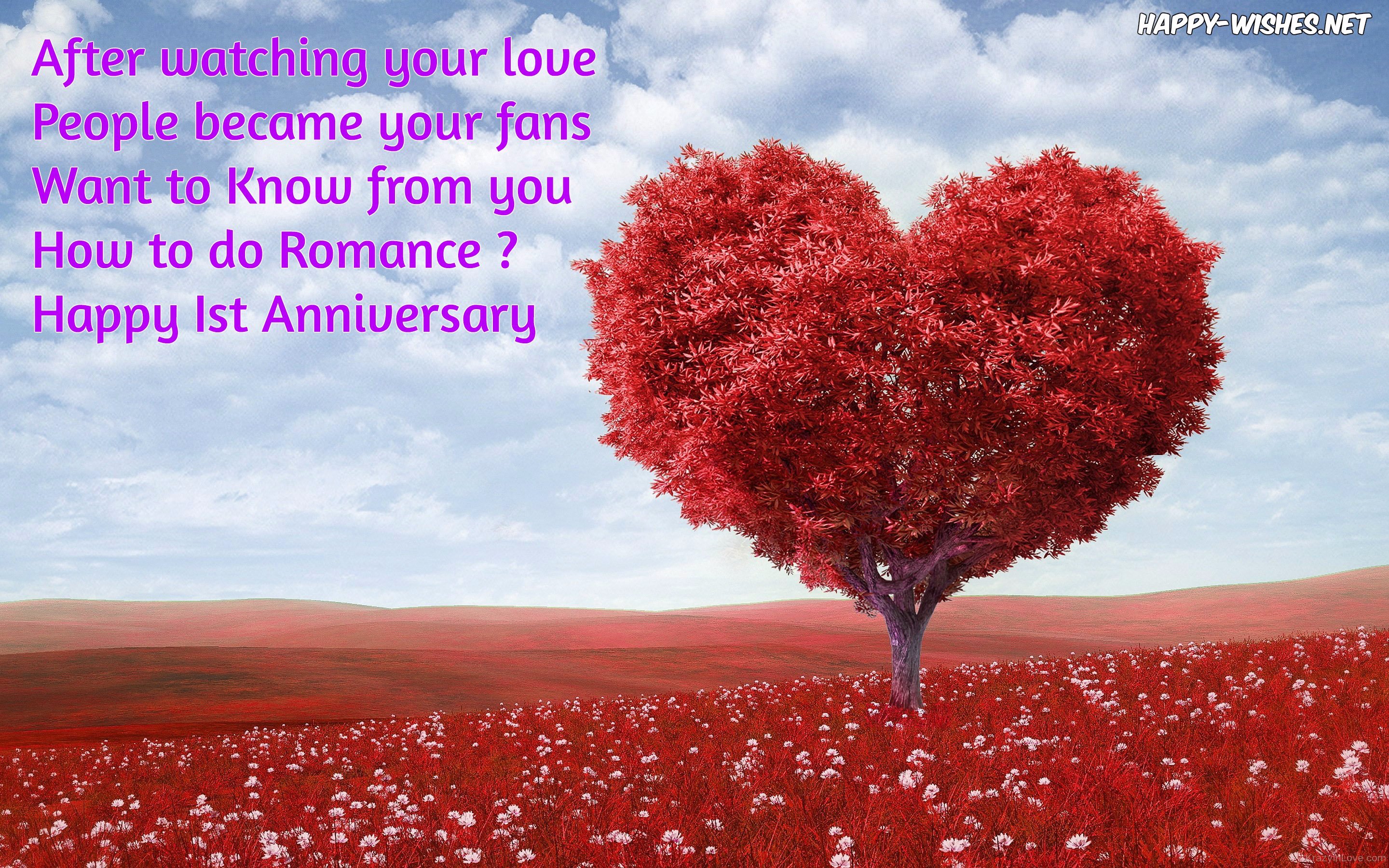 Your Beautiful face
and his muscular physic
You are made for each other
a pair fresh and unique
Happy 1st Anniversary.
12 Months of romance
365 Days of Charm
Even after the one year
Your Relation is so warm.
Happy 1st Anniversary.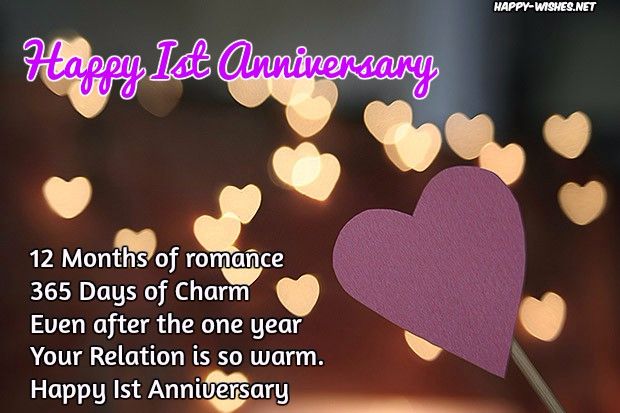 Your Are a lovely couple
Bonded, close and near
We congrtulate You on completing
A Happy Married life of one year
Happy 1st Anniversary.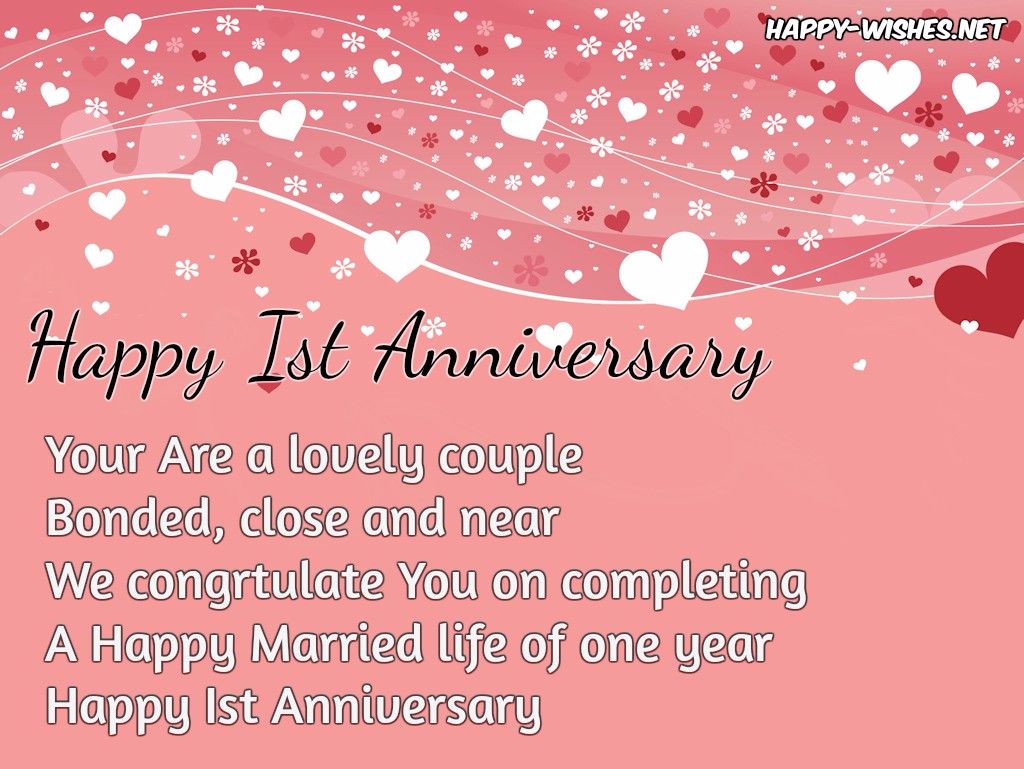 All the happiness come in your life
not a pinch of despair
Whenever any problem arise
you were together there.
Happy 1st Anniversary.
You Were Always Together
Gazing At Each Other
You Remain Happy Always
No Worry No Bother
Happy 1st Anniversary.
It is said that people always fall in love. When you loved it can be said that love has Risen after that
Happy 1st Anniversary.
Love is a mutual thing. You proved it Right. You Relation is becoming stronger. Its Future is Bright.
Happy 1st Anniversary
Happy 1st Anniversary Wishes To Husband/Wife
One beautiful year has passed and I cannot believe. There's no measure of time when I am with you. Here's to us for completing a year and for so many to come. Happy first to you. Love!
Hand in hand, side by side, laughing and fighting, loving and caring, we finally completed a year. This has been the best year of my life so far. I love you. Happy anniversary, love!
One year of togetherness. One year of companionship. One year of love. I feel so blessed. Happy anniversary!
Life becomes more beautiful with you. You are the reason why I feel alive these days. Happy anniversary. I love you!
How did you manage to tolerate me for a year? Thank you for putting up with me and my tantrums. I can never get enough of you. Happy anniversary, love!
Life can change so much in a year. My life had never been so special. You made it perfect. Happy anniversary!
Thanks for choosing me and loving despite all the flaws. I promise to keep you happy forever. Here's to our first. Happy anniversary love!
I will choose you over everyone in any lifetime. I will find you and I will choose only you. Happy anniversary!
I never believed in love until you came. I shied away from love songs until you gave me a reason to listen to them. It has been a year full of love. Thank you. Happy anniversary!
Cheers to us for completing a year flawlessly. Here's to many more to come. Happy anniversary!
On this very first anniversary, I promise to love you more with every passing day. I promise to be true no matter what. Happy anniversary!
Marriage wouldn't have been possible with anyone than you. You are everything I ever dreamed of. I love you. Happy anniversary!
It was a magical year with you. I look forward to more such magical milestones in our life. Happy first, love!
In the world full of drama I experienced a fairytale romance. Thanks to you. Happy anniversary!
The best part about spending life with you is that I know that you are not only my wife but also best friend. I can bare my soul to you like a friend. Thanks for being my lifeline. I love you. Happy anniversary!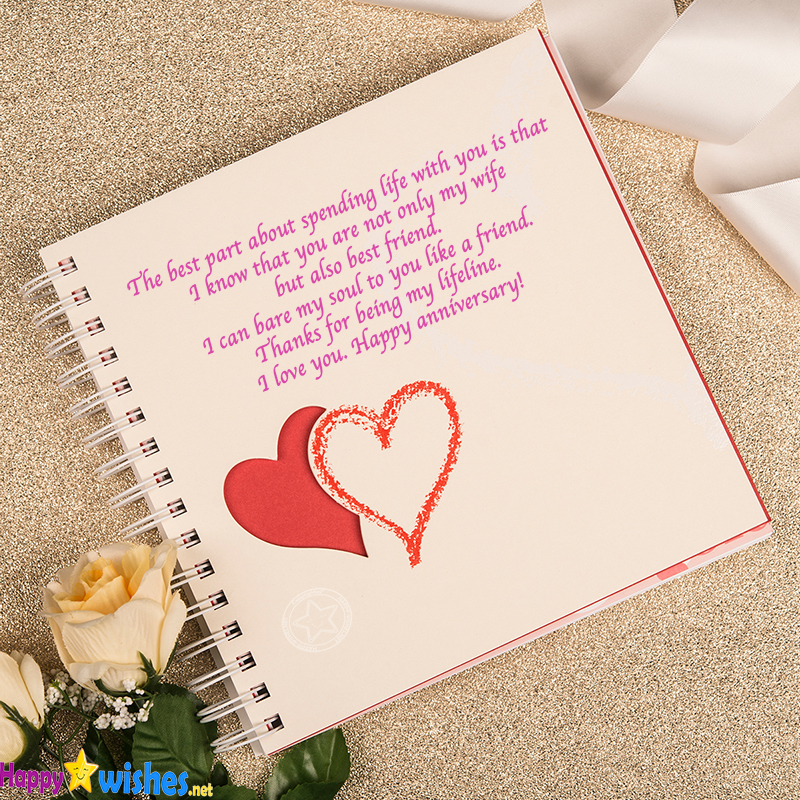 You will find these wishes exactly in accordance to what you were thinking. These wishes are filled with the words of love and appreciation for the couples. These wishes you can send to your husband, wife, brother, sister, brother-in-law, sister-in-law.  You may also like our other articles like wedding congratulation wishes and anniversary wishes memes.