An anniversary wish or message is a special emotion which you let them know how lovingly you think about their relationship. It is again that day of the wedding anniversary of your son and daughter in law. Maybe they no longer live with you and are settled far away from you. But, you may not let the distance be an obstruction for wishing them an anniversary. Your wishes and blessings will benefit them and they will feel really happy about it.
Our collection of beautiful anniversary wishes also consists of those wishes and messages which you can send them on their wedding anniversary day. This will make them feel special and a strong bond of love and concern will be created in between you and your son and his wife. Togetherness shared with life partner is the most everlasting and special moment. It is important to celebrate with great joy. It is also important to count your blessings upon a couple of their special day.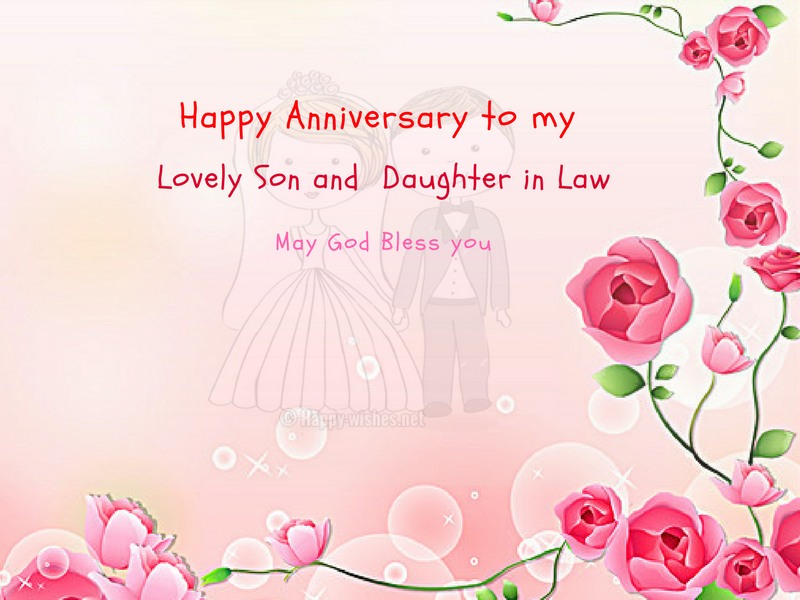 You can wish the couple by simply selecting some of the best anniversary wishes from our site which you send them in form of texts, hand-written letters or inscribe them in cards. You can also simply mail them or post in social networking sites. Choose a variety of anniversary wishes for your son and daughter in law from this article.
Anniversary Messages For Son and Daughter in Law
Dear Daughter-in-law, Ever since you came in my son's life I can see him changing into a dependable person. Thank you for being there for him. Happy Anniversary to you both!
Sending you both lots of blessings on the special day. Wish you a very happy anniversary!
Dear Son and Daughter-in-law, May you both celebrate more such milestones together. My love and blessings are always with you. Enjoy the day!
I feel very blessed to have a son and daughter-in-law in my life. You both make a perfect couple. Happy Anniversary!
On this day, I and your Dad wish you a lifetime of happiness together. May you always keep on loving each other the same way you do now.
Congratulations to the beautiful couple who brighten up my life just by being a part of it. Happy Anniversary!
Dear son, You make me proud every day by being such a humble husband. Be the way you are. Wish you a very happy anniversary!
Anniversary is a time to relax and look back at the times spent together. May you both reminisce the good on this day and find more reasons to love each other. Lots of love from Mom and Dad.
You both make an amazing couple. Happy anniversary my beloved son and daughter-in-law.
It is a complete happiness to have both of your in our life. You together make a lovely pair. Happy Anniversary dear son and our daughter who has made us her second parents.
Blessings and love are being sent to you. Celebrate your marriage with a great party.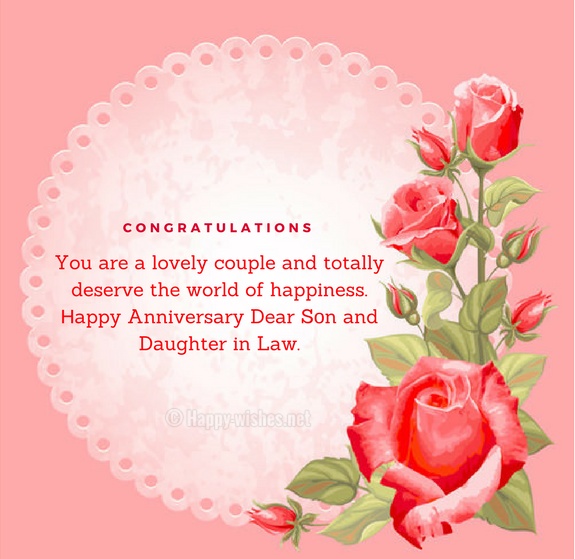 On this day, you were married. Now, this anniversary is an occasion to remember your togetherness. Happy anniversary to both my children.
On your anniversary, I and your Dad wish for more happiness in near future to fill up your life. Happy anniversary dear son and daughter in law.
Congratulations to the most wonderful couple, who brightens up our life every day. May this anniversary brings luck and success in your lives.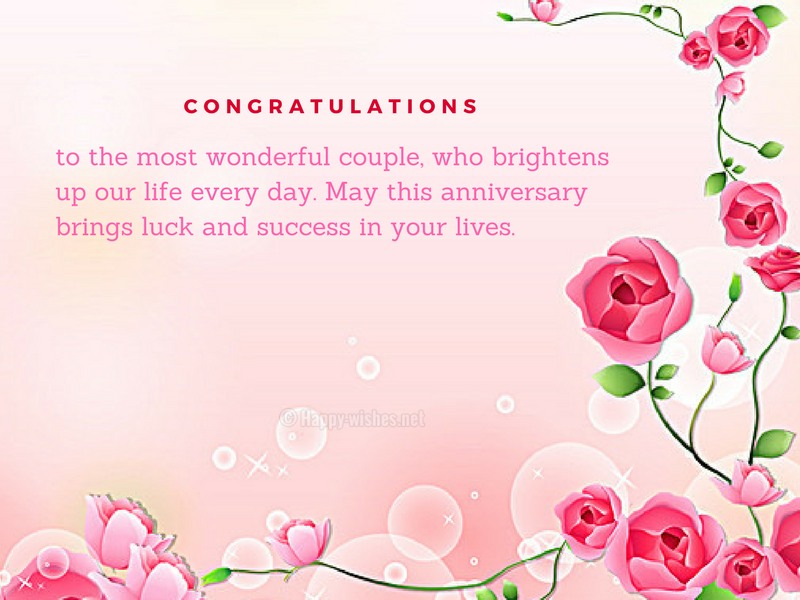 This was the day when you became one and gave us sheer joy. Happy Anniversary my dear ones.
You are a lovely couple and totally deserve the world of happiness. Ηappy Anniversary Dear Sοn and Daughter in Law.
"Be alive to fulfill all your dreams, Relish memories of each day
May all your worries go away,
This is an Anniversary wishes to come from my heart
May this year have a beautiful start."
A happy anniversary to my lovely son and beautiful daughter- in law. You too are always cared and loved. Missing you all on your best day. Enjoy each moment of this celebration.
Blessings are sent with lots of love and affection. May you all have a happy anniversary and keep good health with long life.
With lots of love, blessings, and hug….. I wish my son and daughter in law a very happy wedding anniversary.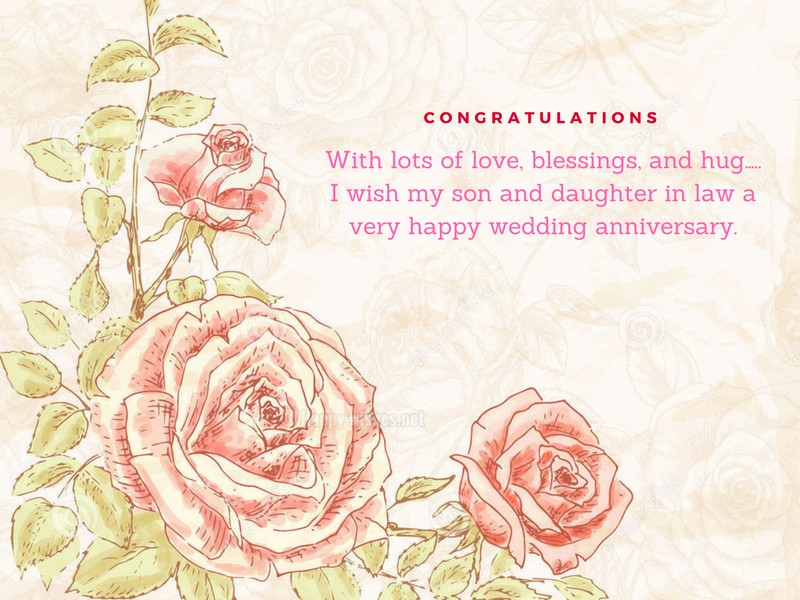 Life is full of happiness and sorrow. Yet you both have managed to score well. A very loving wishes for completing your one year of married life.
You two are the strength of our home and your presence completes our family. Heartiest wishes for your wedding anniversary.
May your bond of love gets firmer every day, May you have respect, love, and care for each other. We are always with you in time of need. Now get ready to celebrate your anniversary with a candlelight dinner at the restaurant which we have secretly booked it for you.
I wish and pray that you both be blessed by the almighty God and walk in his direction of your life's journey. Happy wedding anniversary.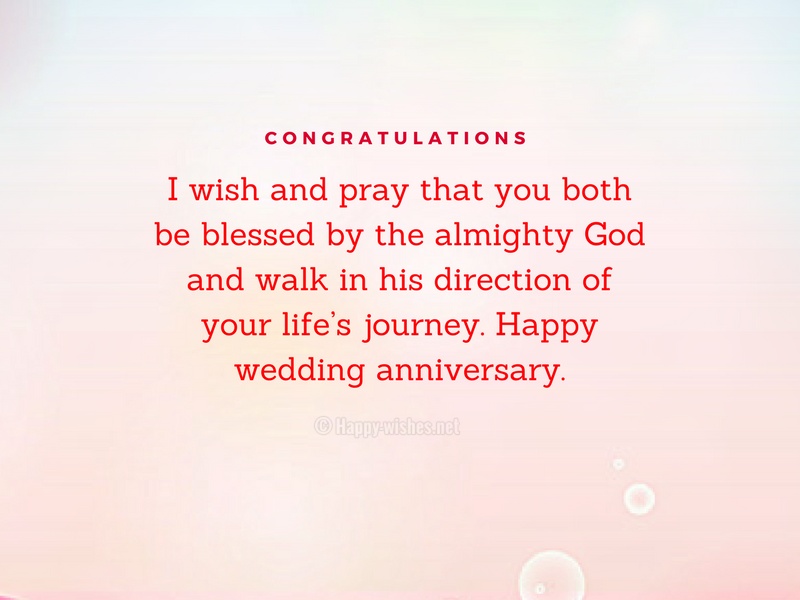 May your everyday be filled with love, happiness and special moments, especially your wedding anniversary… Heartiest wishes for the same.
You both are our pride and make our life complete, be happy both of you…… Happy wishes for your anniversary.
You have been such an amazing partner, and today is the day of great celebration. Enjoy to the fullest and best wishes and love on this great day.
Our son and daughter-in-law are the greatest kids in this world. We love you both very dearly. Cheers to your togetherness… and celebrate your anniversary.
Marriage is the fantastic exam of life. I see that you both are faring quite well. Stay blessed and enjoy the day of your anniversary.
Dear Daughter-in-law, I always wished to have a daughter in my life and then you came and filled the void. Lots of blessings to you on this special day. Enjoy!
I thank God every day for blessing me with such an amazing son and daughter-in-law. May you both always find happiness and joy. Happy Anniversary.
On this day, I and your Mom are sending you loads of blessings. May you both shine together like no other. Wish you a very happy anniversary!
I wish that my son and daughter-in-law always be happy together. You both make me charged up with happiness. Enjoy the day!
I feel so lucky to see my son so much in love. This all have been possible because of you, my beloved daughter-in-law. Thanks for making him a better person. Happy Anniversary!
Sending you lots of love and good wishes on this special day. Have fun!
No matter what never lose the love that binds you both together. Wish you a very happy anniversary!
May the sunshine of happiness always guide your way. Our blessings are always with you two. Happy Anniversary. Love, from Mom and Dad.
Happy Anniversary! Congratulations on spending another year together.
Happy Anniversary, my children. May you celebrate many more years together withstanding the tests of time to emerge happier and stronger.
May the light of love always protect you from the clouds of misunderstandings. Happy Anniversary to you both!
Hold each other's hand and never let go even in the hardest of times. That's how you make a marriage work. Wish you a very happy anniversary!
Sending you blessings and love so that you continue to grow together. Enjoy the day!
The sweetest of anniversaries are a result of getting through the most bitter of all moments of life- hand in hand and heart to heart. Happy anniversary!
I and your Dad are very proud of you both. Keep loving each other the way you do. Have fun!
We just want to let you know how happy we are for you both to be celebrating another year of love and happiness. May this love continues to blossom with each passing day. Happy Anniversary!
So, here are some of the beautiful messages and wishes to cheer up your son and daughter in law on their special day. Careful selection is very important, so make your choice of wishes and messages wisely.