Our Parents are the most Important and lovable people in our life. Since our childhood, they sacrificed, they sacrifice a lot in order to fulfill our demands and other basic requirements. They try to give us all the happiness in the world, to the best of their capabilities. They not only gave birth to us but also showered their unconditional love on us, without expecting anything from us. We, as their children, can never repay the favor of our parents. However, we can try to bring a smile on their face by celebrating special moments of their lives. Their marriage anniversary is one such occasion that is close to their hearts and we make them feel special by celebrating it with great enthusiasm and joy.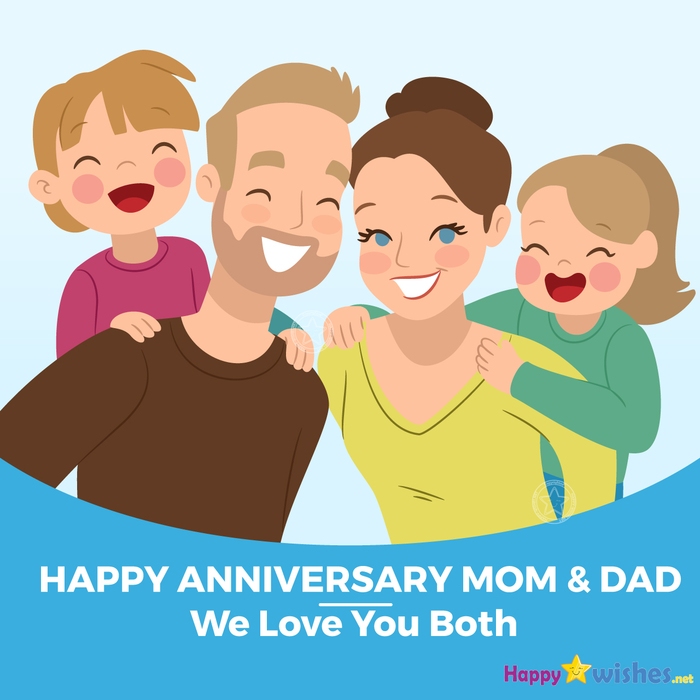 So, to help you make your parents feel special, we have a great collection of Anniversary Wishes for parents. We should never let go any moments to make them happy. We should never let go any moment to make our parents happy and bring a smile to their faces. So, just send them the best anniversary wishes that make this occasion worth remembering for them. Express your love and respect for them through your best wishes. Send these Marriage anniversary wishes to your parents. These are the cutest wishes that you can send them.
Happy Anniversary to Parents wishes
Your relationship strengthens year after year
In the eyes of each other, you can't see even a single tear
You have been a great parents,
As when you are with me, there is nothing to fear.
Wish you a very happy Anniversary Mom & Dad.
Whenever there was darkness,
You were the light for each other.
You have been so great together,
That I am sure, no matter whatever happens,
You will never fight with each other
Happy Anniversary Mom and Dad.
You still have that love for each other
It only increases as you are growing older
When you are together,
There is nothing to bother.
Happy anniversary mom and dad.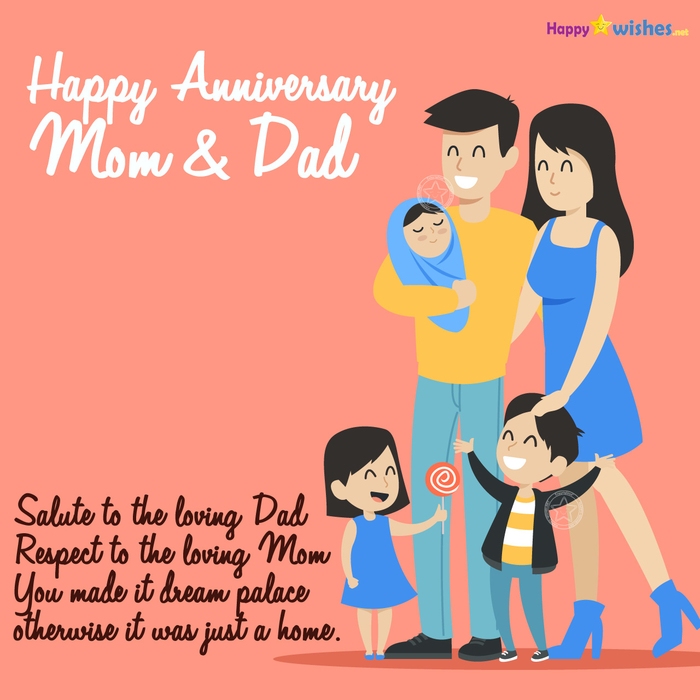 Dear Mom and Dad
You are the best gift I have ever had
I know you can do anything to make each other smile
When any one of you is sad.
Happy Anniversary Mom and Dad
Happy Anniversary Dear Mom & Dad,
I am lucky to have both of you as my parents.
May your love blossom like flowers every year.
They always make me happy
They are my mom and dad
Happy anniversary to both
An occasion to be glad
Happy Anniversary To Mom and Dad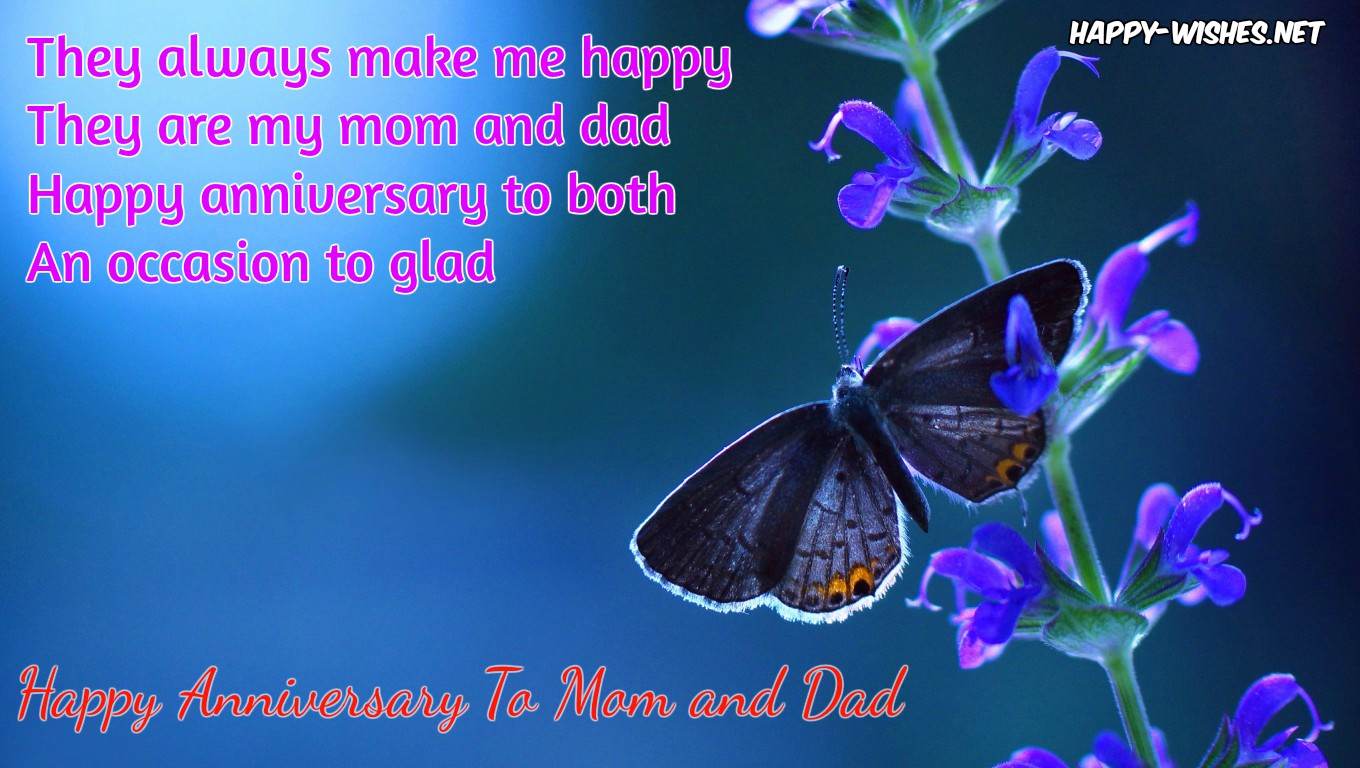 My mom's love and care has always encouraged me to be polite. My dad's vision has always helped me to think Big. Due to these two qualities, that my mom and dad has passed on to me. I am living a successful life. Happy Anniversary To Mom and Dad.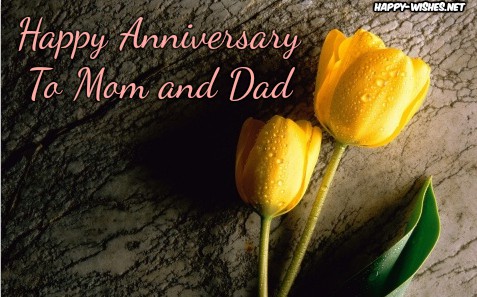 Dad loved me with passion
Mom loved me with care.
I wish Happy anniversary to the
World's most beautiful pair.
Happy Anniversary Mom and Dad.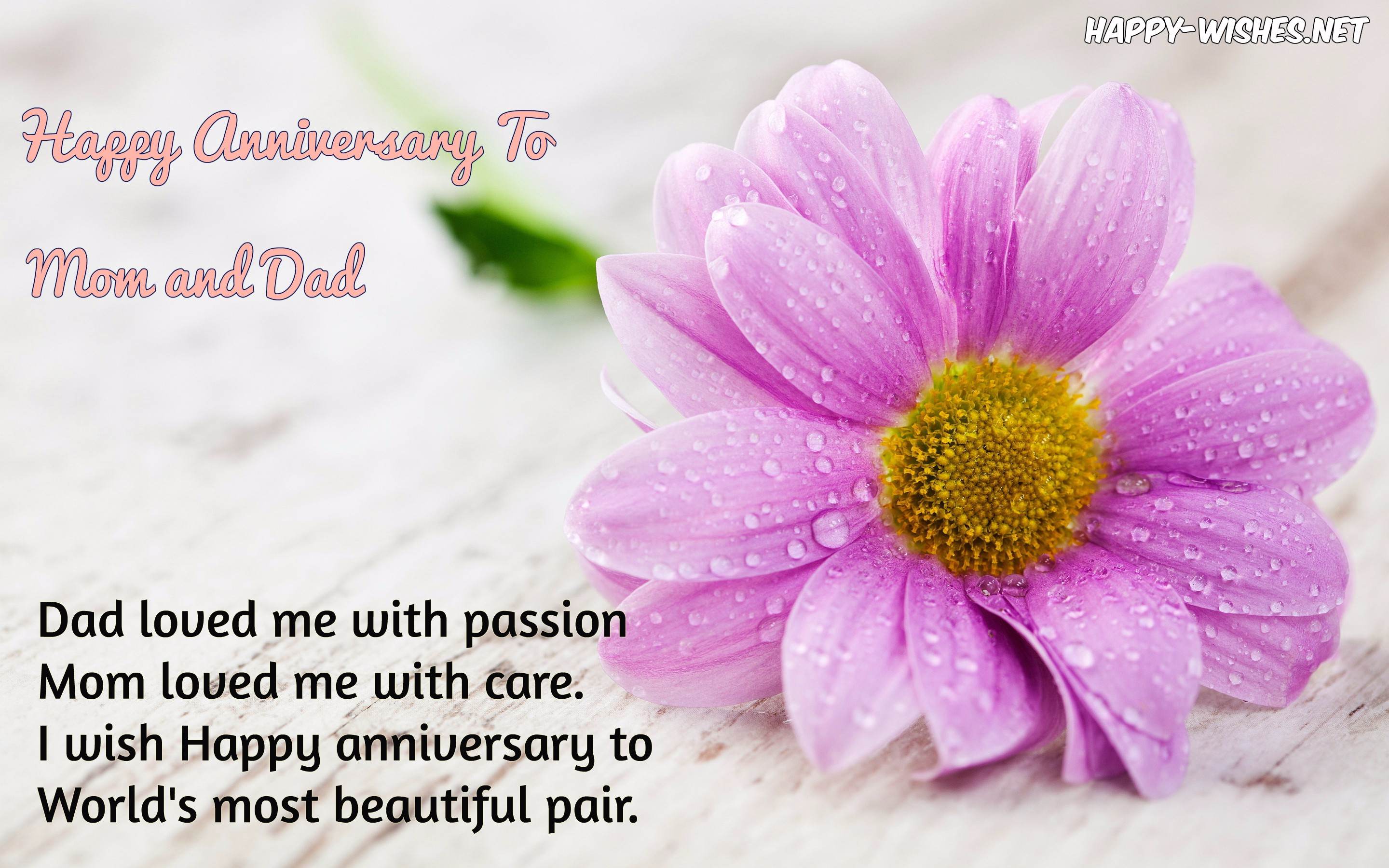 You always look beautiful
How so ever You are  Dressed
Having a Mom dad like you
I feel really Blessed
Happy Anniversary Mom and Dad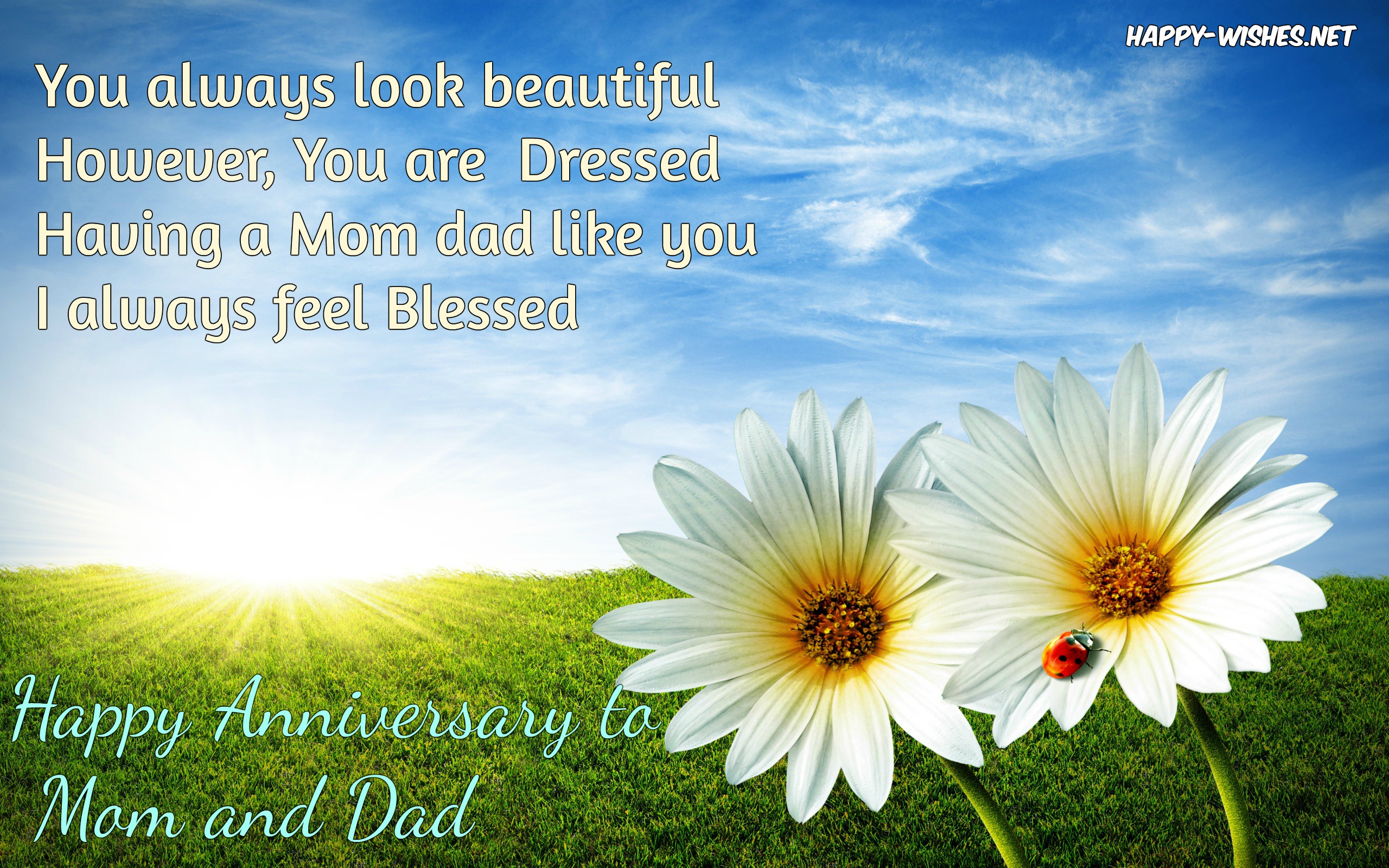 You are great as parents
You are great as a guide
Your togetherness makes me happy
It makes me feel pride
Happy Anniversary Mom and Dad
I respect dad's hardwork
I remeber mom's flair
I  can't forget dad's sacrifice
I can't forget mom's care
Happy Anniversary Mom and Dad
You made my childhood happy
You never let me feel sad
A very happy marriage anniversary to you
World's Greatest Mom and Dad.
Happy Anniversary Mom and Dad
Salute to to the loving Dad
Respect to the loving mom
You made it a dream palace
otherwise, it was just a home.
Happy Anniversary Mom and Dad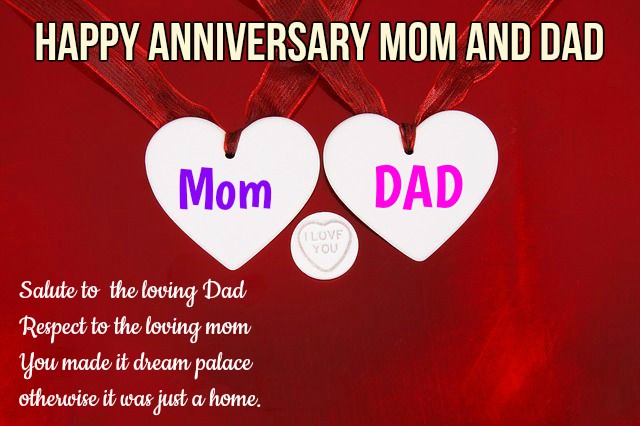 Together you look awesome
Your pair is so great
You are  lovely parents
Anyone finds it with fate
Happy Anniversary Mom and Dad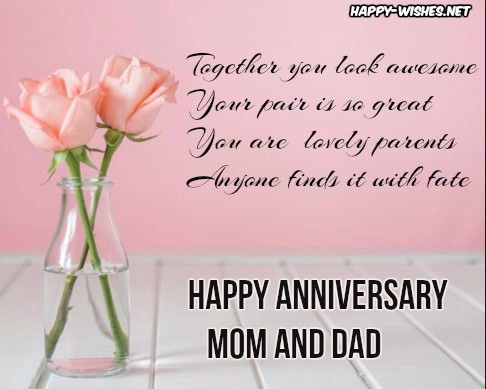 Happy Anniversary to my all-time favourite couple
Mom & Dad,
You share wonderful relationship &
I wonder how someone can be like as perfect as both of you.
You raised me decently,
You loved me endlessly,
I wish to see you happy with each other everyday
Happy Anniversary, This day means a lot to me.
Wishing countless blessings on this amazing day to the ideal couple.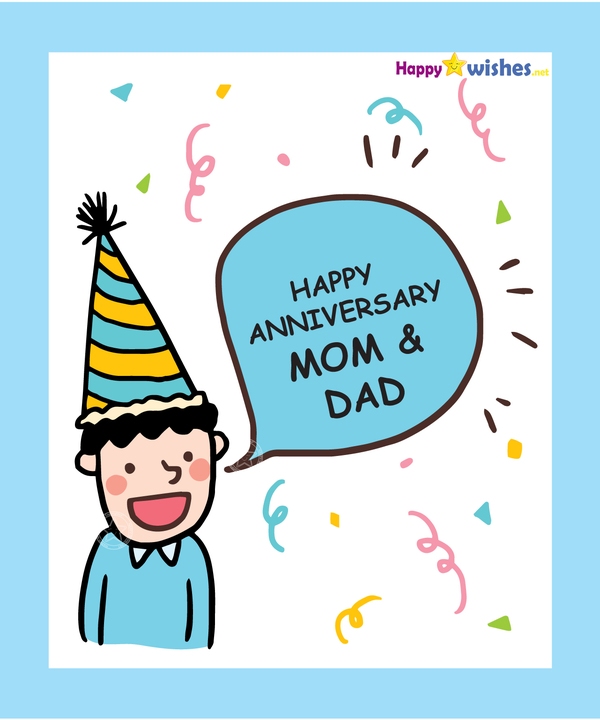 Words are not enough to express my love for you Mom & Dad,
My wishes and countless blessings will always be there for both of you,
Wishing very happy anniversary and amazing day to my parents
No Matter, how hard were situations, you have always been together,
Cheers to the lovely memories and time you created for each other,
Thanks for being with us always,
Happy Anniversary dear mom and dad
Wishing you many more happy years and blissful life with each other, Happy Anniversary to an Ideal couple
May parents are next to the God for me,
They have guided me, supported me and understood me,
Lucky to have both of you as my parents,
Happy Anniversary and lots of wishes to you
Nothing can change the fact that my parents are symbol of unconditional love and unbreakable bond. I am happy that I am part of your life. Happy anniversary dear parents, May God offer you many more happy years to enjoy with each other.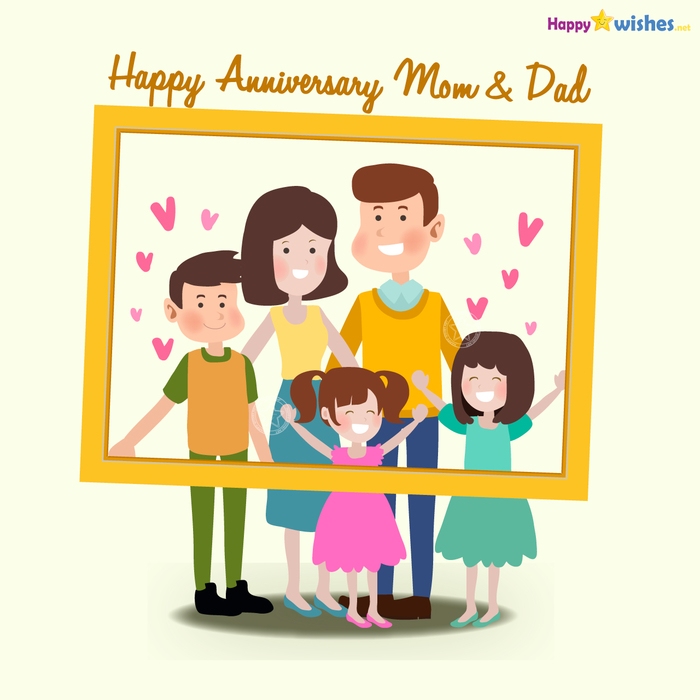 I would have never believed on the relationship like Marriage if you would have not made me understood the real meaning of unconditional and endless love.
Thanks Mom & Dad.
Happy Anniversary, enjoy your day at fullest.
Dear Parents,
Seeing you happy with each other is like an eye treat for me,
It makes me feel happy and content,
Be happy always,
Happy Anniversary to my cutest Mom & Dad.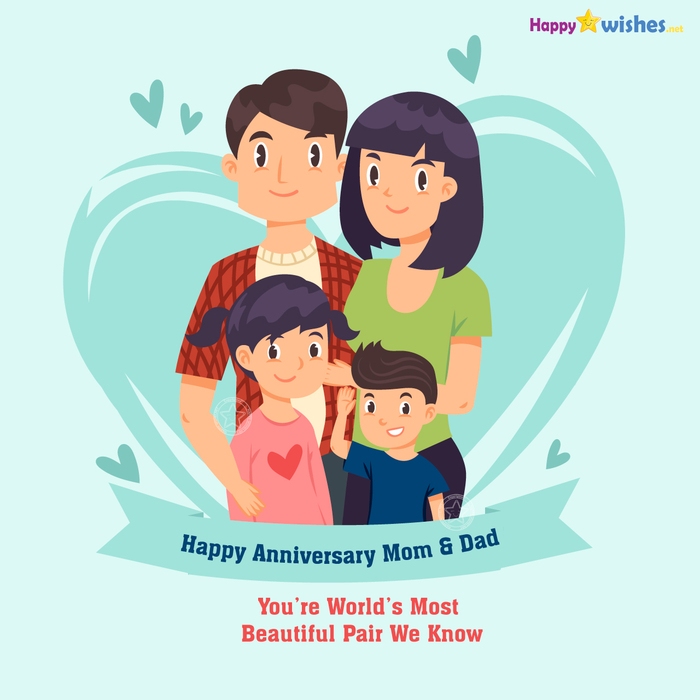 We hope you guys will like all these happy anniversary wishes for parents. Share these beautiful Happy anniversary wishes with your mom and dad and you guys will definitely feel happy and proud after sharing all these wishes with your mom and dad. You may also like our other articles like  Happy anniversary quotes and happy anniversary pictures. Share these article with your mom and dad on facebook and twitter.