God is an integral part of our existence. Some people believe that there is indeed some creator who is nourishing and taking care of us while others deny it boldly. It is more of based on our faith. God becomes the part of us the very moment we are born. Right from exclaiming "Oh God!" after looking at the baby for the first time to performing all the religious rites for his happy life. We devote ourselves to him in the good or bad. But as the child grows up and as life begins to carve he forgets to worship his creator. He begins to search of logic instead of faith. That's exactly when religious wishes from the parents come into practice.
Parents want their Son to be safe and happy regardless. They put an undying faith in the God and so send their son religious wishes for his life to be on track. Here are some of the wishes you can send to your Son on his special day:
Religious Birthday Wishes for Son
I thank God every day for sending you in my life. I wish that God always keeps you happy and safe. I wish he grants you success. Amen. Happy birthday son!
May God will make all your Birthdays Happy Like this. Happy Birthday Son.
May God forgives all your sins on this birthday. And keep showering his blessings on you for entire life.Happy Birthday son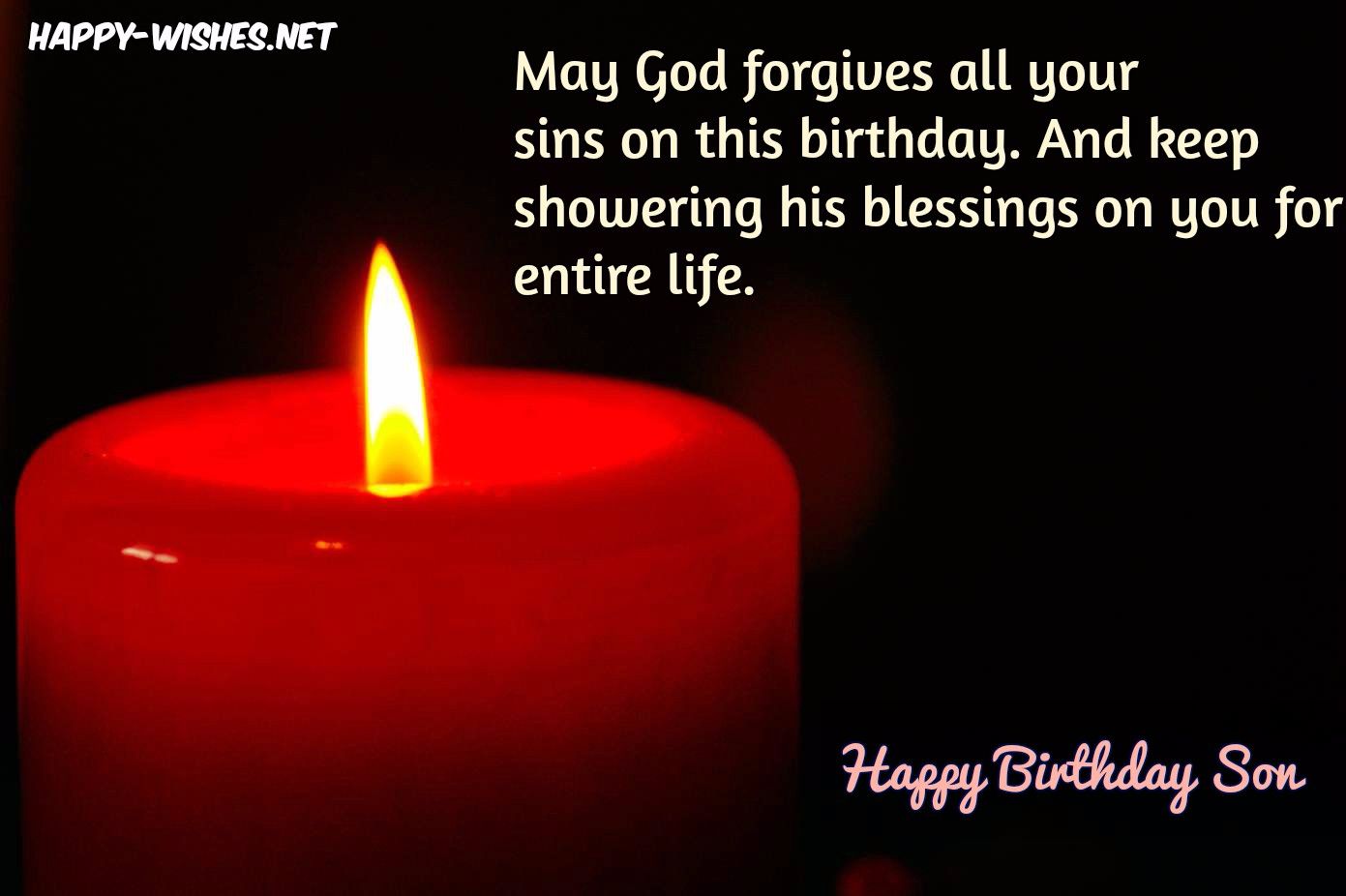 God have made all the beautiful creations in the world. And I thank him for sending one of them to my home. Happy Birthday Son.
Remember him in the good and bad for he is the saviour. Seek for him and he will bless you with everything. Happy Birthday Son.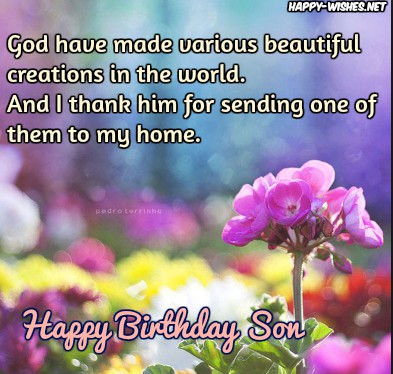 May your Birthday will become an occasion to cherish the Happy Memories. Happy Birthday Son.
May God grant you happiness, luck, and peace in your upcoming life. Happy Birthday Son.
May you always remain happy and always trust in God. Happy Birthday Son.
May you always remain a Happy and Blessed my child. Happy Birthday!.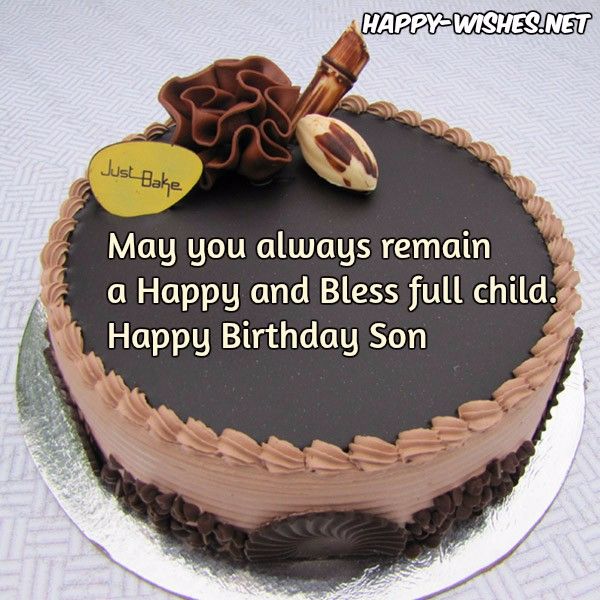 Always remember God in good time. And he will not forget you in your bad times. Happy Birthday Son.
The world became a better place for me the day you were born. God made you a beautiful child, my son. May he bless you with enormous happiness and success. Happy Birthday!
Life gives everyone enough shares of ups and downs. It keeps on changing but God never does. He always stays the same. May you seek him in both good and the bad. May you always be happy, my son. Happy Birthday!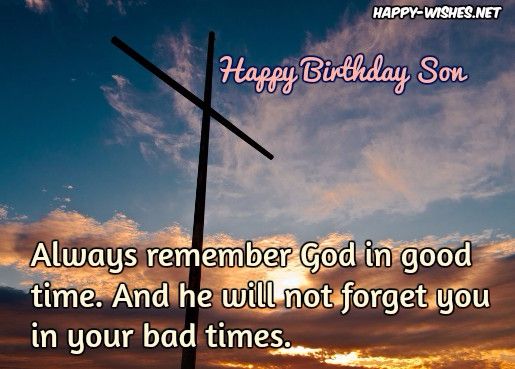 Follow the path of God. And he will make your path of life easy and happy. Happy Birthday Son.
God has sent his cutest angel to me in the form of my son. Happy Birthday Son.
Follow his path, his teachings and you will never suffer. Happy birthday son!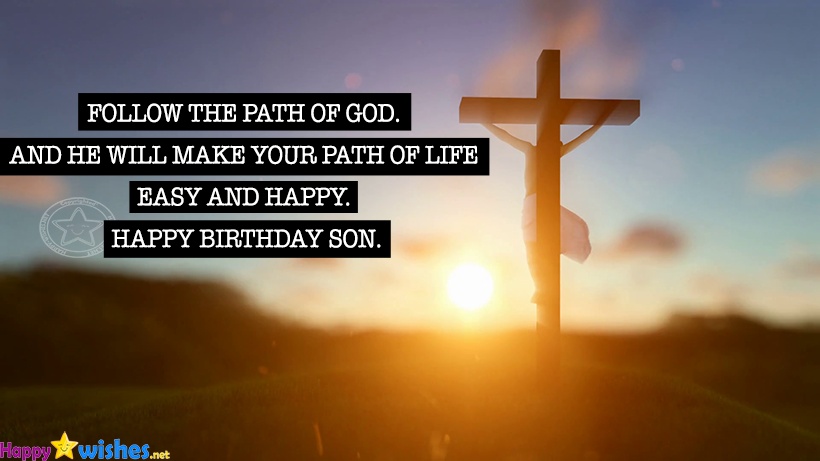 God is there for us all. We just need to seek for him. I wish he answers all of your requests. Happy Birthday!
On this birthday I wish God showers blessing on you. I wish he bless you with the best of everything. Happy Birthday son!
I thank heavens on this beautiful day since you were born. God sent you like an angel into my life. May he stay with you like a guiding angel. Happy birthday, my dearest son. I wish for you long life and happiness. Amen!
Life becomes easy to go when you believe in God and his teachings. May you always follow and learn from his teachings. May you always be happy. Happy birthday son!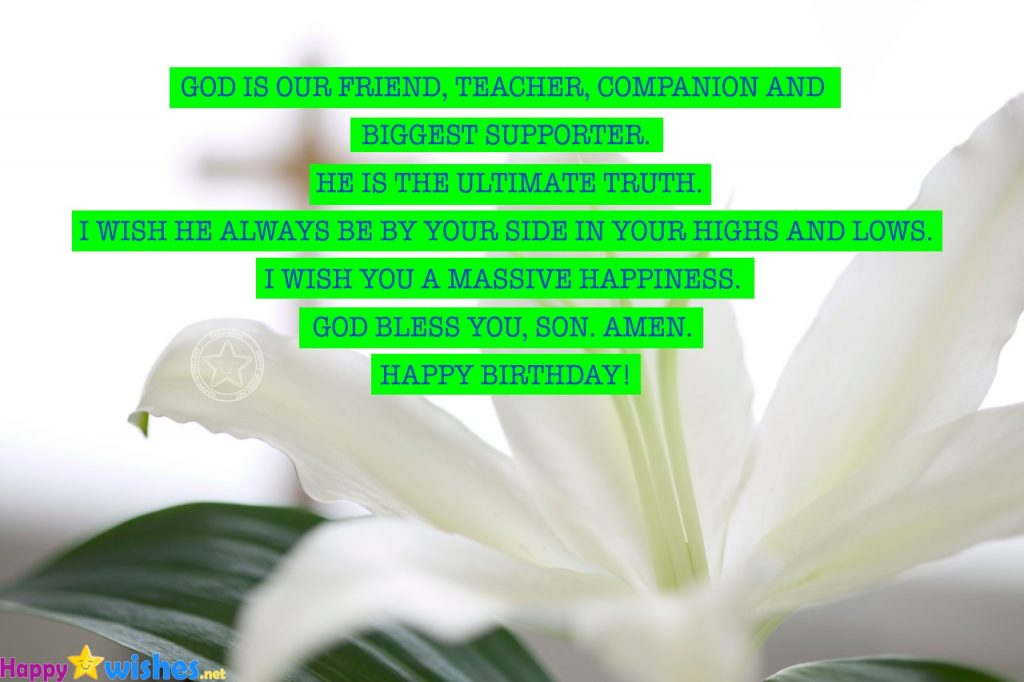 There's nothing to worry for he is there to take care of us. Happy birthday son!
You are a God child already. Always making others happy and always putting others before you. Kind, compassionate and loving. I wish God give you ten folds of what you do for others. I wish you never be sad. Happy birthday, son. Amen!
God is our friend, teacher, companion and biggest supporter. He is the ultimate truth. I wish he always be by your side in your highs and lows. I wish you a massive happiness. God bless you, child. Amen. Happy Birthday!
Faith in God is the key to happiness and I wish this key stays with you forever. Happy Birthday, son!
Life is tough but so are you. God can render anything easy for you. Do not worry. God bless you, son. Happy Birthday!
No matter how much you grow up, you will always be a little child for me. Same is the case with God. We are all his little children. I wish he keeps blessing on you. Happy birthday, son!
We have the best collection of religious birthday wishes for son. These wishes contain all the words of blessing for your son. These positive and energizing wishes will definitely make them happy on their birthday.