Christmas is one of the best time to wish your friends and relatives. Apart from your family members you also spend time with your office colleagues and coworkers. You guys work together and help each other throughout the year. So Christmas is the best time to say thanks for all the year and make each other happy. we have added some of the best wishes that you can send to your colleagues on Christmas.
your life revolves around your work and your work is greatly influenced by your co-workers. So don't forget to share some of the best wishes to your supporting co-workers. Show benevolence to your junior co-workers for their respect. And Say thanks to your senior co-workers for their right guidance. Just Remember all the best time that you guys spent together with your colleague in the workplace and wish them the best wishes. Take a look at our collection of Best Wishes for Colleagues.
Merry Christmas Wishes for Coworkers
I hope we all meet again with new ideas and energy. Merry Christmas and Happy New Year.
I hope this Christmas we ignite each other with new ideas and energy. Merry Christmas.
We want to take a special moment to appreciate, How awesome you are! Merry Christmas.
Christmas is a special time of year for those who are dear to us to remember. Wishing you a Merry Christmas.
Can I take a special moment and appreciate my coworkers for such a successful year with lots of laughter and great cooperation in the company. Merry Christmas.
Christmas is a time to be thankful to people who have been a huge part of your life. Use this Christmas to show your profound appreciation and their dedication by wishing them and their family. Merry Christmas!
Thank you for all you do to make our office a fun place to be all year round. Wishing you and yours a very merry Christmas.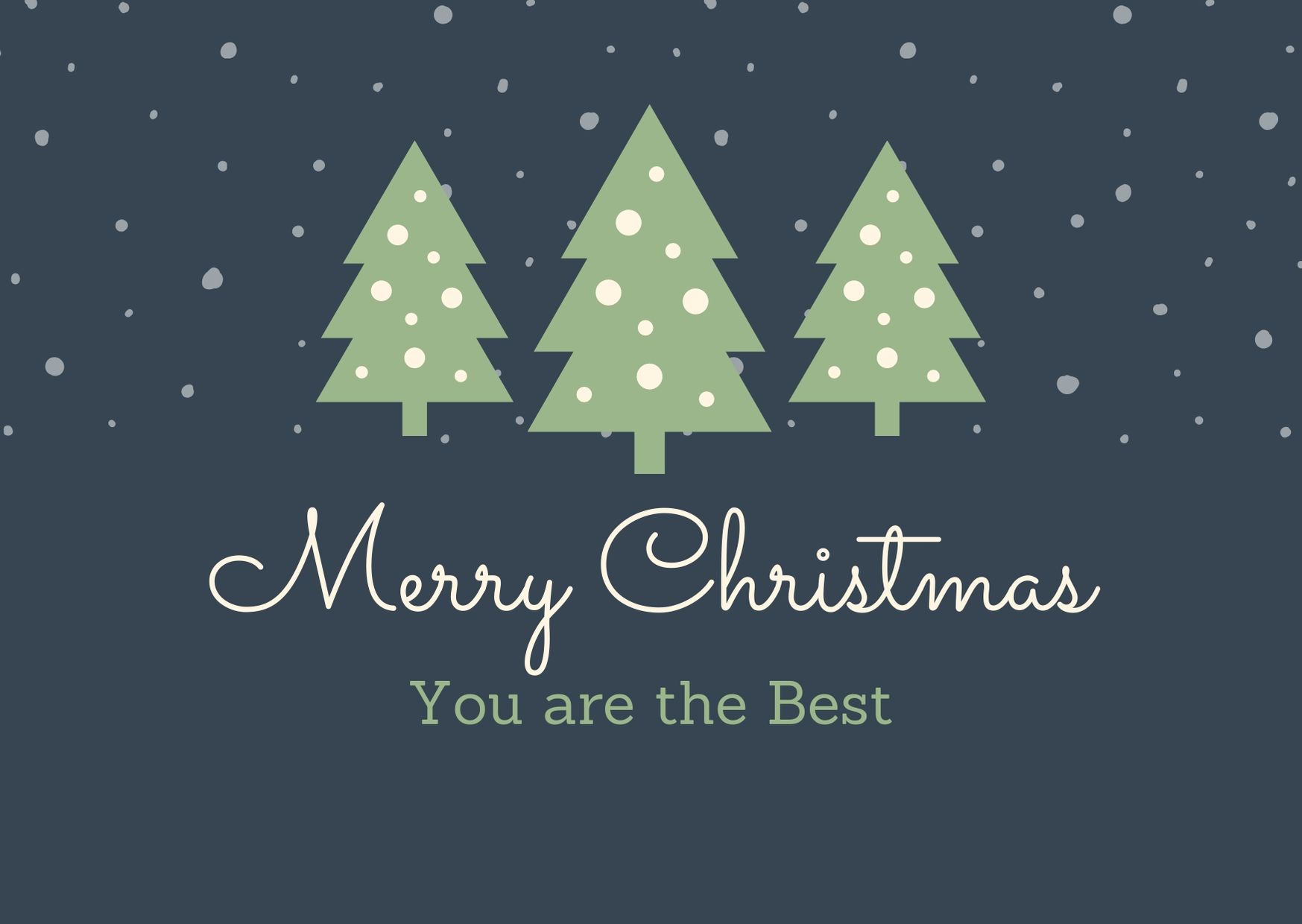 When a bunch of creativity ignites then comes the idea. Merry Christmas.
Congratulations my favorite co-workers. It's that time of the year again.
Christmas without colleagues is like a day without sunshine. Thanks for being the foundation of our company. Merry Christmas.
In this season of the holiday may your heart be like the Christmas candle that lights everywhere gently, silently and unselfishly.
Christmas is just one more day to say working with you has always been wonderful! Merry Christmas!
The holidays are here again, a time for remembering those who have stayed beside us during the last year. I am grateful to have colleagues like you, who are a pleasure to work with. Thank You and best wishes for the holidays and coming new year!
The load is lighter when shared among colleagues. Thank you for your help and companionship because it is what makes my success possible. Merry Christmas!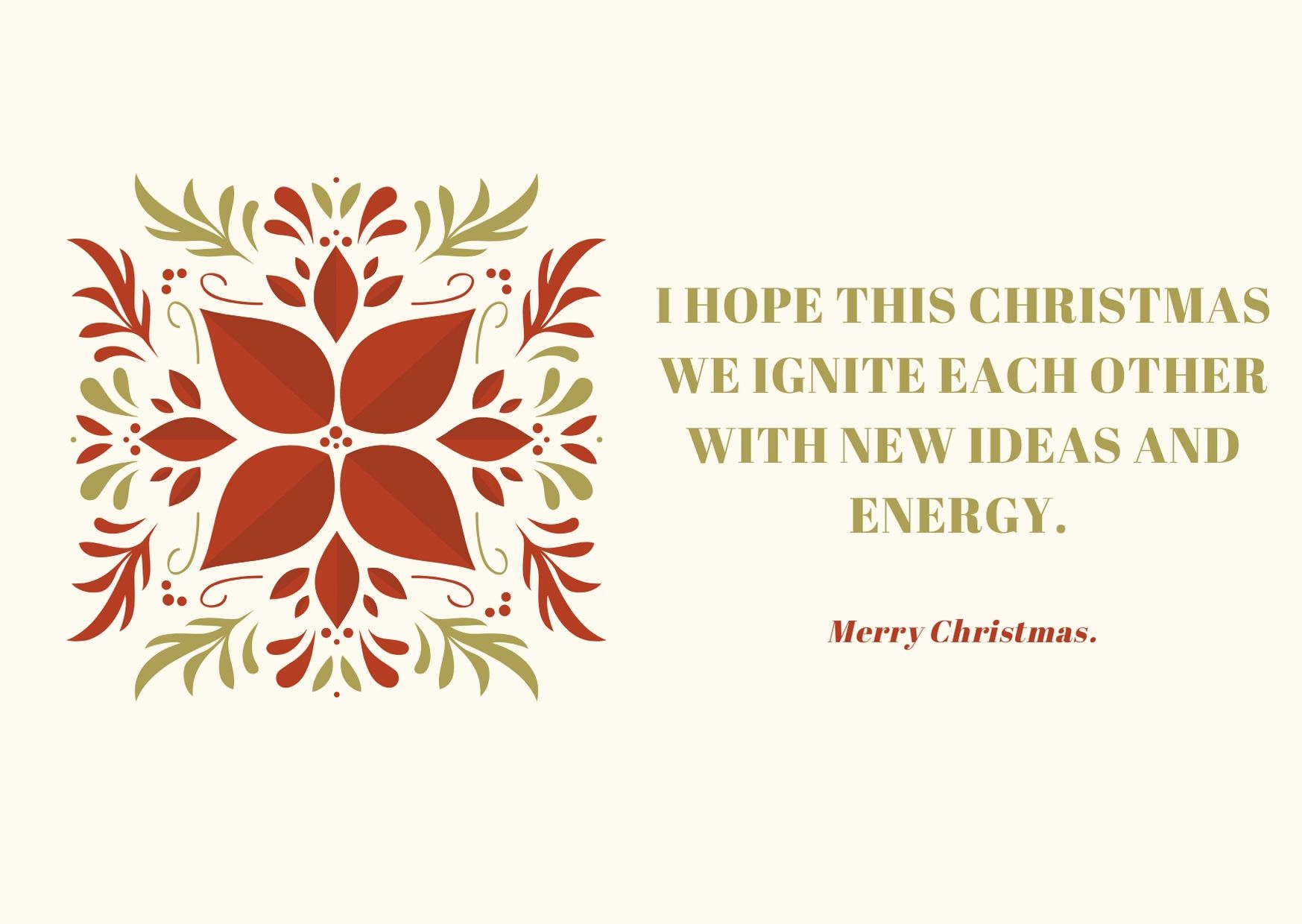 During the holidays, my thoughts are reserved for your companionship throughout the year. I look forward to another year of working besides you. Merry Christmas and Happy Holidays!
During this holiday season, I feel very lucky because I work with you. In a job surrounded by very nice people they trust is all anybody could ask for. Merry Christmas! May your dreams lead to Happiness!
Co-workers are like decorations of Christmas. We all hanging together, but half of them are not working and the other half isn't so bright. Happy Wishes of the seasons.
Thanks for making my work seem so much easier and fun with you by my side. Hopefully, you are enjoying the holidays as much as I enjoy working with you. Many Blessings to your family. Merry Christmas!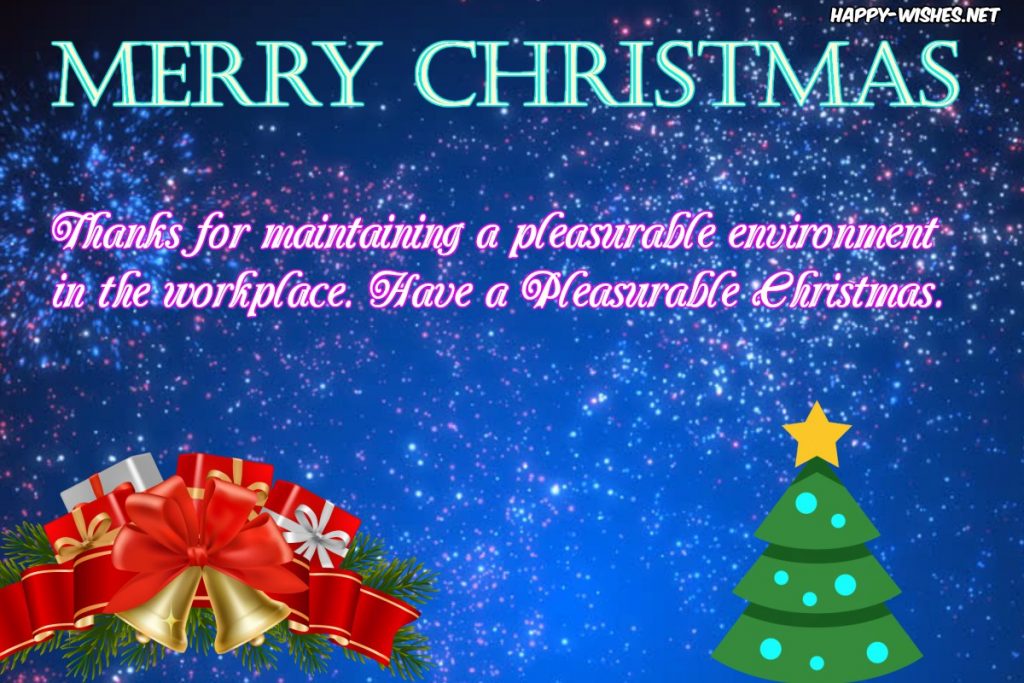 Thanks for maintaining a pleasurable environment in the workplace. Have a Pleasurable Christmas.
Merry Christmas to the man who has always maintained the Christmas spirit at the workplace.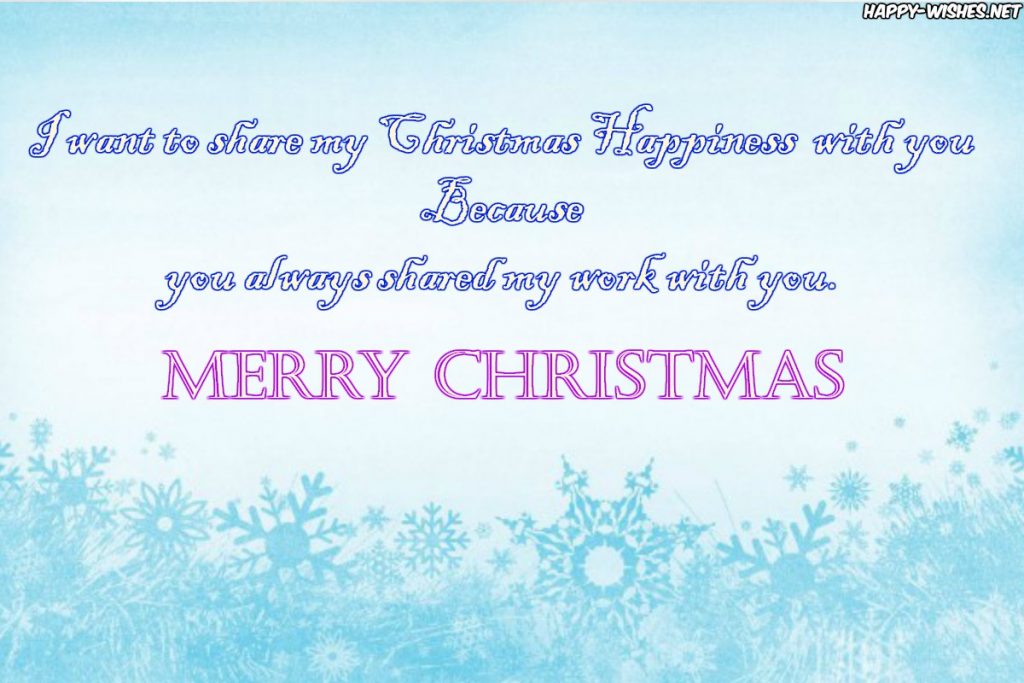 I want to share my Christmas Happiness with you. Because
you always shared my work with yourself.
Merry Christmas to you friend, May we will keep the Christmas spirit alive in the next year also.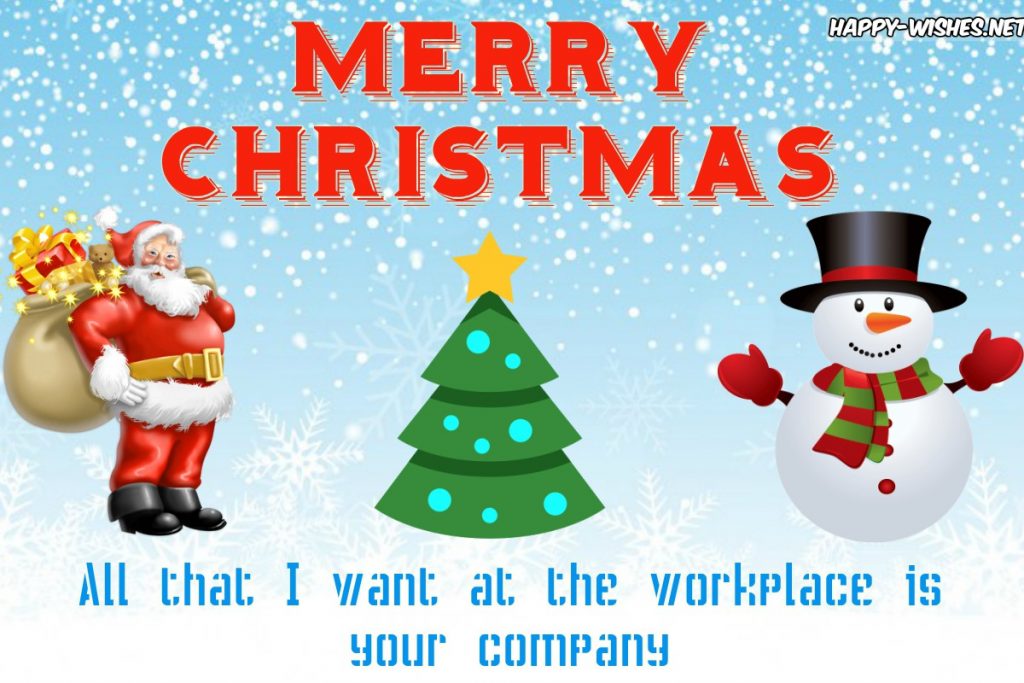 All that I want in the workplace is your company.
Merry Christmas
May you get all the success on Christmas in the new year for which you are always eligible.
Merry Christmas to my friend and the best colleague.
Thanks for making my workplace so beautiful with your guidance and love.
Special Christmas wishes for the special Teammate.
Thanks for making this relation
Respect love and Inspiration
Merry Christmas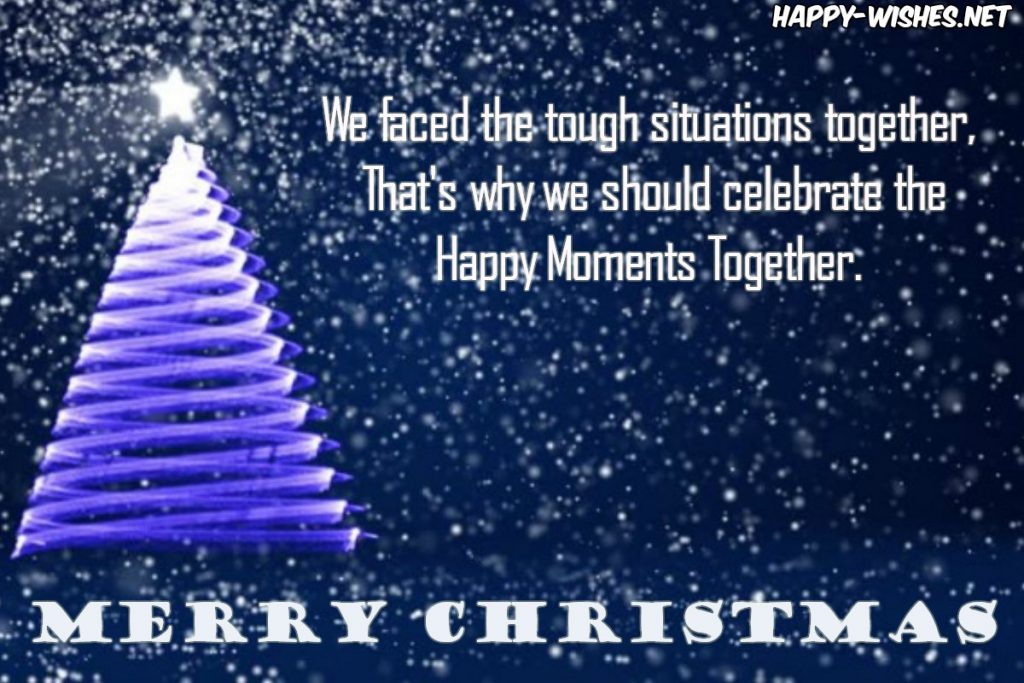 We faced the tough situations together, That's why we should celebrate the Happy Moments Together. Merry Christmas
Merry Christmas Wishes to You and your family.
You are like my family
You are no others
You are loving as Friends
And loyal as Brother.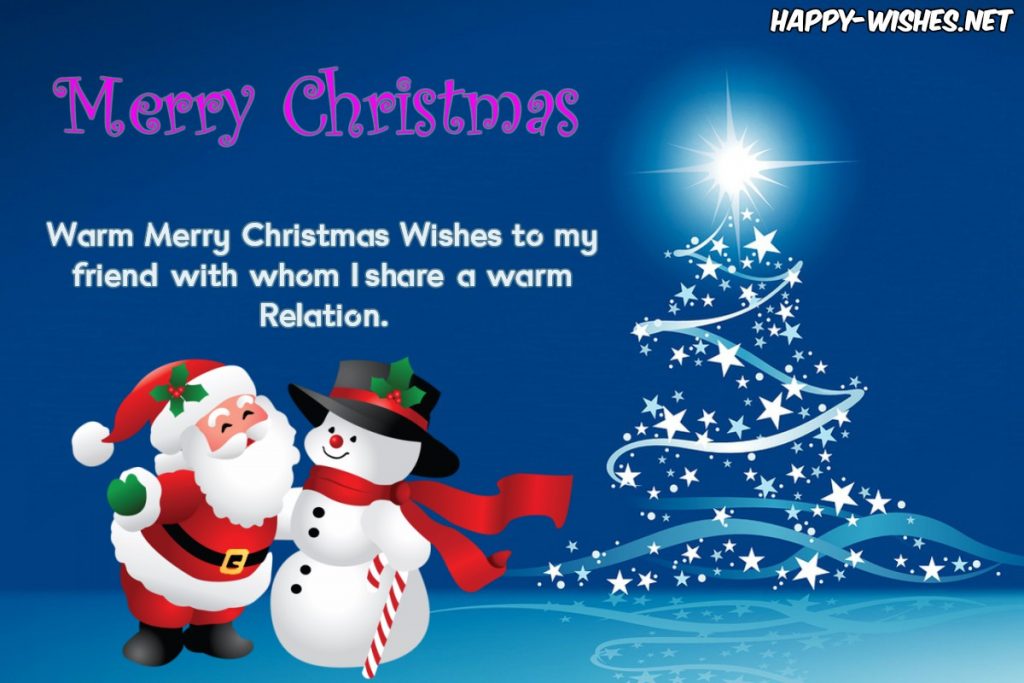 Warm Merry Christmas to my friend with whom I share a warm Relation.