Deciding your life partner is one of the most crucial decisions of anyone's life. That is one decision which will affect your future from them on. Tying knot into matrimony is holy according to God. It is even better when two people are so much in love finally tie a knot. It is a reason to celebrate for all the friends and family. Here, let's Congratulate the bride and groom on their auspicious day.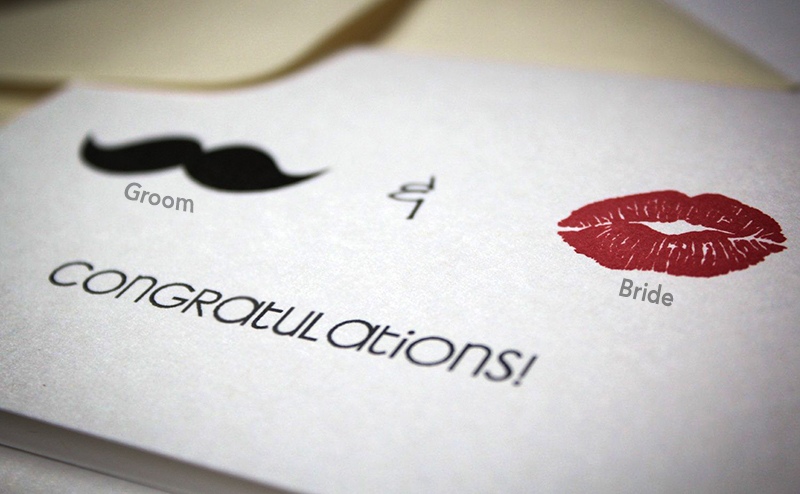 Congratulation Messages To Bride & Groom
Congratulations on your big day. Wishing you a life full of happiness and surprises.
Marriage is a happy occasion. Hoping that life is always a party for you two, congratulations!
The heart always finds its better half. Congratulations to the both of you, for finding love!
Life will be happy and yet full of challenges, but it'll all be beautiful if you cross all those hurdles with hearts full of love for each other.
Congrats on finding your soulmate. Wishing you a life full of adventures and uninterrupted fun.
The way you both look at each other, you spread love all around. Congratulations on your wedding. Keep the love alive always.
Sometimes, you will wonder why you even got married, think of the number of times you both brought smiles on each other's face, and it'll all be alright.
Being married is tough and challenging, but in the end, when you have someone who loves you so much beside you, its all worth the pain.
Only lucky people are able to find love in this world. Congratulations on being one of them.
Congratulations on being called Husband and Wife finally. I'm sure you must have dreamt of that for so long!
Your love is inspiring. Don't ever let this bond weaken. Keep the love alive always. Congratulations love birds!
It's always soothing when after day's of hardwork, you can go back to your love and talk all about the day. Congratulations on finally getting that life, officially.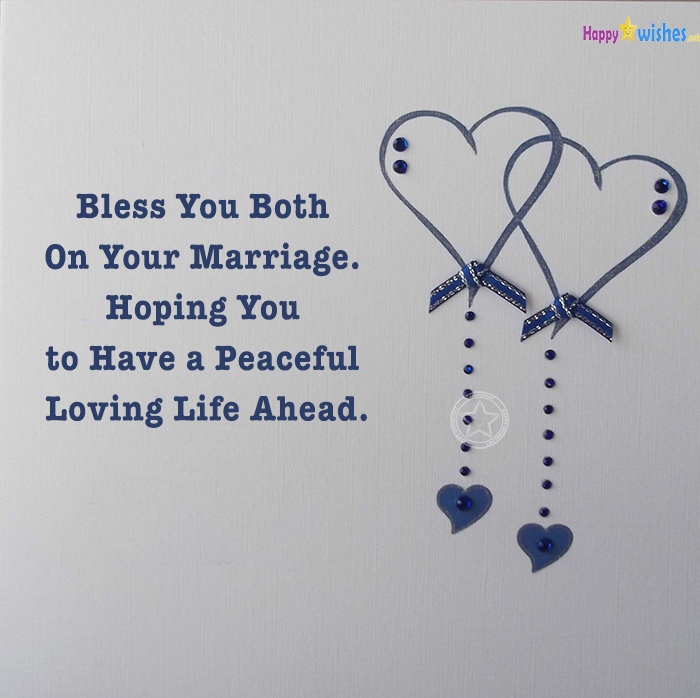 Love always comes with sacrifice. Both of you will have to adjust and change accordingly. Adjust gracefully and lovingly. Congratulations on your marriage, love birds!
The way your faces light up when you see each other shows how much you both love each other. You guys were always meant to be. Congratulations to bride and groom on getting married.
Marriage is a day that a girl dreams of since her childhood. Congratulations on finally getting your perfect day. Your husband is a real charmer. Stay happy always!
Love, trust and respect are the building blocks of a marriage. Never let any of these pillars fall. Stay happily married always!
Love is the disease and love is the cure. You guys will be each other's disease and each other's cure. You will realize this within the first year. Go through it gracefully and lovingly.
Respect your marriage always and never take your better half for granted. Only a few loved ones get the marry the love of their lives. Congratulations!
Staying happily married can never be a one way effort. So always support your better half in their efforts. Stay loyal and love each other like you do and things will be smooth sailing for you!
Patience is the key to a happily married life. When things are low, patience and your love for each other will keep you going. Congratulations on your auspicious day!
Marriage is two hearts being tied into a knot of holy matrimony for an eternity. Love each other always. Congratulations Bride & Groom!
You both are truly couple goals. The way you've stuck with each other through the thicks and thins in the past shows that you'll be great at your married life!
Research shows that friends who get married have a greater shot at a happy married eternal life. Keep your love alive. Congratulations on tying the knot!
Not all days will be the same. Not all days will be bright and full of hope. But in the end, the question that remains is that is your better half worth it? If yes, then I'm sure you'' get through the rough patch gracefully.
A happy married life is achieved by keeping it interesting. So keep those conversations going and keep it interesting. Congratulations on tying knot!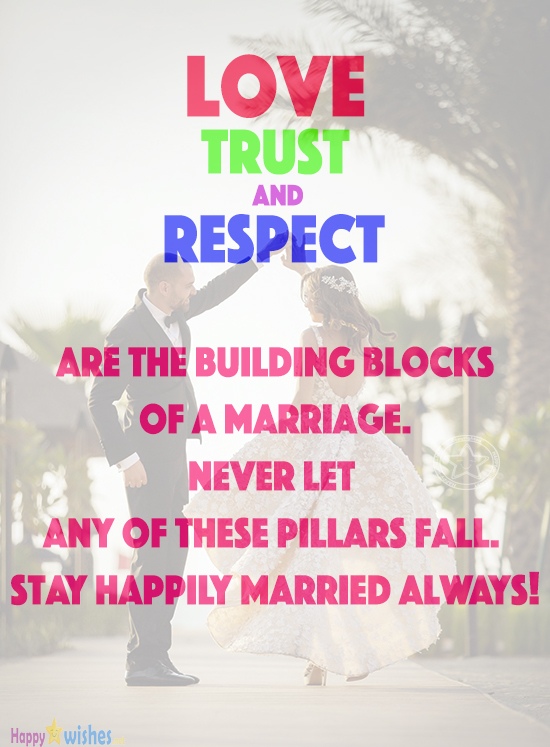 A married life can be happy, full of surprises, or sad, full of problems. But it all depends on how you overcome a situation, whether you can go through it together gracefully or not.
Congratulations on getting married. From now on, you officially get to celebrate your love each day together.
It's always a roller coaster ride and yet love is what keeps you going. Congratulations on getting married!
Love so pure is rarely seen these days. Be gratuitous on being those lucky ones! Congratulations, you love birds!
Congratulations on your marriage, keep the purity and chastity of marriage always.
Love is blind, yet so pure. Congratulations to the young couple on their marriage. Wishing you a happy life, always.
Keep supporting and loving each other always. That'll take you a long way. Don't ever let misunderstanding ruin what you have. Congratulations on your marriage, stay happy always!
Marriage is an auspicious day of two lovers coming together and tying a knot. It is even more beautiful when the couple is so deeply in love as you two. Happy marriage to both of you!
Congratulations on your marriage. Keep the spark always alive always. Never lose faith in each other!
When two souls are in love, nothing can stop them from being "together forever". You both are an example. Happy marriage to you!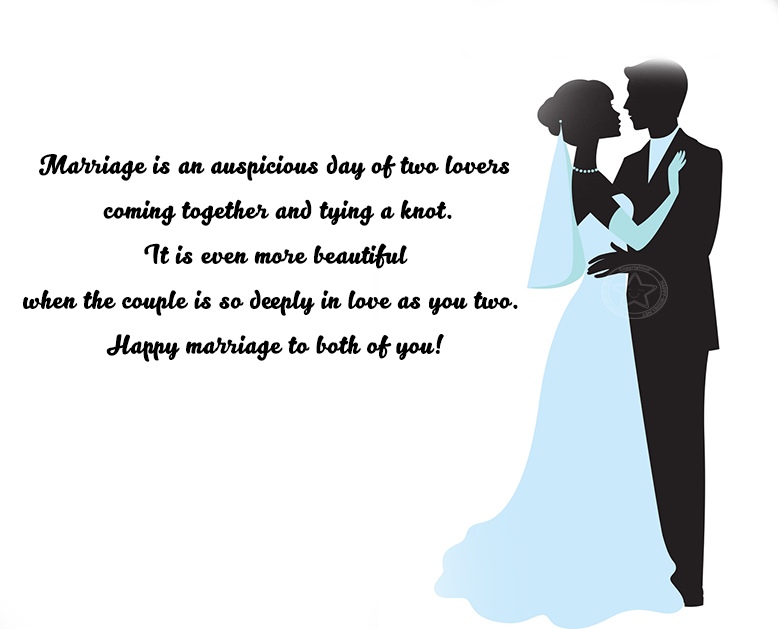 To be happily married always requires effort, patience and trust. Keep making efforts to show how much you love each other! Be patient with each other in hard times! Keep trusting each other.
Bless you both on your marriage. Hoping you to have a peaceful loving life ahead.
Your bond of love is magical. Congrats on tying know today! You both look lovely, smile always!
May your married life be smooth sailing always. Keep loving and cherishing each other. Wishing you success in whatever you both build together!
You both are the happiest couple I have ever seen. Your love is enchanting. We hope you have a happy life always. Keep hustling to keep it smooth sailing.