Kids are precious gems. They are the gift of God. Kids can be innocent, mischievous, studious. Each and every kid is special in his or her own way. Wherever there are kids, that place becomes lively and beautiful. As a garden is beautiful with the fragrance and beauty of its different kinds of flowers, so a place, school, and park come to life with the laughter and playing of kids. We get so attached to kids that we feel very hard to part away from them. It is very hard to bid farewell to kids.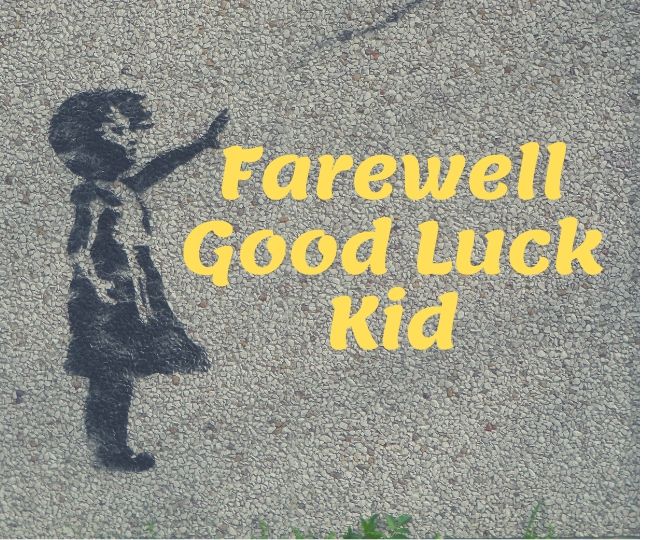 Here are 20 farewell messages to kids.
Farewell Messages to Kids
Dear kid, you are going away but this is not the end. Be an obedient child, wherever you go and study regularly and sincerely. We shall meet again in the future if God wants. My good wishes are always with you.
You are a bright kid and I am sure you will make everyone happy wherever you go. All the best to you and have a great life ahead. Goodbye.
My favorite kid, with a heavy heart I am bidding you goodbye. You had become my favorite with sincerity, dedication and hard work in your studies. May you continue this good work and make your parents happy. Here's wishing you the very best for your new journey.
You are going away kid, but we shall have the same fun, same chocolates and cakes, and the same bicycle ride when we meet again. Good wishes for your new school. Goodbye.
Beautiful kid, today I am feeling very sad to bid you farewell. You made everyone happy with your cute smile. May you continue to make others happy wherever you go. Study well, play well and write to me whenever you remember me. Always be happy, goodbye.
My playful kid, I wish you all the best for your future. Please concentrate more on your studies and play less games. I want to you to see as a successful person in your career. Good wishes, good luck, and goodbye.
Hello, kid congratulations to you for your new journey. You are a bright child and have the potential to do much better than you are doing right now in your studies. My advice to you is to do regular studies and concentrate more on the subject in which you are weak. My best wishes to you. May you have a bright future ahead. Goodbye.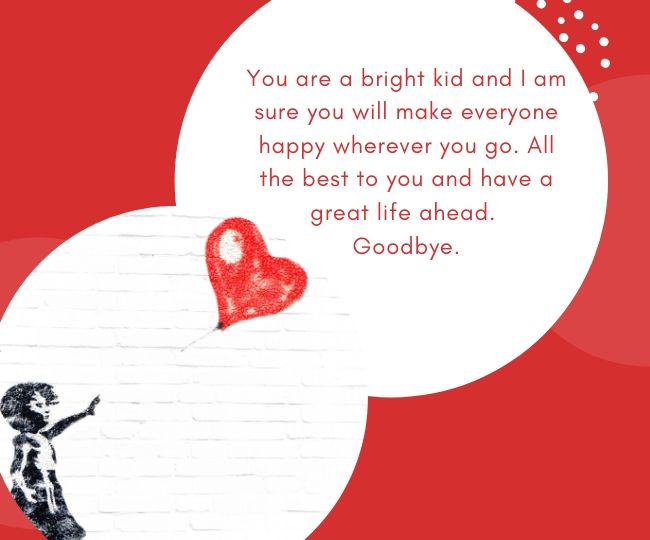 Dear kid, with your laughter and cheerfulness you made us so happy. We are very sad to bid you farewell, but I hope we will definitely meet in the future. May you keep everyone happy with your laughter in the new place. Good luck and Good wishes.
We spent so many years together, dear kid. It was such a pleasant time. We all got so attached to you. We all pray and hope that God again gives us this opportunity to meet you in the future. Good luck for your new journey and good wishes from all of us.
We have so many memorable experiences with you, kid. your beautiful smile and lively nature was a source of immense joy to us. May you spread happiness wherever you go. Congratulations for your new journey and lots of love from all of us. Goodbye.
Hi kid, you may go away from us but not from our hearts and memory. We shall forever cherish the good times that we spent together. Good luck and have a great future ahead. Goodbye.
Our little and beautiful kid, we have already begun to feel the pain of separation from you, but we wish and pray that you achieve great success in every field of your life, and make everyone happy and proud. Goodbye and God bless you.
We spent such a good time together, my dear kid, we had happy times as well as sad times. We loved you, scolded you, had fun. We shall always cherish this memories of you. Today, on a happy note we want to bid farewell to you. May you always be happy and continue to be a bright child. Goodbye.
Our heartiest congratulations to you on starting your new journey, kid. May you be surrounded with good people wherever you go and get new opportunities of growth. Goodbye.
My dear kid, you are going away from us but we wish you have a bright future, and grow into a good person in life. Good luck and Goodbye.
As we bid farewell to you, we are happy that you are going to a better place with better opportunities. We hope to see you as a famous person some day. Good wishes for your future.
With all our good wishes, we bid you farewell, kid. You are our shining star. May you keep shining like a bright star in your new place and life.
Kid, you are very enthusiastic and great in sports. We are bidding farewell to you but hope to see you as a famous sportsman in the future. We hope to meet you again. Good luck for your future.
With great sadness and tears in my eyes I bid you goodbye my kid, but hope you learn many new things on your new journey. Here's praying and hoping for your great future.
On a good note, we bid farewell to you and hope you become the person that you wish to be. May all your dreams come true. Goodbye.