In our life, people come and go and influence our lives with their works. When our seniors from our school, college or workplace influence our life with their experiences and teachings we get inspirations from them. But, a time comes when they move out from the educational institutions and offices to join for a better future ahead. This means that they will no longer be in constant touch with you personally. So, on their last day, you must congratulate them for their bright future and make them feel special through sending them greetings cards and gifts with a nice farewell quote. The farewell quote will reveal your feelings towards them and they will also feel happy that they are going to be missed by their juniors badly.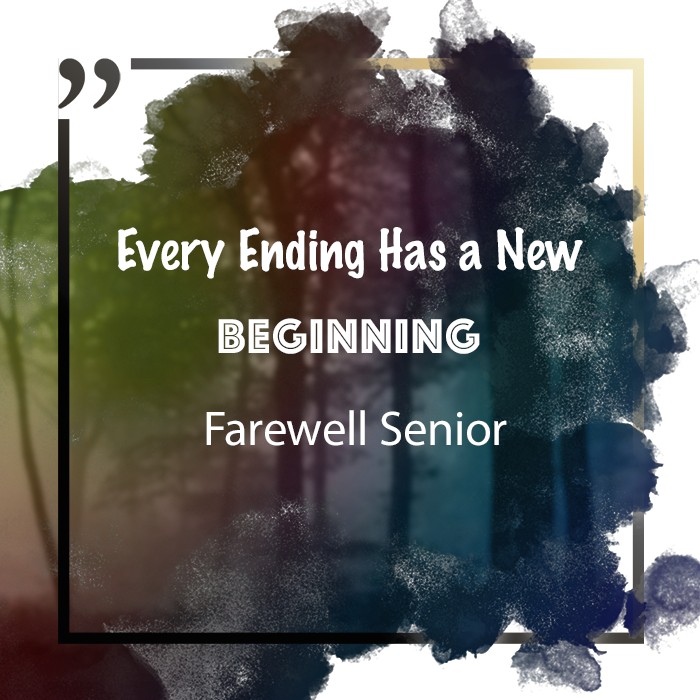 We have a beautiful collection of farewell quotes for seniors which you send them on their farewell day. Peoples like you juniors may not be in their life later, but words do remain forever. So, when the beautiful parting words of farewell selected by our website will be sent to your seniors, then their farewell day will be more memorable for them and the farewell quotes send by their juniors will be remembered for life.
Farewell Quotes For Seniors
Here are some of the best farewell quotes for seniors which is worth sending to all your seniors on their last day. These are: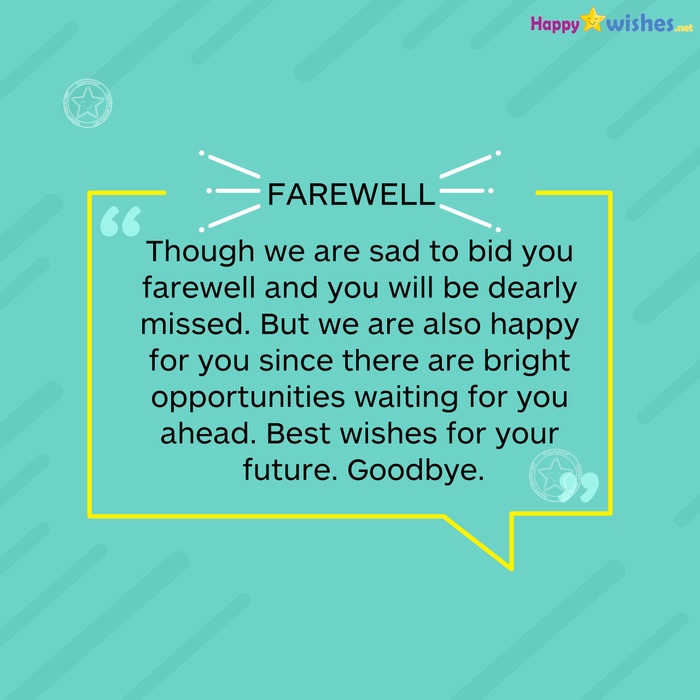 As you enter your new life, we juniors wish you loads of success, with a cupful of happiness, mountains of achievements and good wishes to live your dream each and every moment.
On your last day, I won't say goodbye to you since I will be soon meeting you someday. Farewell from the office, but not from my life. I do hope to meet you again.
It is tearful and sad to say you goodbye, but the best thing is that there is hope of the best things and opportunities to cross your path after you leave the premises of this institution.
The time has come to say you goodbye. But just remember one thing, that there was a junior who remembers the special moments shared with you. All these moments are quite worthy.
You will be missed amongst us whenever we take breaks, gossips, have coffee or simply take part in any official activities. This goodbye farewell message will make you remember us and we do hope a glorious future for you.
Now the office hours will be longer without your presence. You will be missed by all due to your dashing personality and impressive team leadership. Wishing the best for you. 
Farewell Quotes For Seniors From Juniors
Here are some of the touching farewell quotes for seniors from juniors which will make their farewell day awesome. These are:
With a heavy heart, we are giving you this farewell. You will be missed always in our office life. All the best for your future.
It is painful to see you leaving us. Since you are the best leader of our team, we wish you loads of success and best wishes for your new life.
Time is nearing for you and us, this is the time to part from each other. You were the best colleague we had who has guided us without any negative thinking. Best wishes for your life ahead.
Innumerable peoples have entered my life who has influenced my career life. But it is only you who have groomed my career to the ladder of success. Your support and trust upon me and taken me to that position for which I am known today. Thanks for believing in me, and have a memorable farewell.
You are the first senior I have known since my first day at this College. I will never forget that moment when you have saved me from ragging. Now that you're leaving this college and entering another phase of life, I wish the best of things comes at you. Farewell, my best senior.
This is your last day with us and we will dearly miss our mentor. Your guidance has made us successful with the fruitful result and great performance. You will always remain the guiding star of our entire career path.
Farewell Quotes For Seniors in Office
Here are some of the best farewell quotes for seniors colleague in office which you can dedicate on their last day. These are: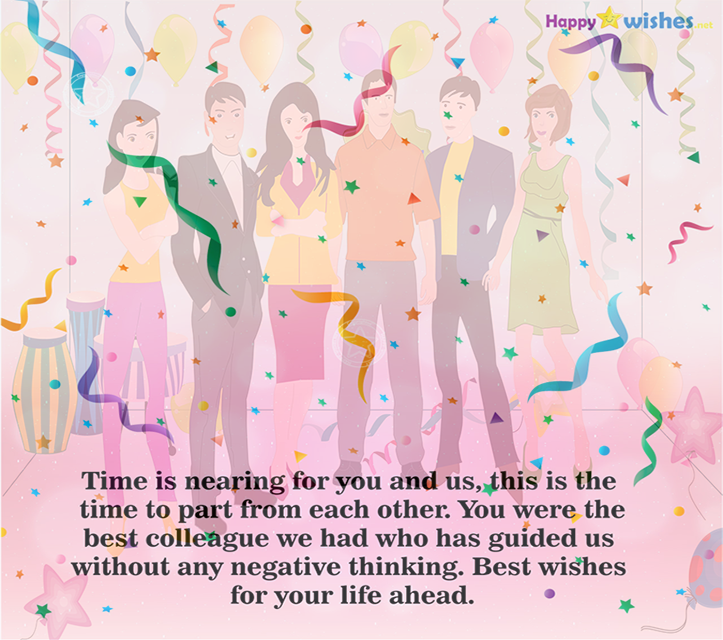 The hard time has come and the sad moment has arrived. This is because you're leaving. After you part away from us, never forget the peoples of this office who have loved and respect you. Your memories will be always etched in our mind and life. Goodbye and May the god bless you.
You have been the best friend. Mentor and guide. Now that you are going, I will miss working under your guidance. I will always remember your teachings and sayings. I will always follow your shown path to success. Bye and farewell.
Your leadership and guidance have lifted up the tired souls and lazy employees like us. Working with you was a great experience. We know that wherever you the employees working under you will keep on praising you. Bye and have a memorable farewell.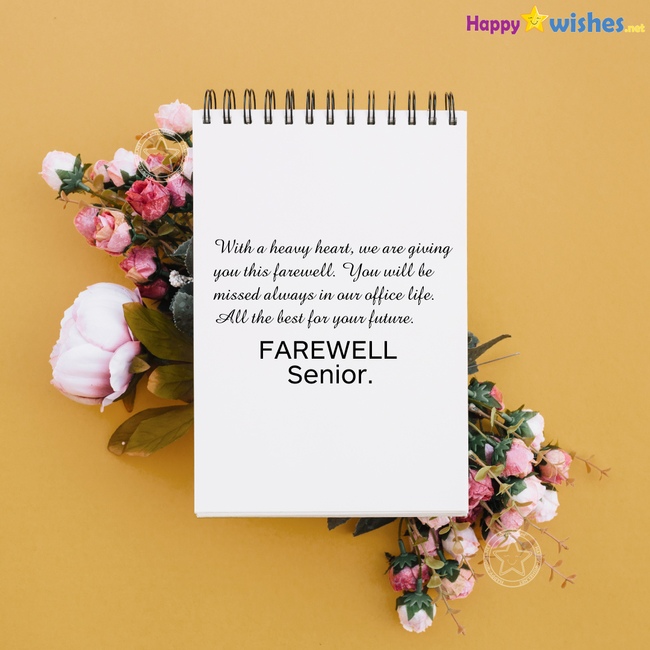 Though we are sad to bid you farewell and you will be dearly missed. But we are also happy for you since there are bright opportunities waiting for you ahead. Best wishes for your future. Goodbye. 
Happy journey! As you set sail for a new voyage of opportunities and career establishments. May you have a good timer and luck at your new job. Though we will miss your team leading, we also send lots of wishes for happy sailing on the sea of wide opportunities.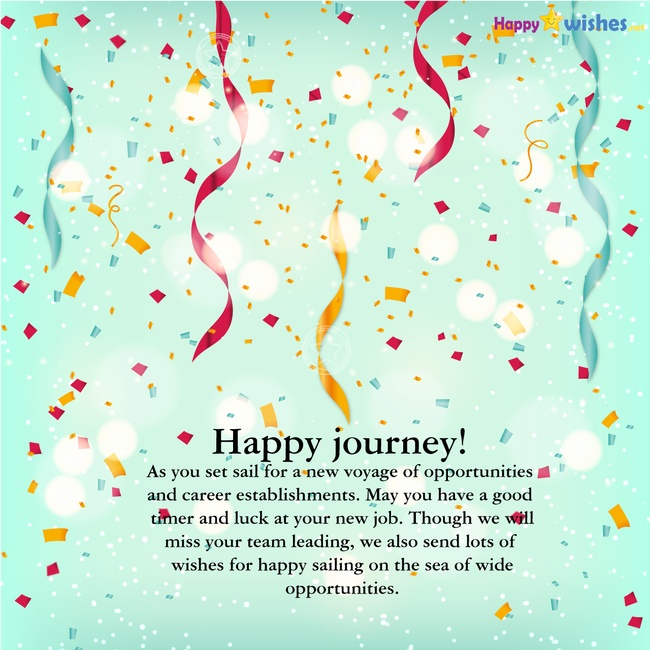 Every time, the good things last for a few moments. Now on this day, the association with you in this office also ended which was the good thing for both of us. Since it is your last day with us, we bid you a great farewell with best wishes for your future. 
Farewell Quotes For Seniors in College
You can also have a look at the best farewell quotes for seniors in college. These are: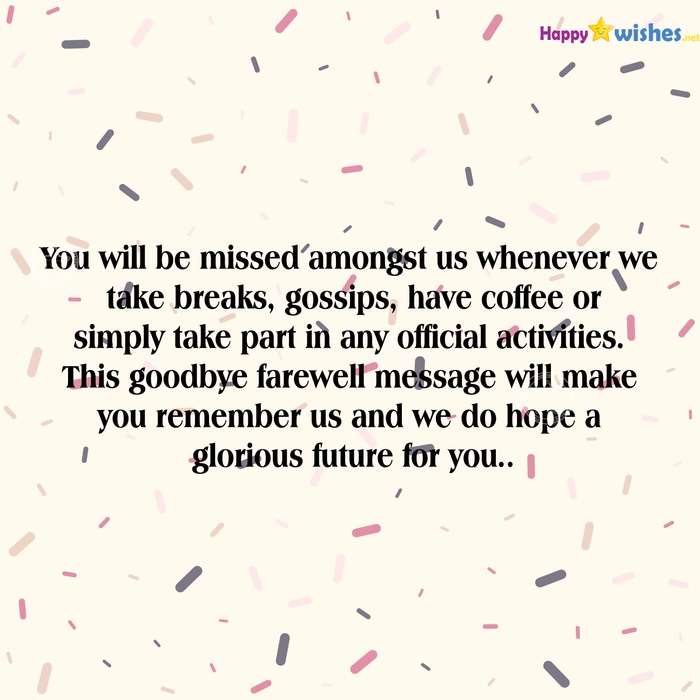 You were the source of our inspiration. It sad to see you leave this college and hostel. You will be always remembered. We part to meet again. Happy farewell and best wishes for your future.
Senior students are the guide of the junior students. You have shown us the path to success. We will surely follow your steps. Farewell and heartiest wishes for the best future.
Bidding you farewell with a heavy heart is tearful. But, it is happy to see you step into the new phase of your life. Farewell, dear senior and goodbye.
Your batch was the best seniors we had. We are grateful to you since you're the inspiration which has pledged us to good in our academic life.
It is your last day at our College and we are really thankful towards your contribution to making our college's reputation the best one due to your hard work. Farewell.
You are the helpful and dedicated senior which we juniors can never forget. The good things taught by you will always be remembered. Farewell on your last day at college and best wishes for a bright future.
Farewell Quotes For Seniors in School
We also have the best farewell quotes for seniors in school. These are: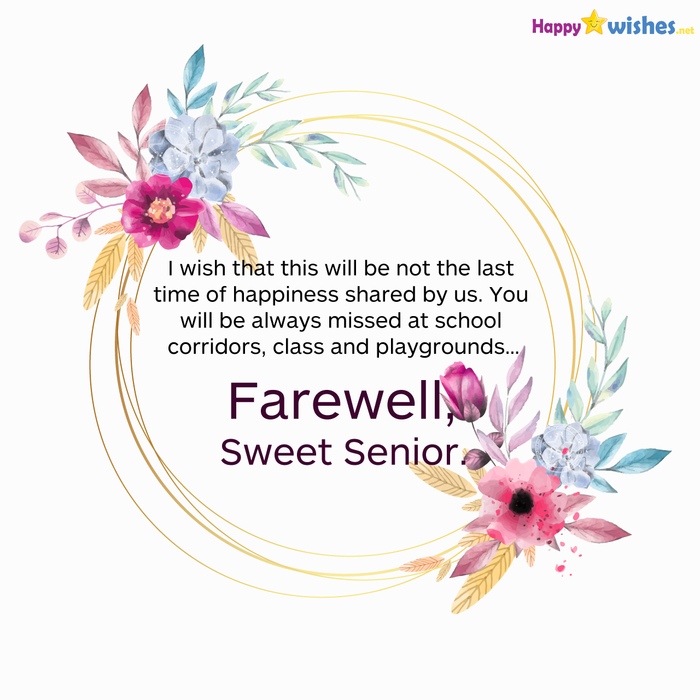 I wish that this will be not the last time of happiness shared by us. You will be always missed at school corridors, class and playgrounds…Farewell, sweet senior.
The road of life can be sometimes full of difficulties. But you need that strength to overcome all the challenges. May you be successful in all phases of your life and you be famous. God bless you. Farewell dear.
The achievements we gain do make us memorable in the history of this school. Even your achievements will be remembered by our school.You have also given us such sweet memories. Farewell seniors and do keep in touch.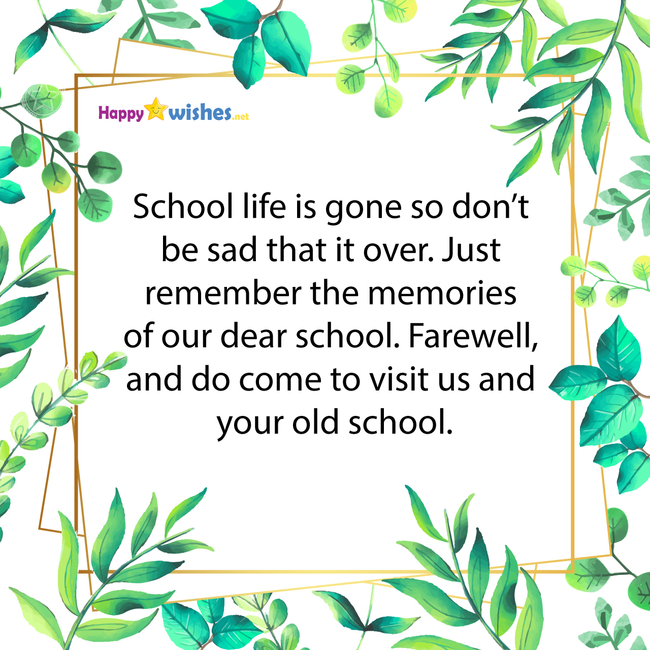 School life is gone so don't be sad that it over. Just remember the memories of our dear school. Farewell, and do come to visit us and your old school.
We have a short life and we need to make it worthy. Do your best and excel every challenge. Farewell! Lots of love and good wishes for your future.