Nothing can help to heal more than the warmth of the love of a loving wife and family. These are probably the worst times when you have to see your soul mate so ill. A husband is the backbone of a family and it is tough times when they fall sick. If you want your love to get back to health soon, then you should send him loving Get Well Soon greetings to express your pure love, care, and prayers for him. It'll cheer him up and give him the strength to fight the illness. Sometimes even knowing that there is someone in the world you love you so purely can be very uplifting. It'll definitely result in a speedy recovery. Here are our best compilations of getting Well Soon messages for your dear Husband.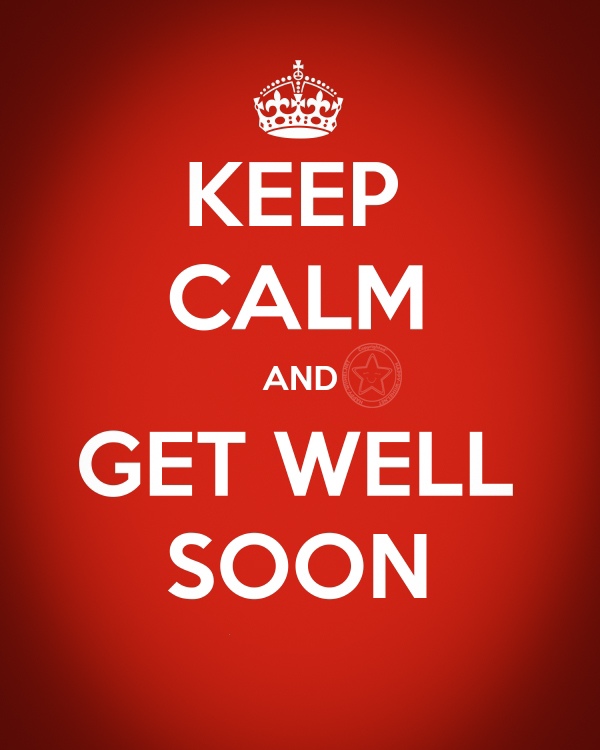 Get Well Soon Messages For Husband
I miss fighting with you over petty issues daily, Get Well Soon and come back home. We have a lot of fighting to do!
Hey, enough with the sickness! I know you're just pretending to be sick to avoid doing the household chores. Fine, I will excuse you for a month! Now get back home. I miss you.
We always knew that life was not just a bed of roses,
But together we can conquer any situation and sail through life smoothly.
I am beside you, babe. Get well soon!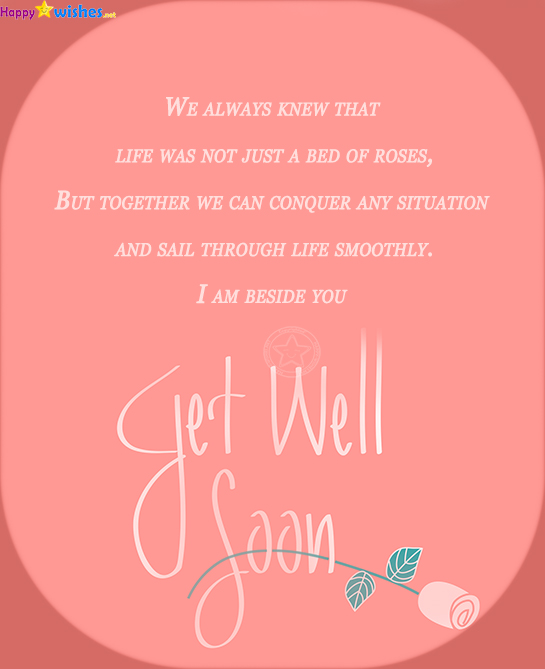 The kids miss their father. They want to build a tree house with you!
Get well soon and come home quick!
P.S. Can't handle these apes without you.
Life has been tough on us lately, but every storm has a silver lining. I think we are getting closer to it day by day. Get well soon, love!
Our son said "Paa" for the first time today. I wish you were there to witness the moment. We miss you at home. Get well soon babe.
I'm praying for brighter days and your speedy recovery. Just be brave, I know my prayers will be answered soon. Hang in strongly, brighter days are just round the corner, dear love.
I knew nothing about love, until you came into my life and now I can't imagine a life without the warmth of your love hubby. I need you to Get Well Soon. I love you!
Finally, I am the Queen of the house.
But I am incomplete without you my King.
Get well soon and come home. We have to build an empire together!
Can't believe how someone so pure at heart have such impure health. Kick those germs away, you fighter.
Well, look at how much weight I've put on. There is no one to take me to exercise. Please come back home before I start looking like a potato.
You're my morning sunshine, my hot cup of tea on a chilly winter morning.
The warmth within your heart melts me each time you hold me. I miss that. Get Well Soon my fighter!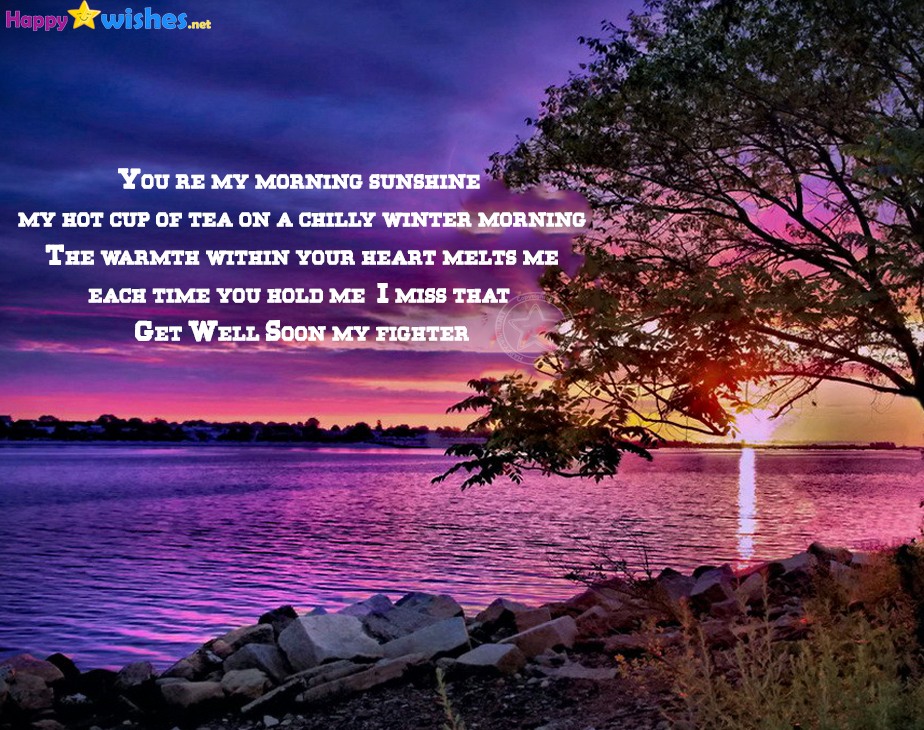 All these years have shown me how strong-willed a person you are!
So fight all those germs away. I am with you through the struggle. Just get well soon babe.
I know I annoy you a lot but you didn't have to go to hospital to avoid my tantrums. Please Get Well Soon. I miss annoying you!
You are my blessing, and I'm not ready to let go of my blessing. Do you even know how much I prayed for you to come into my life? You better get well soon, because otherwise is not an option!
Ever since I met you, life has been a rollercoaster ride, and I love it!
Get well soon love. I miss you.
Seeing you sick is probably my worst nightmare come true.
I can't see you like this anymore. Get well soon and come home!
I could not understand this puzzle called life, and then you came into my life and everything fell into place.
You're my savior. Get well soon!
I know that you're a fighter. I believe in you.
Don't be afraid. I'm here by your side, waiting for you to open your eyes.
I love you, get well soon!
I didn't believe in lucky charms until I met you!
You make me believe in pixie dust and magic. I know you will get well soon, and I promise I'll be the first person you see when you open your eyes!
Marrying you was the best decision I ever made.
Life had never been so beautiful before.
Get well soon dear husband, I miss you!
Life has been so melodious ever since you and I started musing together. I miss you my love. Get well soon!
With you, life is always like Spring season, happy and colorful!
Thanks for adding color to my life. Get well soon babe, home sweet home misses you!
No one could ever love me or take care of me more than you do.
I miss our daily conversations and breakfast in bed on weekends.
Get well soon babe, come back home!
Nothing can beat our happiness when we see each other after a day's of work. I miss your small loving gestures when I come back home!
Get well soon and come home quickly!
Nothing can come in the way of pure love. I am praying for your speedy recovery. You'll come home soon babe, I know. I love you, be strong!
A husband like you is every girl's dream. I can never thank you enough for how loving you are!
I miss you Dear Husband. Praying for your speedy recovery!
I love taking care of you. It's all right, take as much time as you need to get back to health babe. I'm here to take care of you! Love you!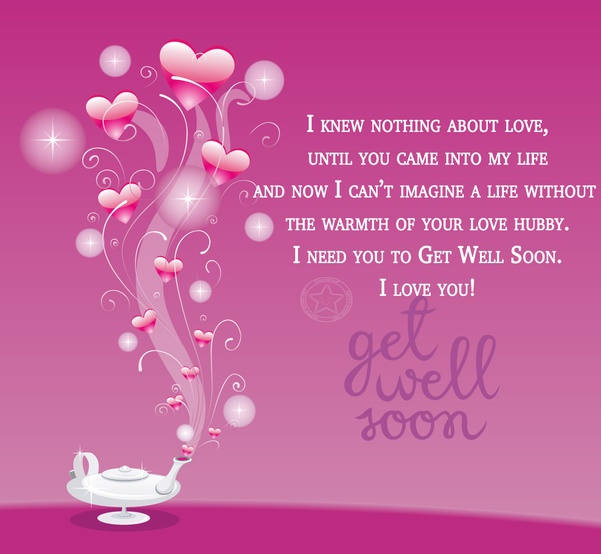 This is just another hurdle which we have to cross holding hands, and trusting each other.
Get well soon babe, I've held onto you tightly. I'll not let you stay sick for long!
You're like my mango slush on a sunny day,
my cup of coffee on a hectic day,
my hot tea on a chilly day,
I miss having you around at home babe, get well soon!
The warmth on your heart can melt the coldest of rocks babe.
You're a kind man and I'm sure this is just a test of our love.
Get well soon and let's pass the test gracefully hubby!
Home is not 'home sweet home' without you.
Everything is incomplete without you.
Please fight those bacteria and regain your health soon.
I miss you!
I know you just want all my attention and that's why you're faking it all!
Enough Mr.! Get up and let's go home now, I'll make you your favorite Lasagna!
Not all days are the same,
this is just a difficult time,
we don't even know what good times will bring in our life,
So get well soon so that we can find out!
I know that God has a plan for everything he sends our way, so your sickness is also important for something that God has planned for us!
I pray for your speedy recovery babe, I miss you!
You're my strength, my weakness,
My lucky charm, my king!
A queen is nothing without her queen,
come back to the kingdom my king! Get well soon!
As sweet and salty as our relationship may be,
I always know I'm lucky to have you in my life!
Babe, I love you!
Get well soon!!
Life has been an adventure trip since the day our paths crossed.
This is just like one of our adventure trips, just that,
this one needs the most will power to complete!
So, Get Well Soon babe, let's complete this trip!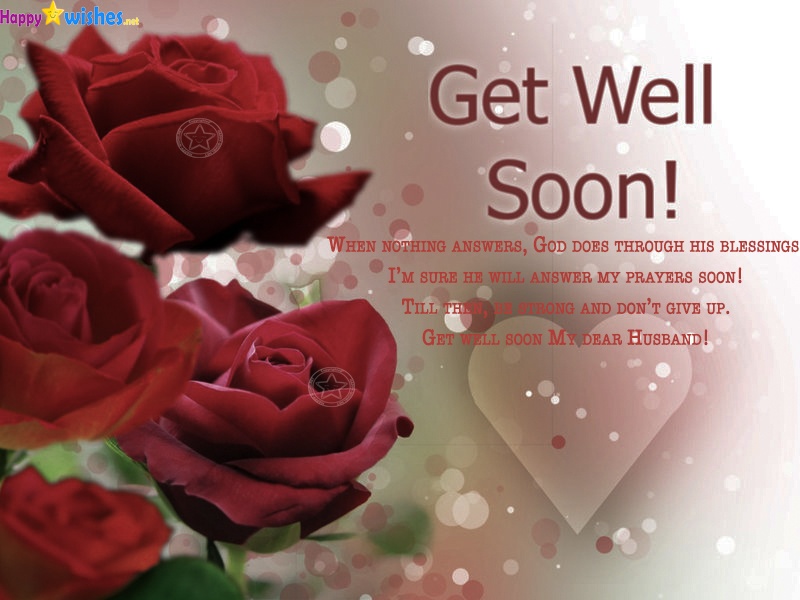 When nothing answers, God does through his blessings.
I'm sure he will answer my prayers soon!
Till then, be strong and don't give up.
Get well soon My dear Husband!
A husband like you is like a dream come true. I will love you till my last breath!
You are the perfect man any woman can ask for.
Recover soon and regain the strength to fight with me. I miss fighting with you for no reason at all!