Having someone to love, someone to hold on to, someone to share your special moments with, is all we all really yearn for. If you have someone like that, then you should consider yourself lucky.
Your boyfriend is your best friend, you agony aunt and your go to person for everything. He cares for you, pampers you and makes sure you are smiling all the time. Every once in a while you should also let him know that you care.
While the best way to show your love is to be present with the one you love. But on days when you do not get to wake up next to the man you love the most in this world, it is always good to send your love with a sweet message.
Here are some good morning messages for your boyfriend that will help him start his day with a smile.
Sweet Romantic Good Morning Messages For Him ( Boyfriend)
I spent the entire night dreaming of you and wanting to be by your side. You really are the man of my dreams. Good morning love.
You are the cutest, sweetest and most humble man, a girl could ask for. Every morning when I open my eyes, I cherish your presence in my life. Have a good morning love.
I am so glad that morning has finally arrived. I spent the entire night waiting for the sun to rise so I could come see you. Good morning honey. I cannot wait to see you.
The happiness and light you bring to my life and soul and more than a thousand suns combined. Good morning baby.
A handsome man like you deserves a beautiful day too. Have a good morning and a lovely day ahead.
You make my heart sing every morning.
My day starts with you and ends with you. The earth may revolve around the sun, but my soul revolves around you. I love you. Have a fabulous day!
Wish we could be having breakfast in bed together. Nevertheless, I have reserved you a table at our favorite breakfast place. Wake up Honey!
The promise of every new day is a promise of being with you. Good morning love!
I cannot choose between the dream I had of you at night or the thought of meeting you this morning. Every moment with you in it is truly magical.
Every day is not perfect but you make it special and magical anyhow. Good morning baby.
Have a blessed morning baby. We may be apart but my good wishes are always with you. You will have an amazing day today!
I couldn't wake you up with a good morning kiss which is why I am sending you this good morning wish. Wishing you a happy day!
You hold the key to my heart, my happiness and my life. Sending you good wishes and happy thoughts this morning!
You are the teddy bear I snuggle into in adulthood. May you always be fluffy and spread cheer and joy around you. Good morning.
Sending you a dollop of my love today. May you never feel lonely or sad today or ever. Good morning honey.
The moment you stepped into my life, you took away all my nightmares and left me with your beautiful dreams. I miss you dearly. Good morning and see you soon.
Thanks for lighting up my life more than the sun could in all these years of my existence. I love you and miss you. Have a lovely day honey!
You are the pillar that stabilizes my life. You bring support to me and always empower me. Wishing you a good morning.
I do not know what I would do without you. You make the birds seem chirpier, the trees greener and the air fresher. Good morning babe.
I do not need coffee to wake up. I need the sweet nectar of your skin. Have a lovely day and come see me soon.
Good morning sunshine. Take on the day with your infectious enthusiasm.
I know mornings are hard, but the thought of being by each other's side keeps us going. Wishing you a great morning and day ahead.
I am missing my pillow this morning. Without you by my side, I have nothing to hold on to. Have a good morning baby.
I am so lucky to have you in my life! Please know that my thoughts are always with you. Good morning my sweetheart!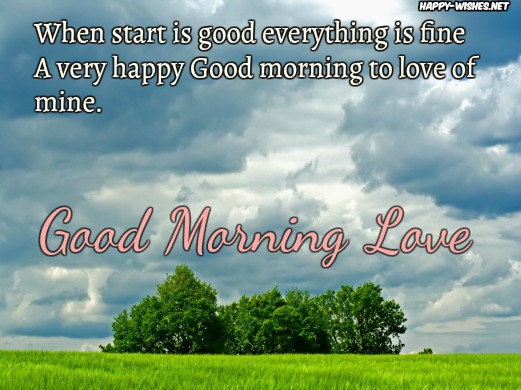 When start is good everything is fine
A very happy Good morning to love of mine.
Good Morning Love
I know you get excited when I message you.
Well, you can thank me for getting rid of your lazy Mornings.
Good Morning Love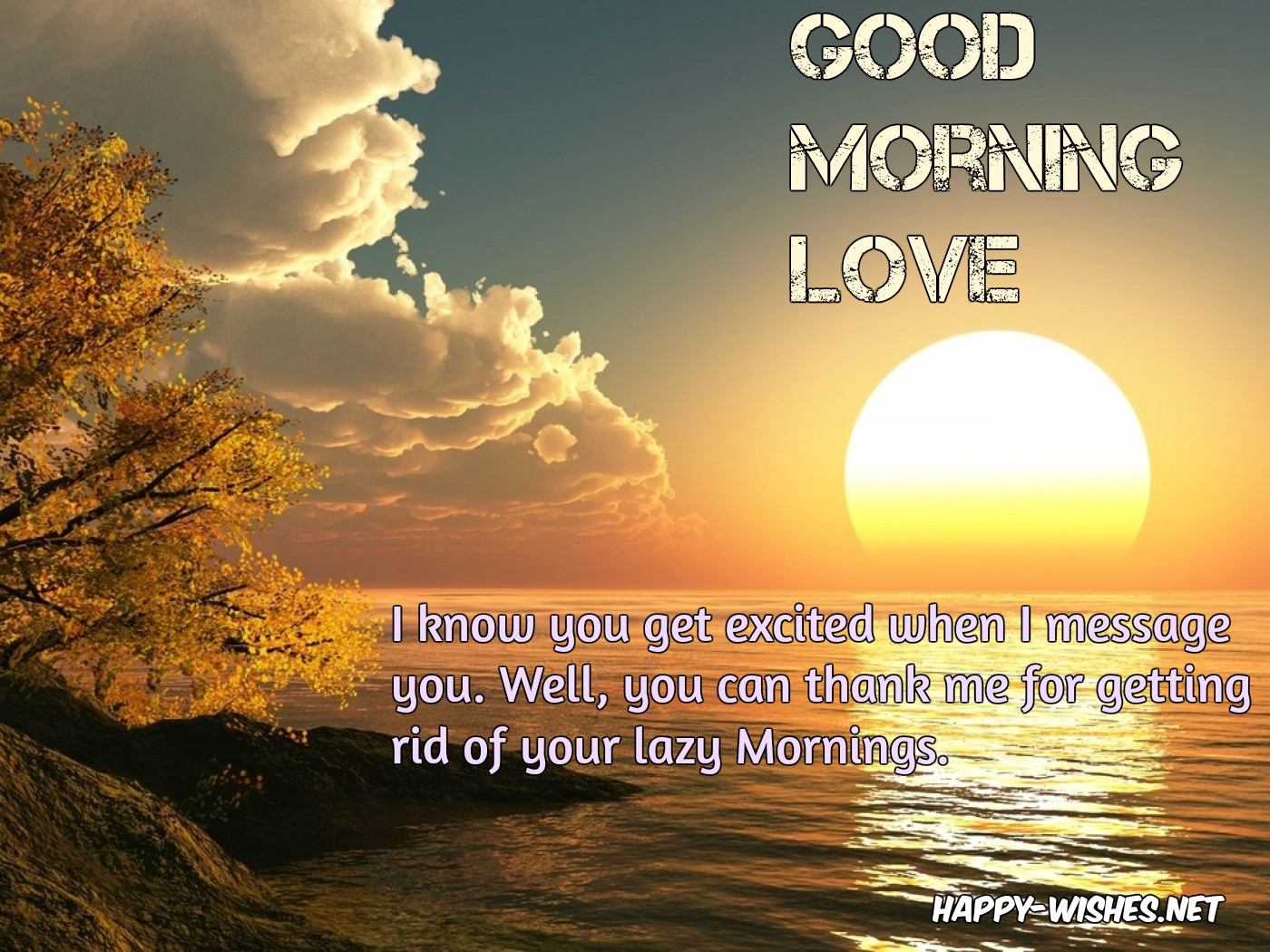 by sending you these good morning messages
I am making a habit of waking you up after marriage
Good Morning Love
You are the best part of waking up. Good morning!
Good morning handsome. May your day be as gorgeous as your face.
The beauty of each morning is to wake up in your arms.
While the earth is busy revolving around the sun. My heart is busy revolving around yours.
All riches of the world are one side and your dreamy face the other. Good morning sweatheart!
You the source of all my joy. Good morning!
I wake up early so I can watch you sleep. Good morning handsome.
The sun isn't as bright as your smile. Good morning sunshine!
There is never a moment when my heart doesn't beat for you. Good morning babe.
I am sending you a morning hug to remind you that it's a beautiful day today!
You are the most treasured soul in my life. Wish you a great day ahead.
Have a glorious day my love. May all your dream come alive with the rising sun.
Wake up sweetheart. The morning mist of the ocean is calling you out. Good morning!
This day seemed cloudy, till you opened your eyes. My sun is back up! Good morning handsome.
Even waking up a 1000 miles from you feels special. As long as you're in my thoughts and I'm in yours. Good morning honey!
My dream of waking up next to you is unfulfilled. Please come soon and make it a reality. Till them sending you a long distance good morning hug!
The apple of my eye has woken up. I wish you the best day ever!
The warmth from your morning embrace lights up my entire day. Wake up good-looking.
Every moment is precious. But the most precious of them all is waking up next to you.
Waking up next to you and the chirping of the birds with the mountains gleaming in the background is the perfect start to my day. I hope you feel the same too. Good morning honey!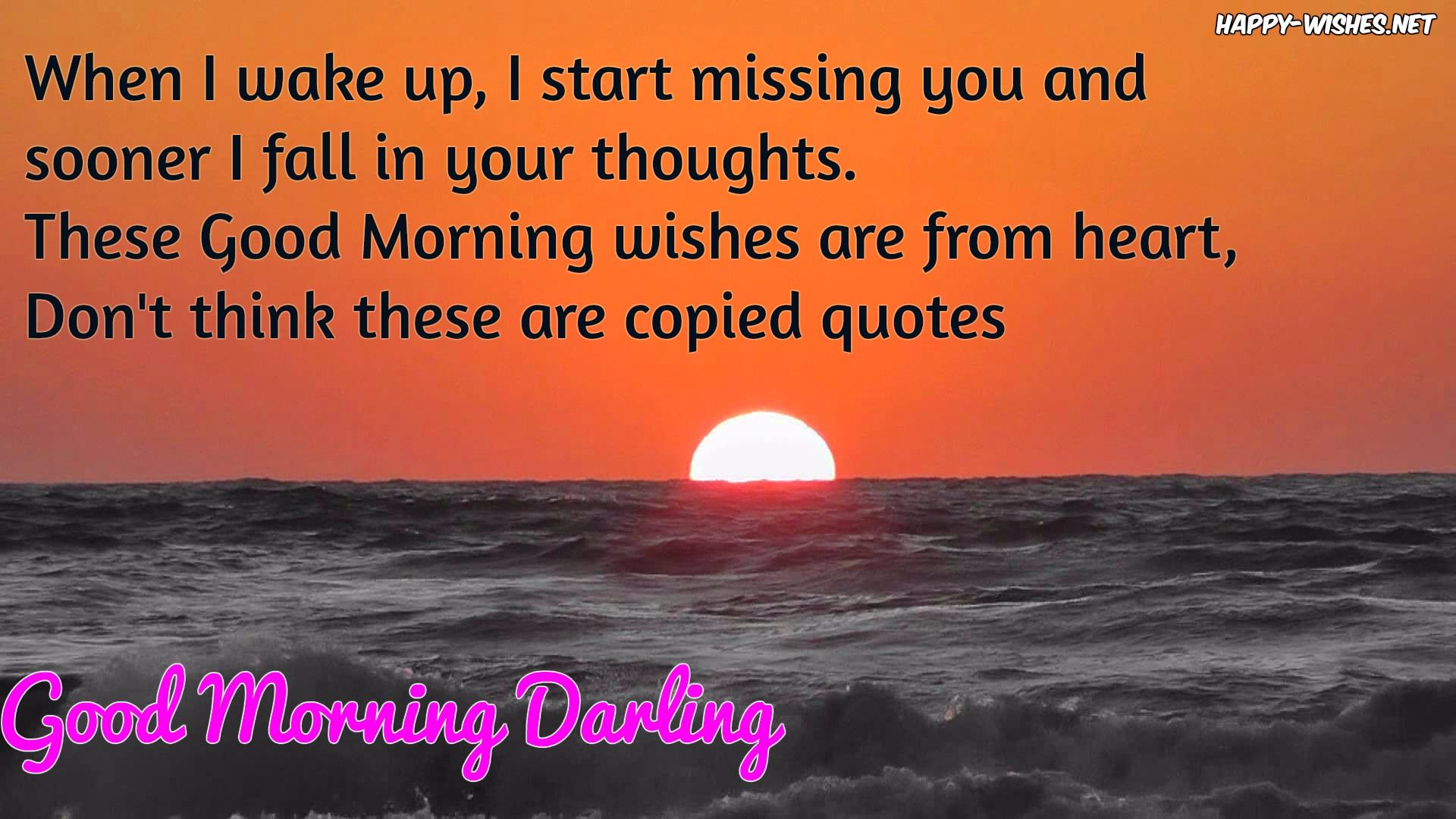 When I wake up, I start missing you and sooner I fall in your thoughts.
These Good Morning wishes are from heart, Don't take it as copied quotes
Good Morning Wishes
Morning is a time to enjoy Nature's beautiful creation.
For me, it is the time to think about our beautiful relation
Good Morning Love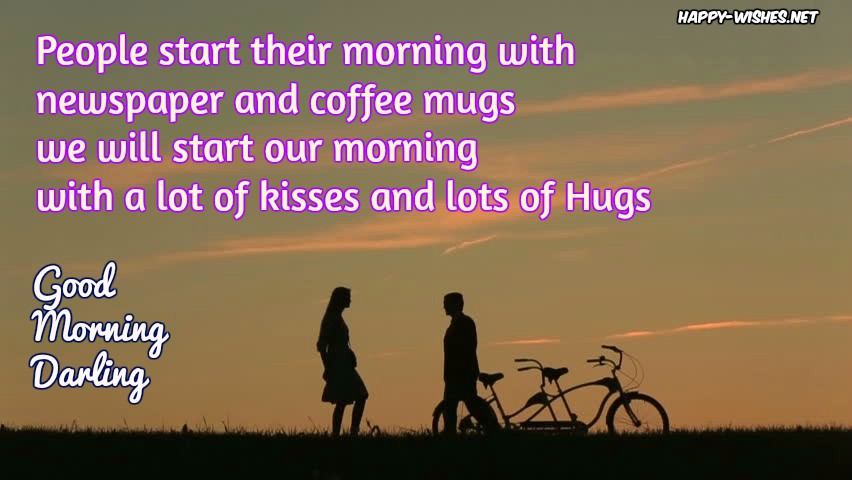 People start their morning with newspaper and coffee mugs
we will start our morning with a lot of kisses and lots of Hugs
Good Morning Love.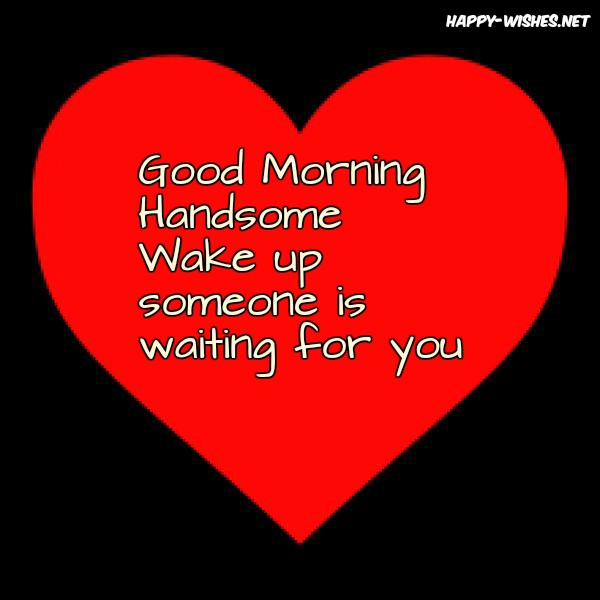 Good Morning Handsome
Wake up someone is waiting for you.
I never expected you in my life.
Now I can't accept my life without you.
Good Morning
I just pray to God that our beautiful relationship never ends. Good Morning
The best compliment of my life is when you call me 'mine'.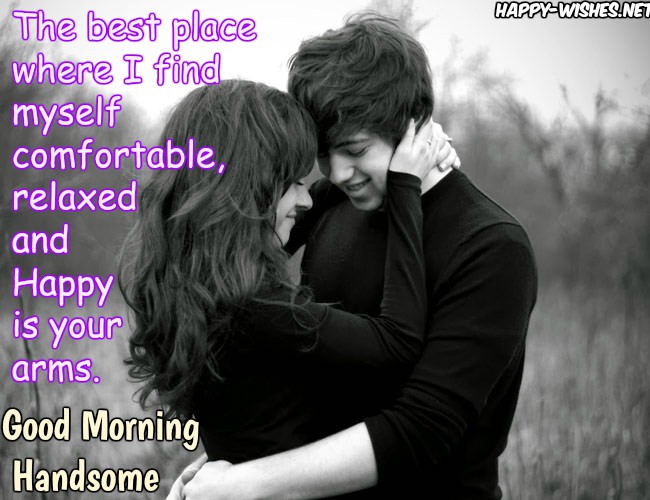 The best place where
I find myself comfortable,
relaxed and Happy is your arms.
Good Morning
Whenever i think about my future,
I can't imagine it without you.
Good Morning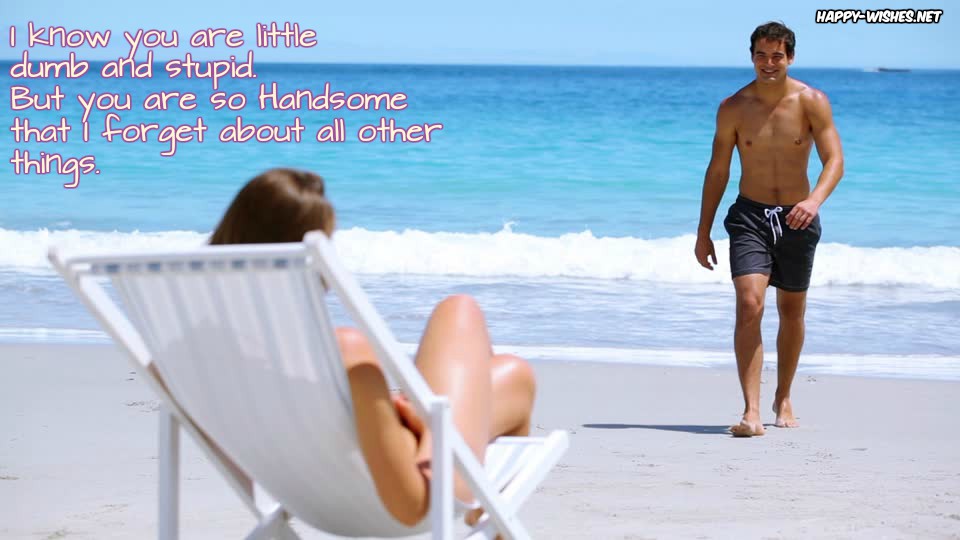 I know you are little dumb and stupid,
But you are so Handsome that I forget about all other things.
Good Morning
You are the only person with whom
i can laugh and talk for hours
without any reason.
Good Morning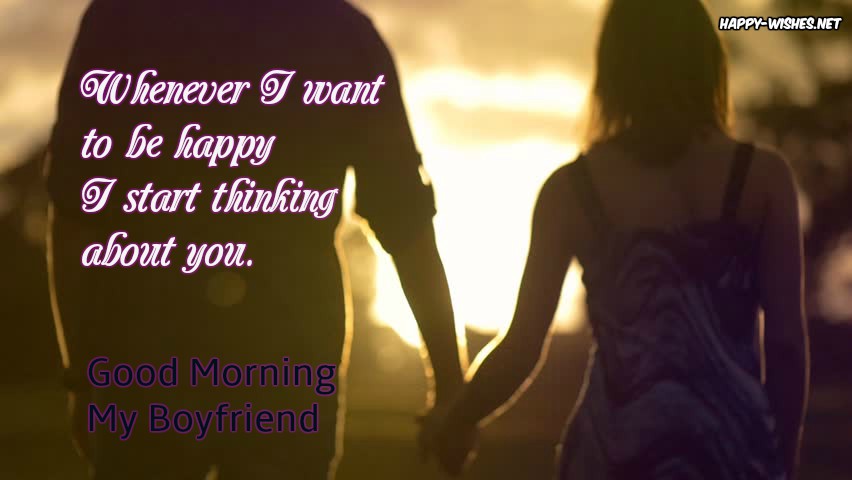 Whenever I want to be happy,
I start thinking about you.
Good Morning
Losing you will be like,
losing everything I have
Good Morning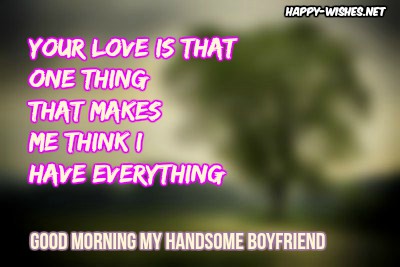 Your love is that one thing,
that makes me think I have everything.
Good Morning
Well, i don't see dreams anymore,
Because my biggest dream has come true.
Good Morning