Halloween is one of the biggest events which is celebrated by the kids all over the world. Well, it is indeed one of the funniest events of the year. You can go all crazy on Halloween like you can wear scary dresses or you can tell imaginary stories of dead people to your friends and family or you can also play the game of trick and treat. Apart from kids all the fun-loving adults also enjoy the fun of the Halloween. You can have a lot of fun by sending each other funny quotes as Halloween wishes. We are sharing with you all the funny quotes on the festival of Halloween as we have the funniest collection so far. So, share these funny Halloween quotes and funny Halloween messages with your friends and family on this Halloween.
Happy Halloween Quotes
Hope your Halloween crawl with all the happiness and luck. May you get lots of treats and the year keep treating you numerous of surprises because you are the cutest pumpkin in the patch. Have a whale of time this Halloween and scare people off. Lots of love and happiness.
Halloween is the night to awake the hidden child within. It is also the night of ugly witches and vampires just like you. This day was made especially for people like you. So, enjoy your day to the fullest and have a scariest time. Happy Halloween!
This Halloween I would suggest you to keep the lights on the entire night because you never know who or what may be lurking in the dark. You never know what may happen next. Happy Halloween our timid animal. Beware of the witches.
Wish you lots of ghost dancing on this Halloween. I hope you scare people away by being the best ghost ever ( that you are already though ). Wish you the spookiest Halloween night.
I need a favour for you this Halloween. Can I borrow your face just for a day? Just kidding. Hope you have a whale of a time this Halloween and win a lot of treats. Wish you and your family a very happy Halloween.
Hope your Halloween is filled with lots of pumpkin smashing, scary stories, ghost dancing and food. I hope you win the hearts of ghosts and vampires and scare everyone away. Have a blast!
I just came to know that you are wearing a witch costume this Halloween. You could have fooled me because I thought you were already wearing one. Wish you a very happy Halloween and spookiest night with your natural witch-iness.
I searched for the scariest costume on Halloween but failed because all of those are already in your wardrobe. Can you please borrow me one? Just Kidding. Wish you a fun and spooky Halloween night. Have a blast!
I wish that the power of Halloween charge up your life and broomstick and that you travel the world with it. Here's wishing you the best of everything on this Halloween. Lots of love!
Here's wishing you a spook-tacular Halloween. May you enjoy the festivities with food, spooky stories and drinks to go along. Happy Halloween.
I don't like witches on Halloween.
It makes me remember my ex-girlfriend.
You look less ugly on Halloween-than usual.
I wish you happy Halloween, may you have a room full of candies.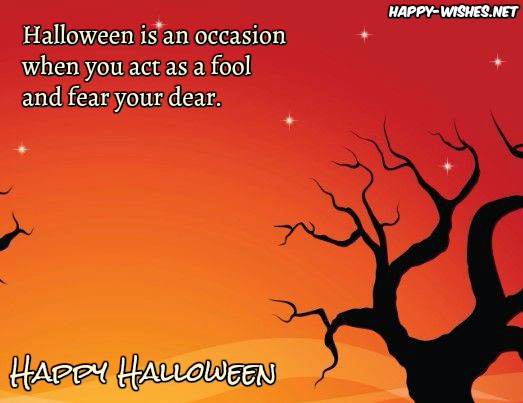 Halloween is an occasion when you act as a fool and fear you dear.
Your face makes me remember of Halloween.
I am not scared of one person on Halloween,
the one who is wearing the same dress as me.
I tried to scare an old lady on Halloween
he screamed so loud that I got scared.
I am still confused Halloween is a good day or a good night.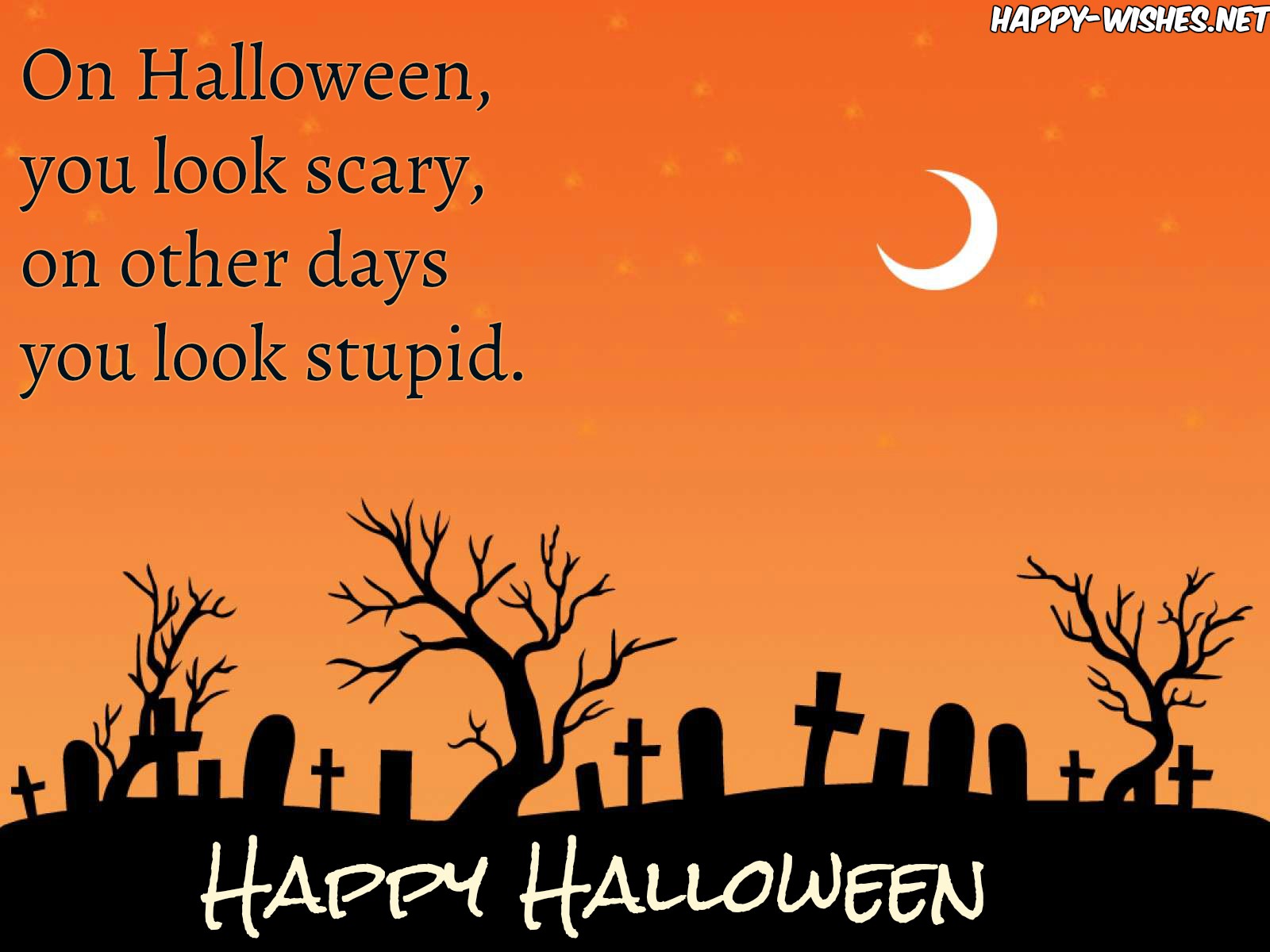 On Halloween, you look scary, on other days you look stupid.
It is dangerous to take the scary challenge on Halloween when you are suffering from loose motion.
I would love a vampire if he knows where humans suck.
My wife came with her friend who was wearing a Halloween dress.
And she asked "how is the witch" .
Then i asked which?
Halloween is said to be the honeymoon of Ghosts and witch.
Scary But Romantic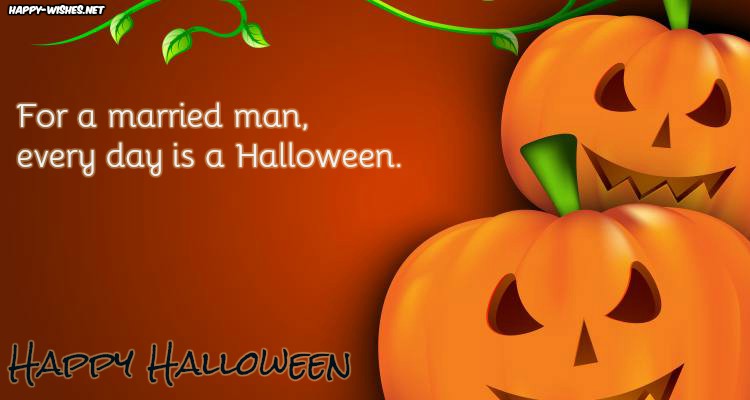 For a married man, every day is a Halloween.
On Halloween, I am surrounded by a witch.
On the Normal days, I am surrounded by a bitch.
Some people make a plan to fear others
But they remain in their house due to the fear of stray dogs.
The one who do not enjoy the Halloween is a boring creature.
I would allow witches to scare me if they allow me to get wild.
I want one thing from witches, they flying broom.
Some people look like carved Pumpkin when they laugh.
What you will eat on Halloween (Boo-Berries)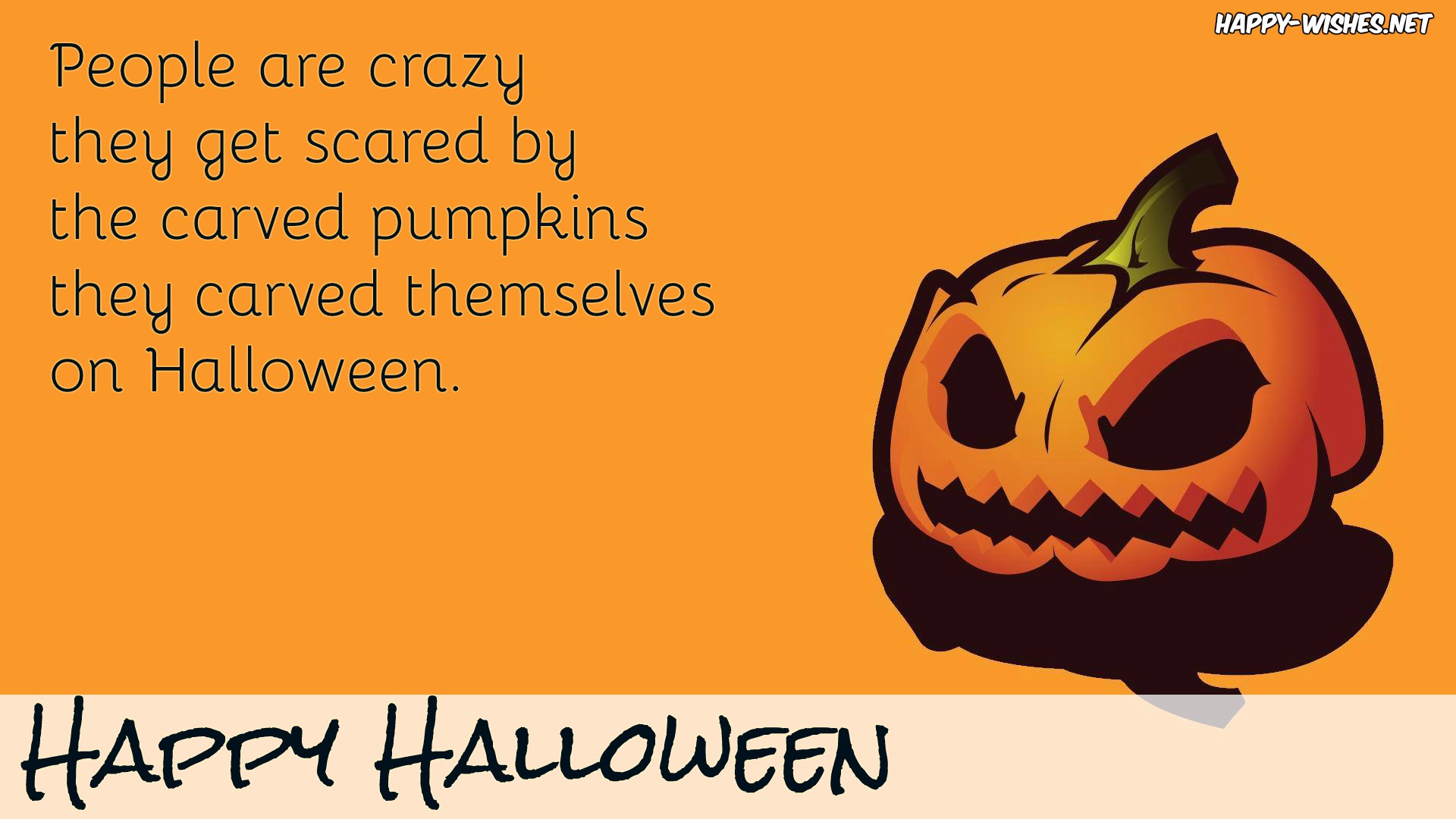 People are crazy they get scared the by the carved pumkins, they carved themselves on Halloween.
Halloween Messages
Where do fashionable ghosts shop for sheets? (Boo-antiques)
Halloween is the one night in a year when girls can dress like a total slut and no other girls can say anything about it. – Lindsay Lohan
I'd dress up as Siri for Halloween if my life didn't already entail being asked stupid questions all day. – Unknown
"Halloween is for dressing as something you're not. That's why most girls go as sexy."
Some people are that single that they are ready to date a witch on Halloween.
Some people want to look  scary, but they end up looking funny.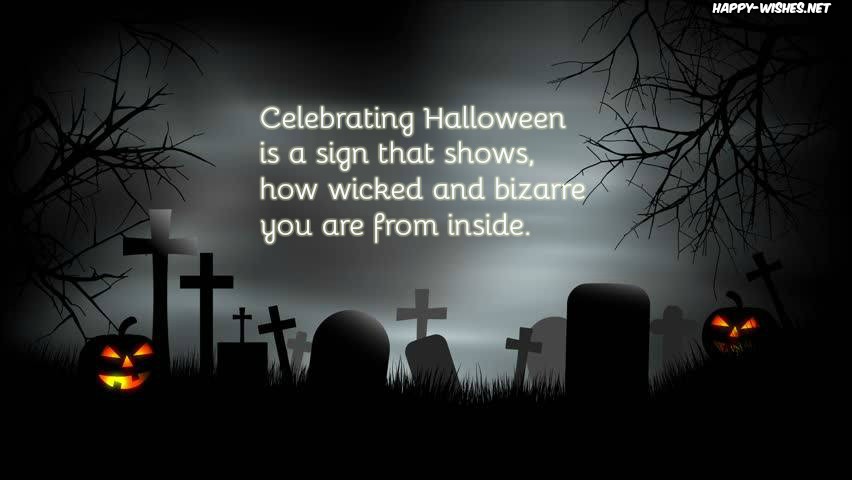 Celebrating Halloween is a sign that shows, how wicked and bizarre you are from inside.
Some girl dress up so sexy on Halloween they don't look scary, they look sluts.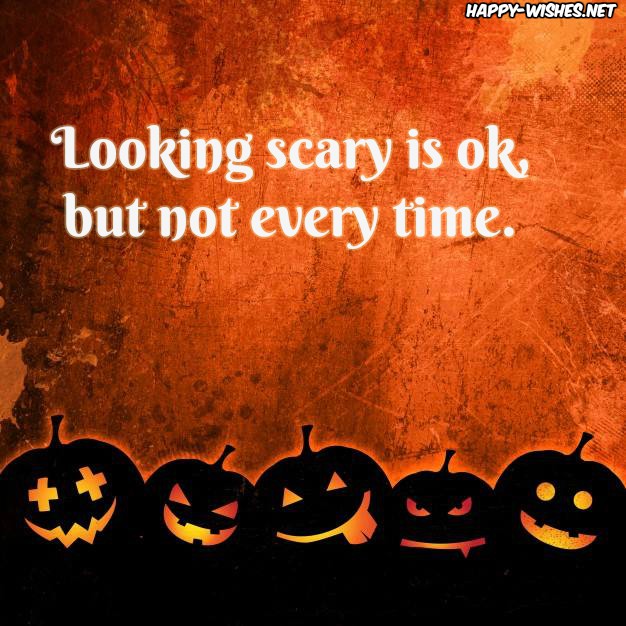 Looking scary is ok, but not every time.
Do you know in which class ghost read. Let me tell you, they read in "witch" class.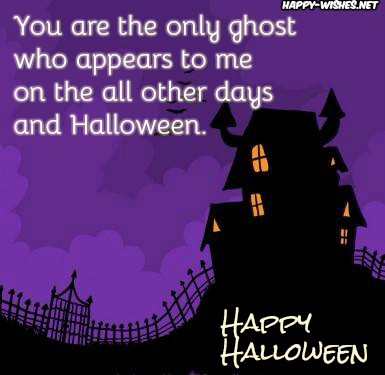 You are the only ghost who appears to me on the all other days and Halloween.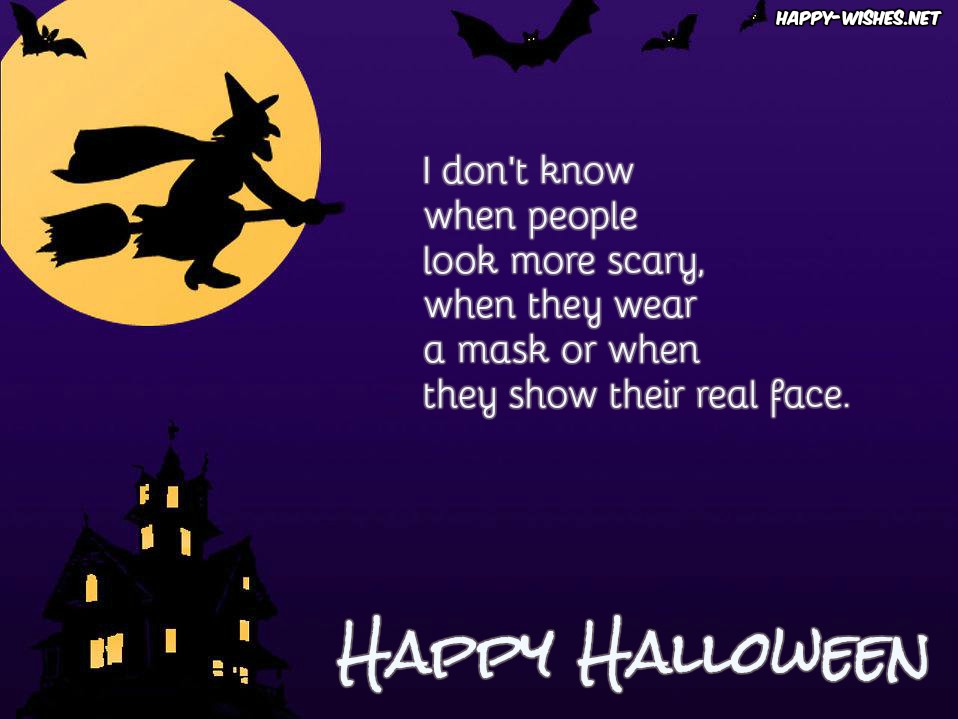 I don't know when people look more scary, when they wear a mask or when they show their real face.
In trick or treat activities is the first activity of human as a kid of threatnig, blackmailing, being a bully and taking ransom.
Wife without makeup looks like Halloween.
She sent a selfie and i said i have seen this witch on Halloween.
I wish you have a lot of candies on this Hallowwen . Do you know who i am?  "Dentist".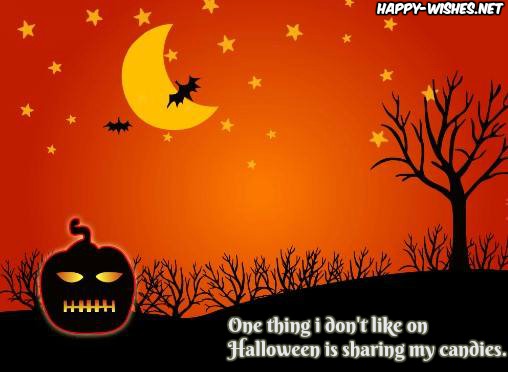 One thing i don't like on Halloween is sharing my candies.
Are you one of the greedy parents who steal the candies of their kids on halloween.
Your Halloween costume makes me want to take it off.
My female neighbores asked me what you liked most in my halloween dress. I said fitting.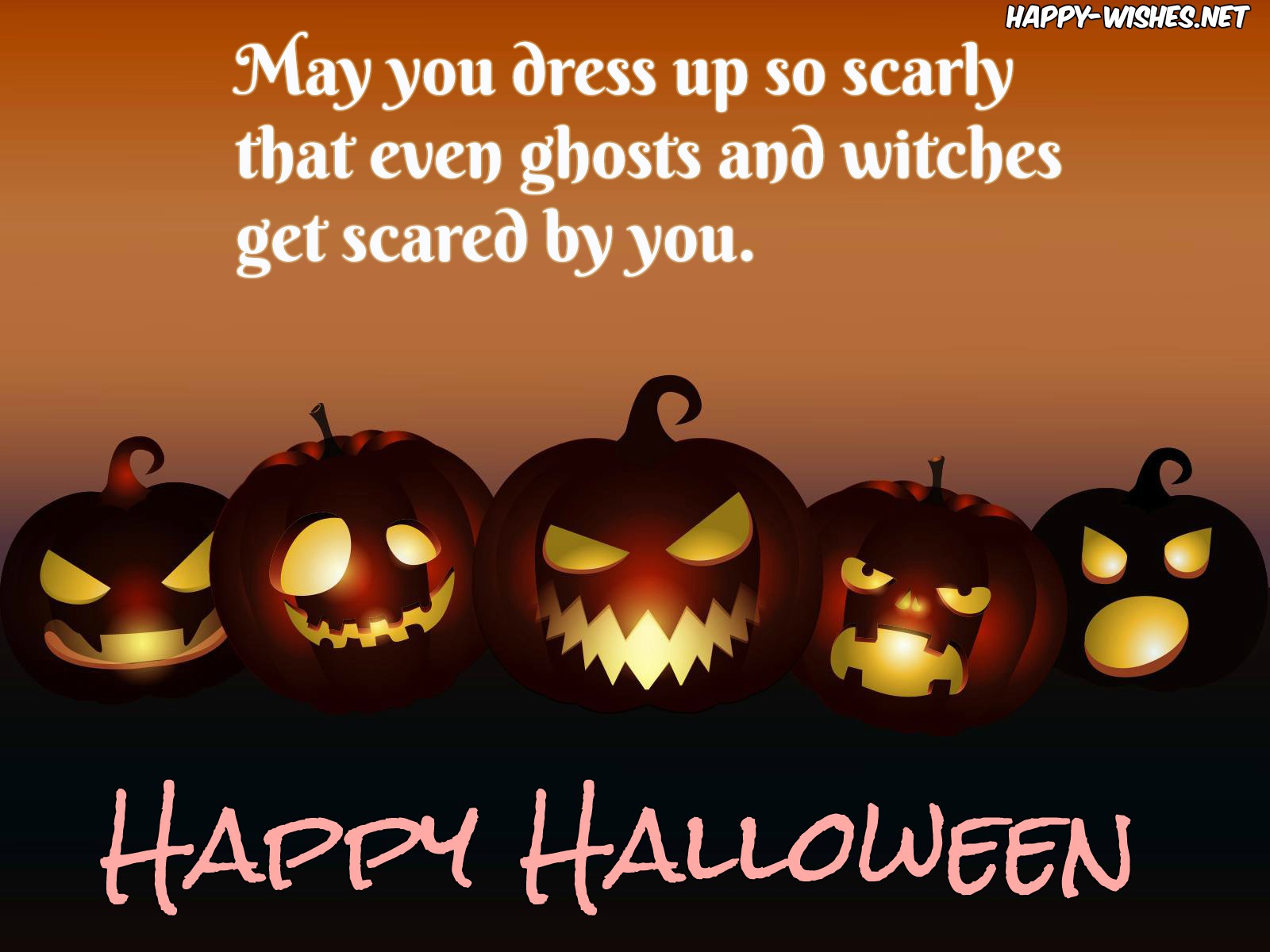 May you dress up so scarly that even ghosts and witches get scared by you.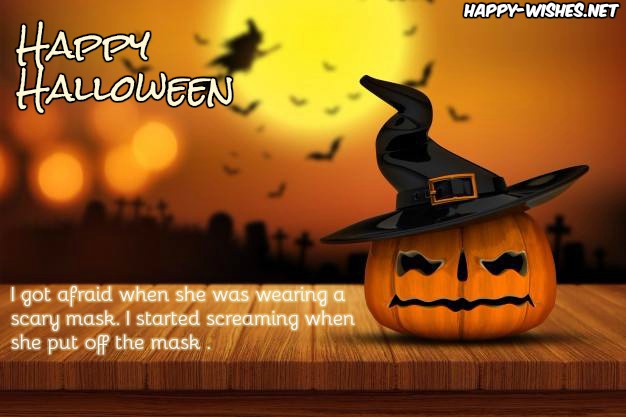 I got afraid when she was wearing a scary mask. I started screaming when she put off the mask .
There is one benefit of having an ugly girlfriend, you don't get scared of the witches on Halloween.
Halloween is by far a safest person to kill a person and leave them in a chair on your porch.
Its as much fun to scare as to be scared
On halloween the parents sent their kids out looking like me.
Lack of dusting skills finally pays back at Halloween.
Don't scare me i poop easily.
People send each other funny quotes on the Halloween. These wishes are a mixture of jokes on ghosts, witches, Halloween Costumes, and most scary looks jokes on Boss and the Ex girlfriend. So you should also add your name to this craziness going over o the event. You may also like our collection of happy Halloween memes if you are a fun loving guy who likes to crack jokes on the Halloween and Happy Halloween quotes for kids.