Purchasing a home is a dream of every person in life because home is one basic need of a family. Every man dreams of a perfect home with outstanding interiors to compliment and eventually work hard for turning the dream into reality. Some people shift from a rented home to their own home while the others convert their old into new one. A new home is a source of ultimate happiness. It is a time to rejoice and celebrate. You should always congratulate and wish your friends and relatives on buying or building a new home. You can congratulate them by sending them good wishes on their new journey of life. Here are some of the good wishes which you can send and make their day better:
Congratulations Quotes For New home
I more than happy for you today because you finally made it through. Congratulations on this new home.
Owning your home is one of the best feelings ever. I can understand your enthusiasm perfectly at this point. Congratulations to you and your family. Enjoy the day!
Home ownership is something which makes everything easier at our end. We are relieved because we have a home to go back to. Heartiest Congratulations to you on making it happen.
If you are thinking of naming your home then you should probably name it the land of your dreams. I cannot express my happiness in words. Congratulations!
Wish you tons of happiness and love on purchasing new home. May this home serve you with enormous success. Congratulations!
Your one true dream has finally come true. Congratulations. Waiting for the party already.
May you find happiness in every nook and corner of this new home. Congratulations.
Houses are built from bricks and cement but homes are built from family and love. May your home be always full of love and family. Congratulations.
Heartiest congratulations to you on making your dreams a reality. Enjoy the most of it.
Today is your day. Enjoy it to the fullest. This home is going to be the best thing that has ever happened to you. Congratulations.
A home is a haven of love and happiness. May this home become the part of your life. Congratulations.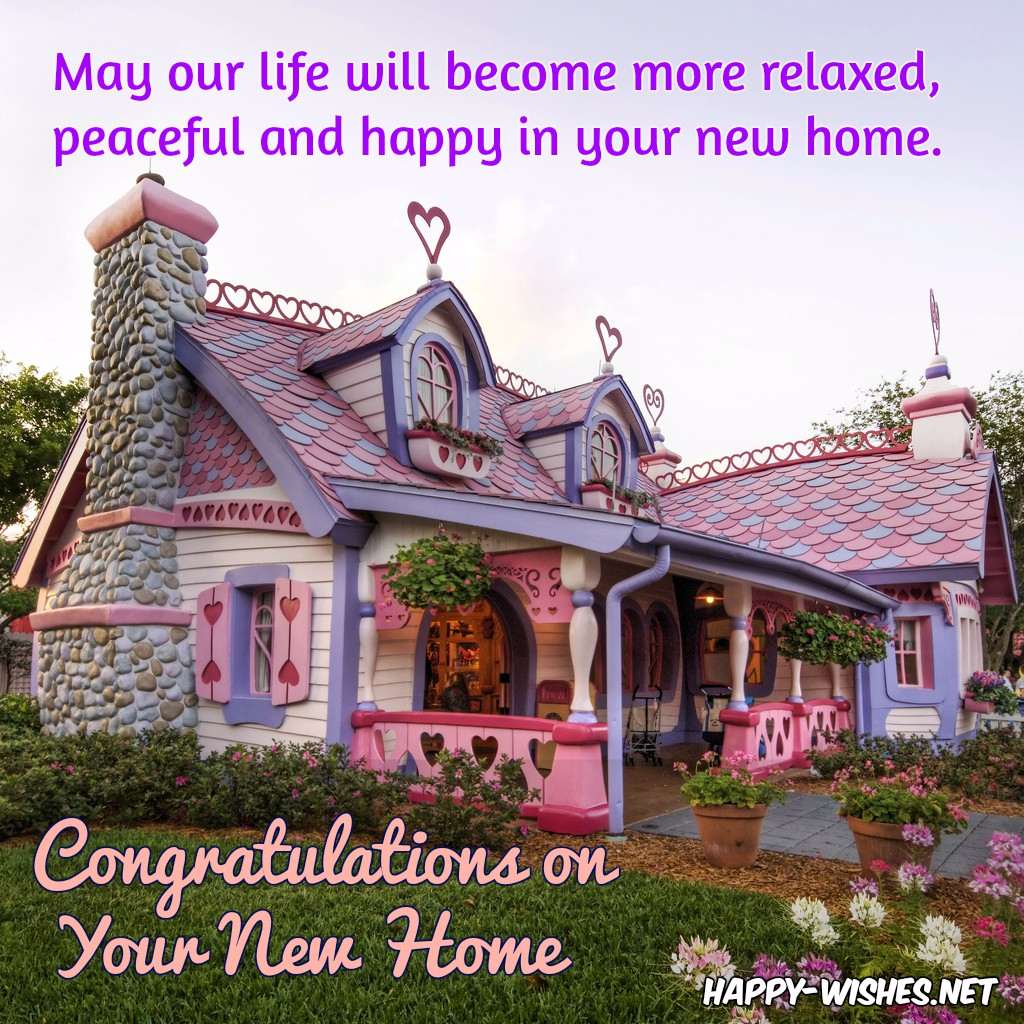 Congratulations on buying such a luxurious and spacious home.
Good luck on your new journey. Congratulations to you.
Congratulations on a mortgage-free life. Waiting for the invitation.
Your new home is an investment that will reap happiness for a lifetime. Congratulations.
New playground for the kids, a new world for the spouse
We congratulate you on making a new house,
Congratulations on your new Home
Its size is so bigger,
and so beautiful it seems
Heartiest congratulations to you
On making the home of your dreams.
Congratulations on a new home.
A lot of people try
A very few people succeed
You Home tells the story
You are a winner Indeed
Congratulations on making a new home.
Messages on the Making of new Home
We congratulate you on making a new home. We wish you all the happy memories in your home.
May our life will become more relaxed, peaceful and happy in your new home.
We wish you all the best on making the home of your dreams.
I congratulate you on making a new home. I hope you will keep succeeding like this.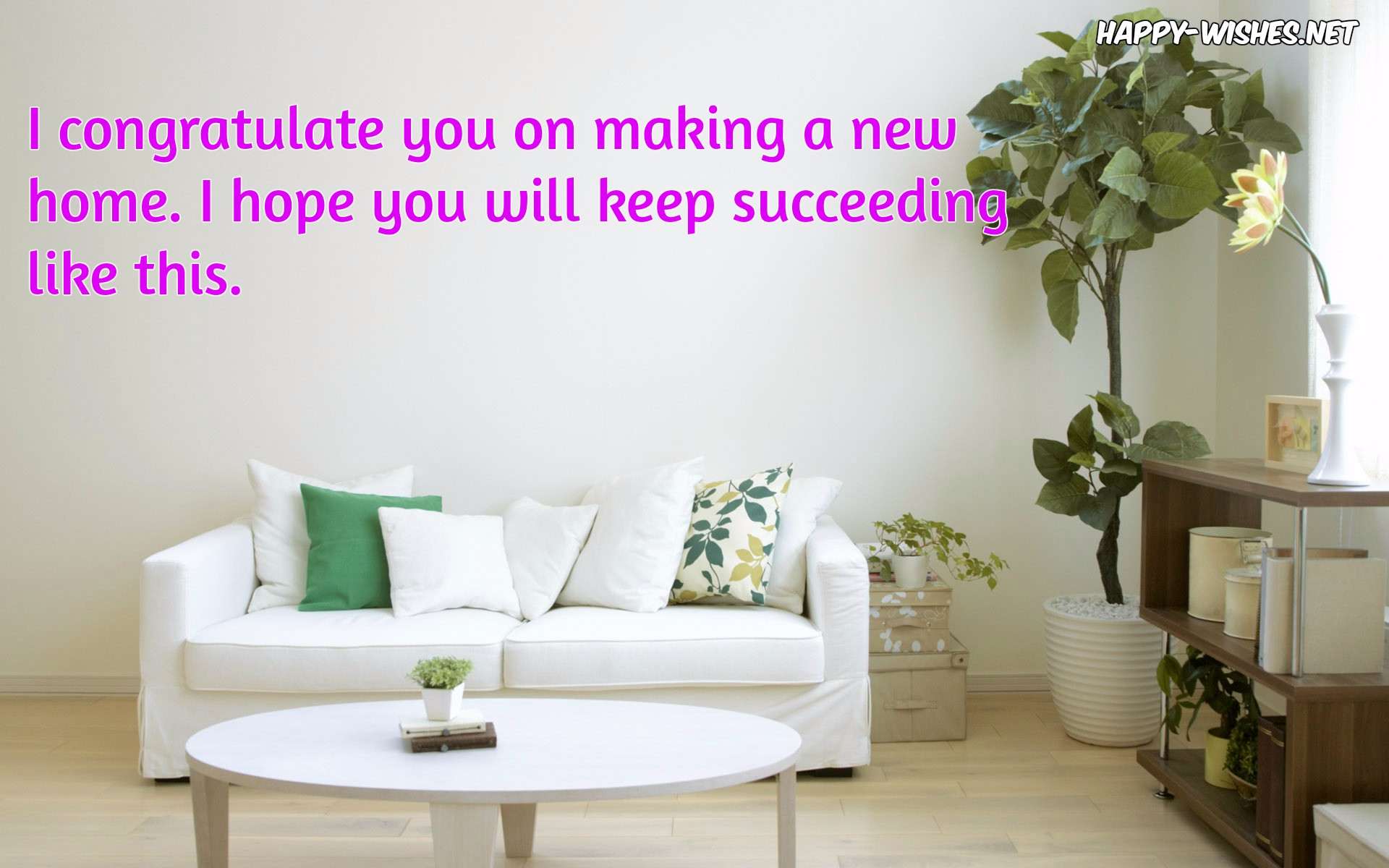 We wish your new residential place prove new Palace of luxuries to you.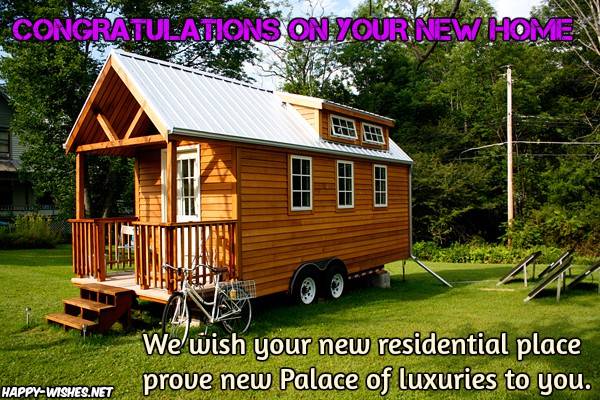 Congratulations Messages for New Homeowner
A new home is like a new phase in life. Embrace the happiness it brings and live to the fullest. Congratulations.
Your new home is going to be your solace from a busy and monotonous day. Congratulations.
Congratulations to the beautiful couple on owning such a beautiful home. Cheers to you two!
You might be tensed about your home loan but your new home will never let you regret even for once. Congratulations.
A home is built with love and warmth. May you continue to build your home with such warmth and affection. Congratulations.
Nurture the time spent in your home with your friends and family. Create new memories and enjoy. Congratulations.
Stepping into your new home is going to be your best step so far. Cherish it to the fullest. Congratulations.
Owning such a beautiful home is no less than a blessing. It is going to be very fruitful for you. Congratulations.
A home is not just about walls and windows. It is about family, love and affection. Turn it into your heaven. Congratulations.
The warmth of new home is going to stay with you for a long time. Enjoy it to the fullest. This time shall never come again. Congratulations.
Inspirational Congratulations Messages for New Home
This home is a living proof that you can achieve anything you desire. I am proud of you for this. Keep working hard. Congratulations.
May the beauty of this home envelop your entire family into a bubble of happiness. Congratulations.
The doors and windows of this home are going to welcome new opportunities into your life. Congratulations.
New home is all about positivity. This house is going to fill your life with positive vibes for a very long time. On this note I wish you a very happy life. Congratulations.
The best feeling in the world is when you turn your dream into reality. You have made it possible in such a short span of time. Wish you immense luck. Congratulations.
With this home, you will realize that even the walls of the most expensive hotels of the world cannot compete with the warmth a newly owned home brings. Congratulations on your success. Cheers to you!
Congratulations on buying yourself a new home. May you keep reaching heights and make everyone proud. Congratulations.
Every moment of your life is going to be better in this new home because it is a product of your immense hard work and grit. Congratulations.
When you bought a new home you did not just purchased it for you and your family but accomplished a huge milestone in your life. Keep moving ahead with the same pace and soon you will be on the top. Cheers. Congratulations.
This home is a proof that your life is on the right track. You are treading on the right path and nothing wrong can ever happen when you are doing it right. Congratulations.