Invitation messages are used to invite people over for special occasions. They contain information about the venue, date and time of the occasion. You could be having a party to celebrate a business deal, a birthday, someone's anniversary or even for winning the lottery! No matter the reason, humans are always looking for excuses to engage socially!
An invitation can be used in any form. You can write it down on a piece of paper, have it printed in a card, send a voice message or call someone directly. These days you can also invite someone with a picture message.
If you are planning to have a lunch party soon and are looking to invite your friends, colleagues or family over, then look no further. We have compiled some lunch invitation messages that you can use for all of these occasions. Whether it is a formal get together or an informal lunch meeting, these messages are perfect to use for any occasion!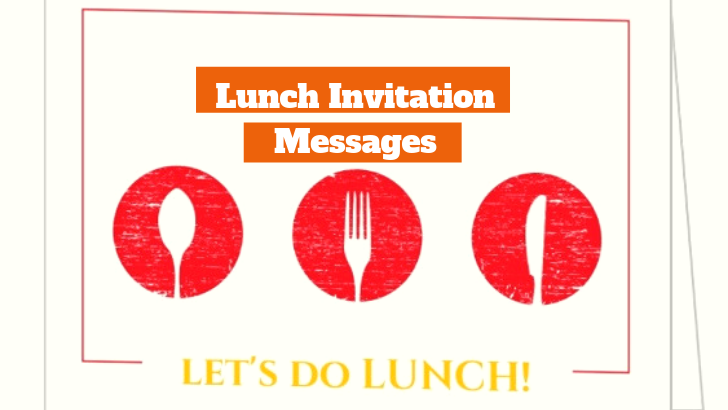 Lunch Invitation Messages Sample
Hi_______! It has been a while since we saw each other. I was wondering if you would like to catch up tomorrow afternoon for lunch.
Dear______, I would like to invite you to lunch this Saturday afternoon, to celebrate the christening of my son.
Dear____, we are having an afternoon lunch party on Friday, to celebrate our wedding anniversary. It would be lovely if you could join us at our home.
Hello members! You are all cordially invited for the monthly team lunch at the ____ restaurant at 12:00 pm.
You are invited for a lunch party at ________ cafe, hosted by ____________ to celebrate the arrival of their beautiful daughter.
Please join us for a bridal luncheon to honor our soon to be bride, ________, at 1:00 pm, this Thursday afternoon at the _______ restaurant.
We would be obliged if you could attend our house warming lunch party this Sunday at 1:00 pm.
We would be honored to have you celebrate our wedding anniversary with us at our home, this Sunday afternoon at 2:00pm.
Its spring and the flowers are at full bloom! Like every year, we are having a spring lunch in our garden. Please join us this Saturday at 1:00 pm. Bring the kids along!
and Mrs.________, you are cordially invited to the baby shower of our daughter at ____________ restaurant, this Sunday at 1:00 pm.
Please join us in our celebrations this Friday afternoon at Hotel_____________, at 1:00pm.
We haven't caught up in a while. Let's grab some beers at lunch this Saturday? See you at _______ bar!
You are invited to be part of the team lunch at 2:00pm, tomorrow, at the office cafeteria.
I would like to invite you for an afternoon tea at my house, tomorrow, at 12:00 pm.
The happy union of the newlyweds, Mr. and Mrs.____________ calls for a celebration! Please join us for lunch at Hotel_________ at 1:00 pm on the 13th of July.
Hi _____, would you be kind enough to take out some time from your busy schedule and have lunch with me this Tuesday? I would like to discuss a business deal with you.
You are cordially invited to a luncheon, hosted by the _________ committee, at 1:00 pm on 12th July to celebrate the annual gala.
You are invited to join in the celebrations of the newlyweds at Hotel________, on 19th Please confirm your attendance by this Saturday.
The annual meeting of the Parents Association is being held this Saturday. Please join us for lunch at the school cafeteria at 12:00 pm.
We are having a farewell lunch at Hotel_________ to celebrate 25 years of service of Mrs. __________. Please join us in bidding her adieu, this Friday at 1:00 pm.