Your lover, better half, soul mate, friend, confidant etc, you can call them by different names, but the emotions remain the same. Every day with the person you love is feels like a celebration. But there are some days that require more celebration than others. One such day is your better half's birthday. A person so special requires some special treatment on their special day. Make their birthday a memorable affair by wishing them. We have put together a bunch of messages for your beloved that you can use to make their day unforgettable and unique. This is a day to celebrate and to be grateful that your soul mate arrived in this world to make your world a better place.
READ ALSO – Happy Birthday wishes for Husband
Happy Birthday Quotes for Lover
This day is not just a celebration for you but also for me. Today is the day you entered this world. I will forever be grateful to god to have brought you to life so I could meet you. Happy birthday honey.
Had you not been born, we would not be together. This day is the most special day to me and I hope I can make it special for you too with this wish. Happy birthday.
You are so beautiful, cheerful and full of love. I hope this day is all of these things for you. Wishing you the best birthday ever my love.
I wish I could be a genie and grant you all your wishes, because you sure did by being the genie in my life. It's your day and your time ahead. Go on and shine!
This birthday, I pray to god, to always keep you smiling, full of light and shine and to keep that sparkle in your eyes intact. You have no idea how much that sparkle brightens my world. Happy birthday.
If I could send you my heart, I would. Unfortunately, the post won't take it and so you have to make do with this wish. Happy birthday darling.
You bring a smile to my face everything I see you, hear you name, get a pop up notification by you on my phone or even think of you. I pray that you get the same happiness in life today and always. Happy birthday.
You make the worst days seem like a cake of walk by just being next to me. How can I not make your birthday special? Sending you your favorite cake, a tight hug and a long kiss on your birthday this year.
You have grown up to be an incredible, sensitive and confident person. I feel lucky to have seen this version of you and to be a part of your life at this phase. You bring me immense happiness and I hope to return some to you. Wishing you a very happy birthday.
You are my dream come true. May life bring everything you ever dreamt of, at your door today. You are a special person and so is this day! Happy birthday and continue dreaming always.
I am lucky to have found you and even lucky to have you love me back. Thanks for being such a great person. Happy birthday!
I hope this coming year, we are never apart. I hope we travel the world and eat good food. I hope we are together celebrating this birthday and all the ones to follow. Happy birthday!
You are an angel that was sent to me by god. You have brought positivity and stability into my life. I hope this year is the greatest in your life and you find the same balance as I did when you walked into my life. Happy birthday!
The love I have for you is so great that it keeps expanding every time I see you. You can see it in my face, my heart and also my waist. Happy birthday my love.
Every day with you is a reason to celebrate. But a day as special as this, is ought to be celebrated in the most extraordinary manner. Wishing you a whole lot of sunsets, beach walks and goods wine today and always. Happy birthday!
Thank you for showing me what true love means. Every breath you take is like life being added to my heart. I love you dearly. Happy birthday.
As you grow a year older, I pray to god that we can both grow old together. My life would be incomplete without you in it. Stay blessed and stay with me forever and always.
One day we will look back at this day and marvel at how beautiful it was. A person as beautiful as you deserves every bit of luck and joy out there in the world. Today is your day and I hope you always stay as happy as you are today!
The world is your canvas. A year gone by but many more to come. Let us paint the world together. I am certain that with you by side, there will never be a dull color in our lives. Happy birthday love.
A million kisses won't be enough to express what I feel for you. You beautiful face and eyes lend me a view into your soul. I never want to let you go my love. For this birthday and the ones to follow, may god always keep us together. Happy birthday!
I was so happy when
you came in my life
A very happy birthday
To my sweet darling wife.
Happy Birthday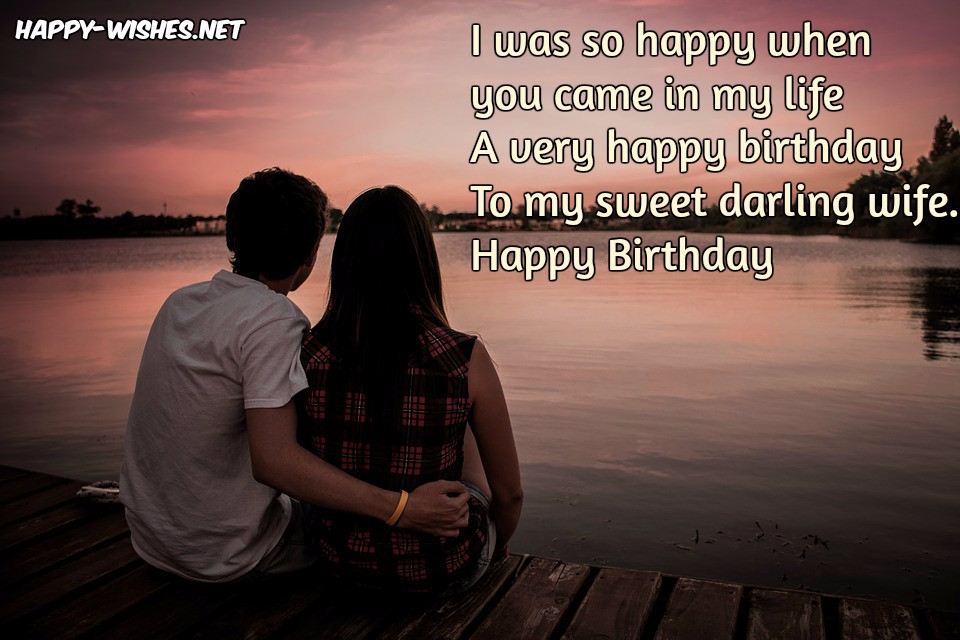 You are the reason behind my smile
I can't forget your special moment Even for a while.
Happy birthday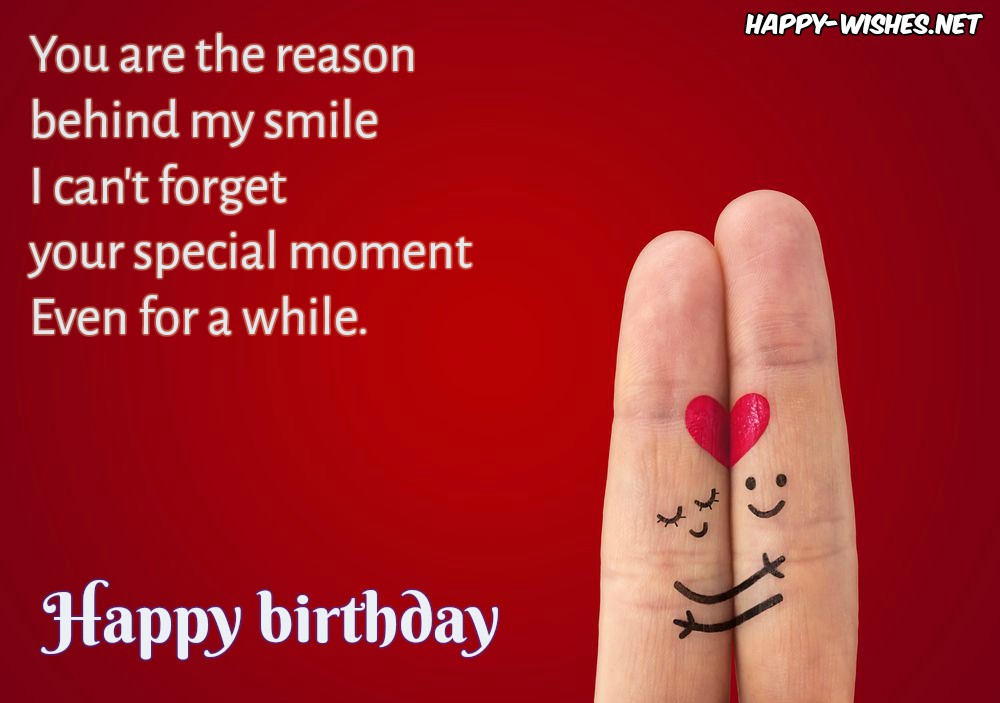 You will be always loved
whatever will be the situation
I wish happy birthday to
God's Most Beautiful creation
Happy birthday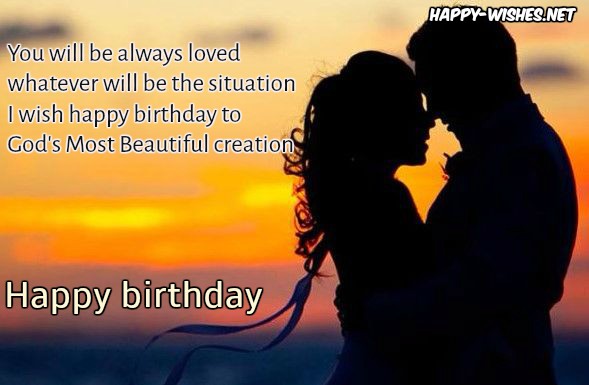 Happy Birthday images for Couples
We also have all the cutest and most lovable romantic birthday images for your life partner.