Life is the greatest gift God has given to you. You pray to God and thank him for all the happy moments whenever you are happy as well as pray to get rid of the bad time when you are sad. It is always advices by the elders to ask for God's blessings on special occasions. For example, you take oath in front of the Jesus in Church when you get married. So, you should thank God for giving you one more year of life. You can also share these religious birthday wishes with your friends and relatives to enrich their lives with the positive energy of God.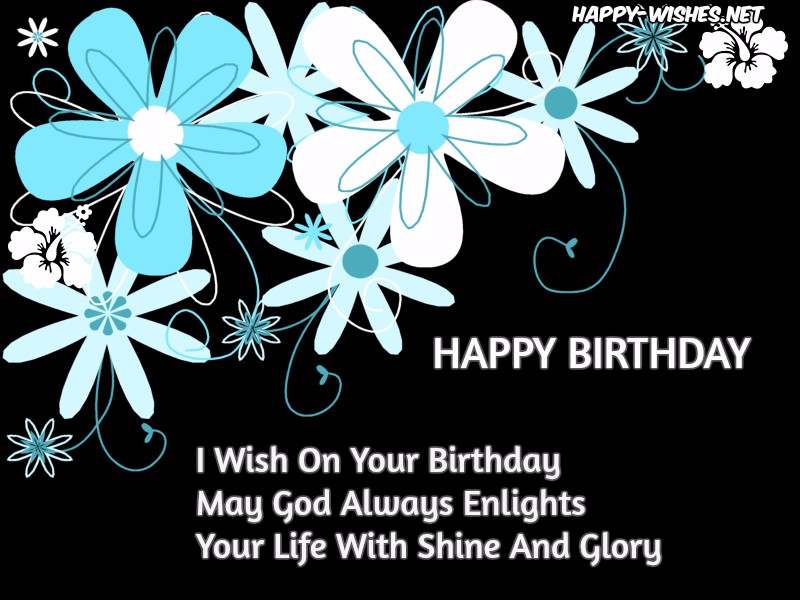 God's teachings make you feel positive and when you are happy, you make others around you happy. A happy man can never lose his focus on work. So, being religious in life is one of the best things because you feel good when you walk on the path of the God.
We have provided you with the best collection of religious birthday wishes which you can send to your friends and relatives to enrich their lives with the positive energy of God.
Spiritual Religious Birthday Wishes
Take the name of God and everything shall happen as your desire. Wish you many happy returns of the day. Happy Birthday.
May God bless you with enormous happiness. May he always bless you with everything you ask from him. Happy Birthday.
Jesus is with us. He is there to listen and support us in every walks of our lives. May you always find solace in him. Happy Birthday.
May you always seek the almighty in both good and bad. May you always find happiness within him. Wish you a very happy birthday and a blissful life ahead.
The actual meaning of happiness can only be found within his heart. May you seek the real happiness throughout your life.
He listens. You may believe it or not but he really does. So, watch out what you ask for. Happy Birthday.
The real lessons of life are taught by the Jesus. He teaches the lesson and also protects us from it. Have faith in him.
May you always follow his teachings and tread on the path he has carved for all of us. Amen. Happy Birthday.
God is our supreme supporter, friend and comfort. May you never forget him even in good times. Happy Birthday.
Wish you a blessed and healthy life ahead. May God always shower his blessings on you. Happy Birthday.
Inspirational Religious Birthday Quotes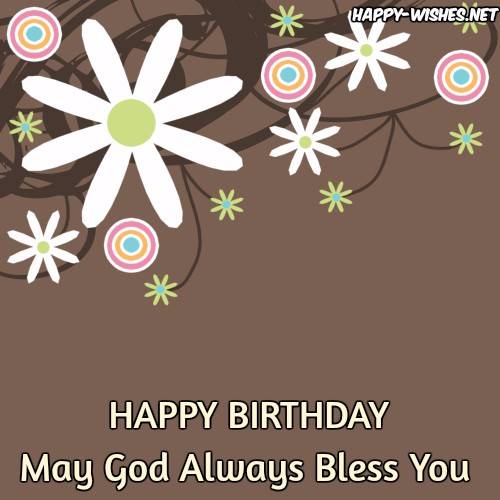 Life may seem rough and things may go wrong but never lose hope because hope can turn things around. Happiest Birthday to you.
A real champion is not defined by how well he fights but how well he deals with the situations. Happy Birthday.
A bad chapter is not end of the story. You have so much to look for. Happy Birthday.
Always look for the silver lining. That's how you find happiness in rough times. Happy Birthday.
Life tests us in manifold ways. It is upon us to harden with the lessons or learn and move on. The ball is always in our court. May you be kinder and stronger with every lesson life puts you through.
Someone has rightly said that the show must always go on. No matter how bad situations get you should always get up and fight back.
So, wake up and fight. Turn your dreams into reality. Grind. Happy Birthday.
Only dead fishes go with the flow. So, chase the currents and learn to get back at life with strength. Happy Birthday.
This birthday I hope that you choose to be a fighter and grow stronger with each passing day. Happy Birthday.
This too shall pass. Always believe in the magic of time. Happy Birthday.
Sentimental Religious Birthday Quotes Wishes
Growing is old is not bad. Look at this year as a new beginning and go with life. Happy Birthday.
May you seek adventure and happiness in every second life offers to you. Happy Birthday.
This year may all of your dreams come true. May this year offer you with abundant happiness. Happy Birthday.
Be true to yourself and you can win anyone and anything in life. Happy Birthday.
You are the reason of your happiness and sadness. May you be the in charge of your life and choose your happiness above all. Happy Birthday.
I feel lucky to find a true friend like you. You are the greatest gift I ever asked for. Thanks for being there for me. Happy Birthday.
Your birthday is special to me in so many ways. Happy birthday to my special one. Lots of love to you!
Live your life to the fullest and see how happiness unfolds. Happy Birthday.
May your dreams light up the sky and you outreach your limits. Happy Birthday.
Treasure the happy moments and learn from the mistakes. That's what life is about. Happy Birthday.
Happy Birthday Religious Quotes
On your birthday, thank god for making your life happy.
Pray to god that he will continue to shower his blessings.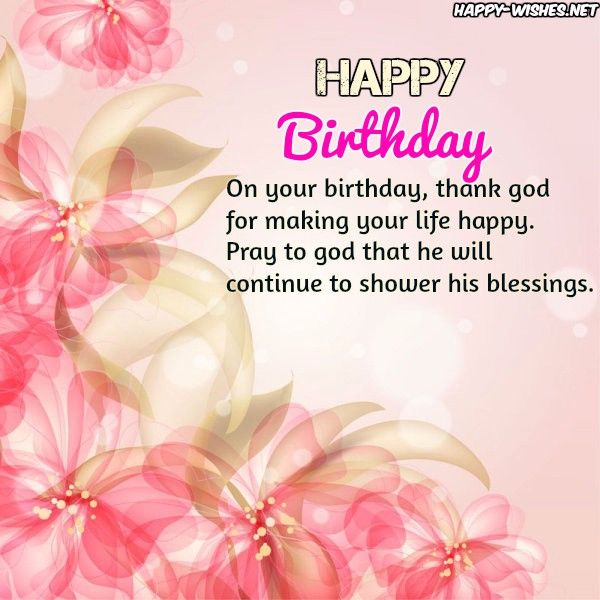 I always pray to god that he fulfil your life with happiness and positivity.
On your Happy Birthday, I pray to God that you will always remain one of his favourite children.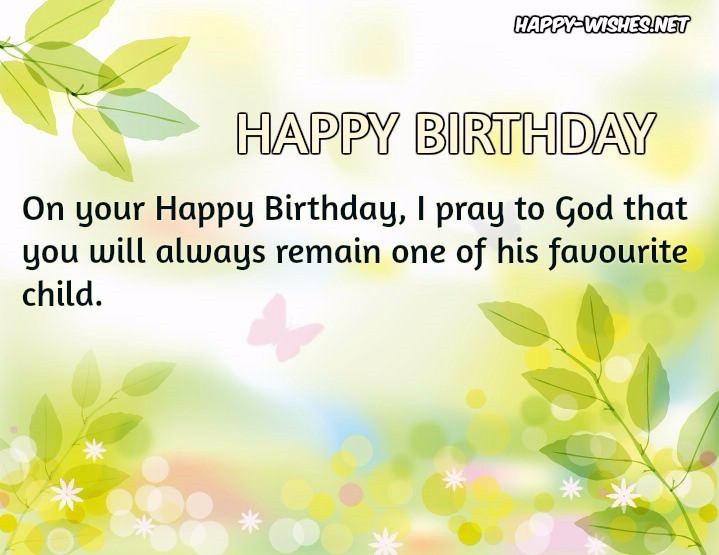 I wish a happy birthday to you. I wish to god that he never forgets you and also you never forget him.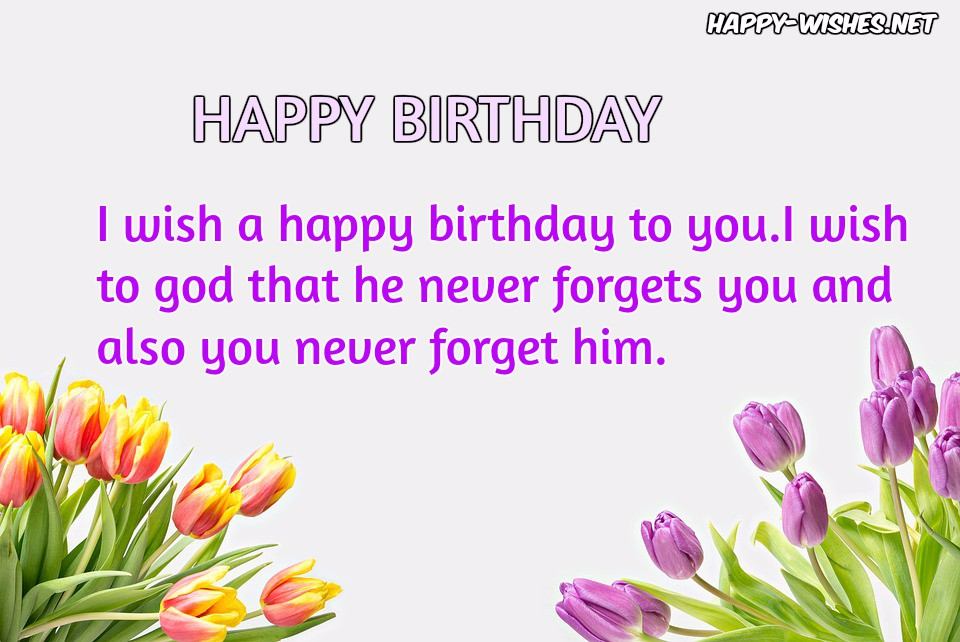 You should be always thankful to god on your birthday.  Because he is the one who gave you birth, has the count of your days. and his blessings make you happy.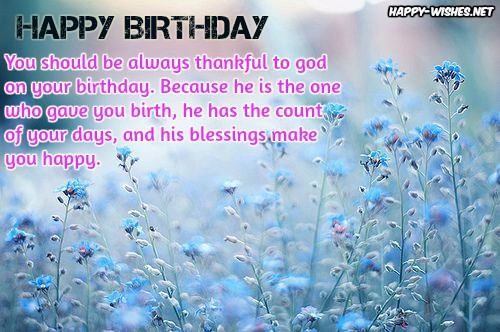 Look in the mirror. Yes, the person staring back at you is one of God's most beautiful Masterpieces. Have a wonderful and blessed birthday!
As the children of God, we must strive to be a blessing to others. You have been not just a friend, but the best blessing that He has bestowed upon me. A person like you deserves teeming love in your entire lifetime! Happy blessed birthday to you!
May God grant you the necessary strength to blow out all of those candles on your cake. Happy Birthday.
Happy Birthday Religious images