As a child, you all must have received a lot of affection from your uncles. And, the same continues even when you grow up. Most of us are lucky enough to have both maternal and paternal uncles. However, you get to meet your paternal uncles more frequently. Paternal uncles inspire you to do good things and teach you various lessons for life. As a kid, you might use to get your uncle's support, whenever your parents scolded you. For some of you, your uncles are your role model. You don't get to meet your maternal uncle so often but whenever you get a chance to meet your maternal uncles you get lots of love from them as well. Maternal uncles pamper you like your mother. Whereas paternal uncle keeps inspiring you like your father. In this article, we are sharing with you a great collection of the birthday wishes for your uncle.
On your birthday your uncles always try to make you feel special. So, it is your responsibility to wish them on their birthday. They will be very happy after getting these wishes from you. They give you unconditional love and care and it's your duty to make their birthday a very special occasion for them. Give them a surprise on their birthday with these birthday wishes. Take a look at our collection of Happy birthday wishes for uncle.
Happy Birthday Wishes For Uncle – Quotes & Messages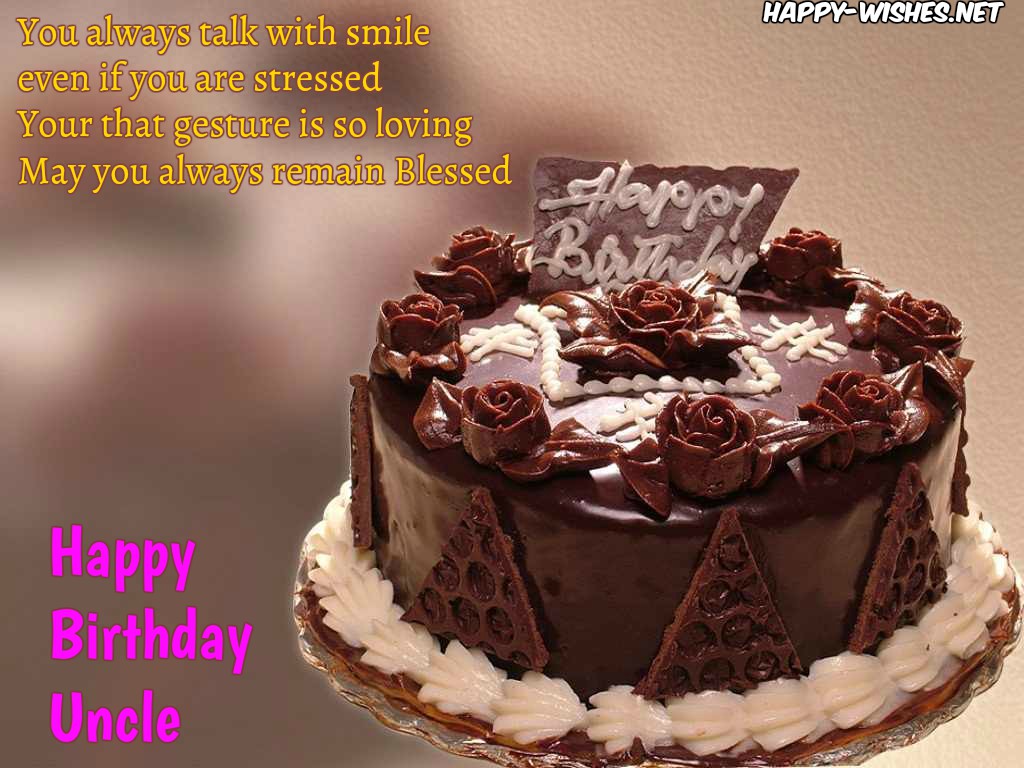 You always talk with smile
even if you are stressed
Your that gesture is so loving
May you always remain Blessed
Happy Birthday Uncle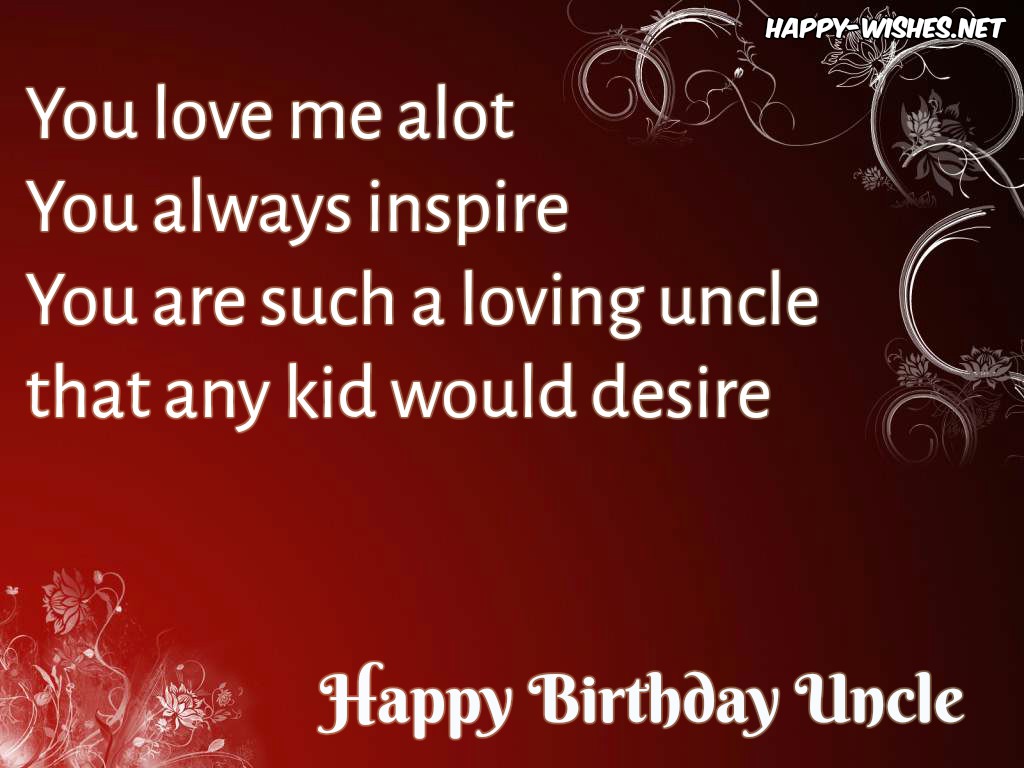 You love me alot
You always inspire
You are a such a loving uncle
That any kid would desire
Happy Birthday Uncle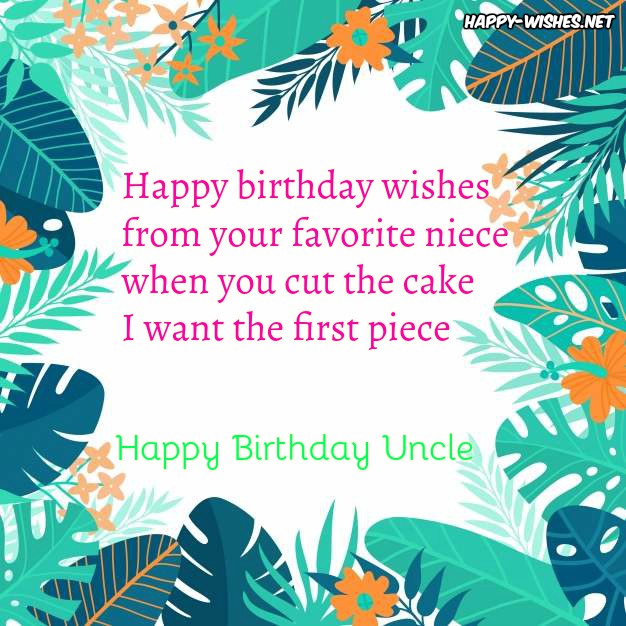 Happy Birthday wishes for uncle from niece
Happy birthday wishes
from your favorite niece
when you cut the cake
I want the first piece
Happy Birthday Uncle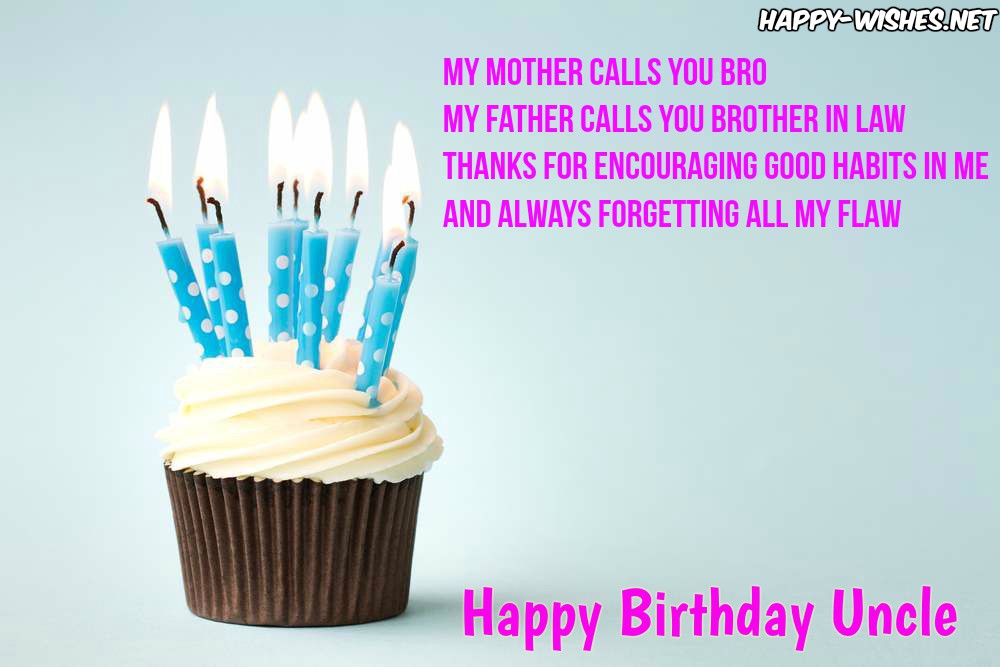 My mother calls you bro
My father calls you brother in law
Thanks for encouraging good habits in me
and always forgetting all my flaw.
Happy Birthday Uncle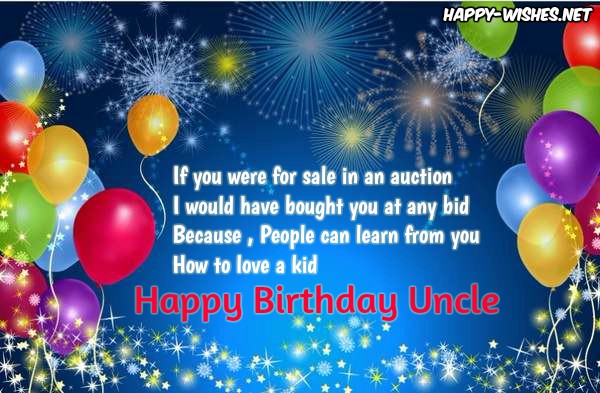 If you were for sale in an auction
I would have bought you at any bid
Because , People can learn from you
How to love a kid
Happy Birthday Uncle.
My Uncle is like my best friend,
I will always be there for him,
On this special day,
I wish him good luck and joyful years ahead,
Happy Birthday Dear Uncle.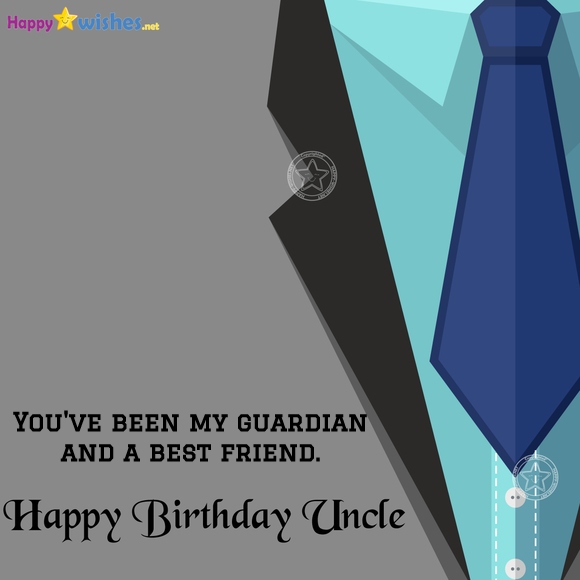 You've been my guardian and a best friend,
Wish you a very happy birthday Uncle.
I can't forget the chocolates and gifts you gave me and made my childhood a really rocking one. I can't do enough on your birthday but wish you a very happy birthday.
You have been very supportive and encouraging,
I have been looking up to you since my childhood,
Wish a very happy birthday to my Rockstar uncle.
You have been like my father when I needed some serious advice,
You have been like a friend when I needed someone to play with,
Very happy birthday Uncle.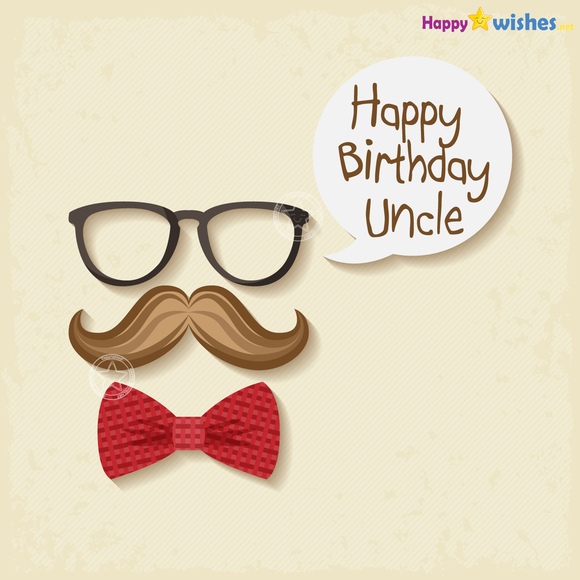 My childhood would not have been so fun filled without you,
You are the real champion I have ever known,
Wish you a very happy birthday Uncle.
You are someone who has always helped me in making right decisions,
You have always shown me the right path whenever I was confused,
You are the best Uncle one can ever have.
Wish you a very happy birthday.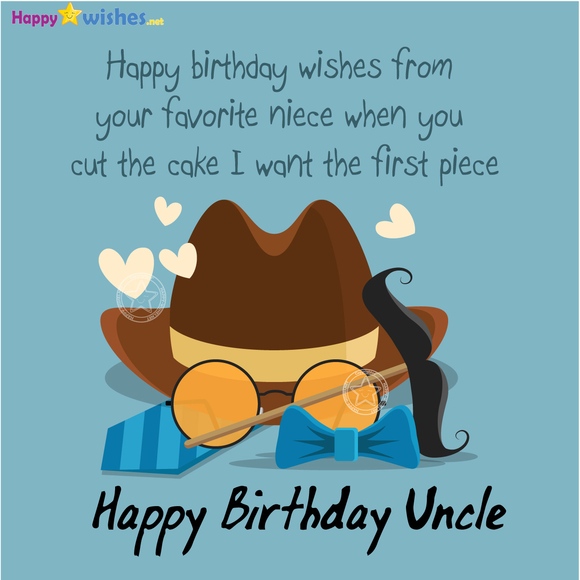 My childhood would not have been so wonderful without you.
Wish a very happy birthday Uncle.
Whenever my parents were busy, You were the only one who pampered me and helped me to get through all my problems. Thanks a lot and wish you a very happy birthday Uncle.
Uncles are like spicy garnish over a hot pizza. Life is incomplete without them.
Wishing a very happy birthday to the most amazing person in my life, my Uncle.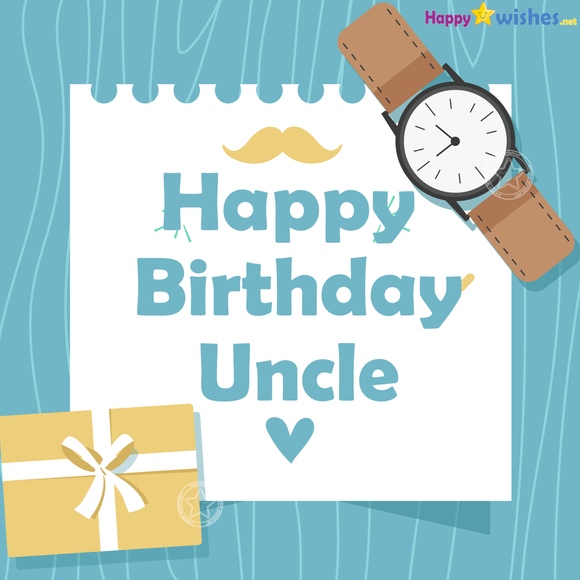 Wishing a very happy birthday to the most fun-loving, amazing and the best entertainer in my life, my Uncle.
May you get all the happiness in this world, Wish you a very happy birthday Uncle.
Thanks for taking care of me and being with me during happy and sad moments of my life.
Wish you a very happy birthday Uncle.
Your words of wisdom can never be forgotten.
You have taught me how to live life to the fullest.
A very happy birthday Uncle from your loving nephew.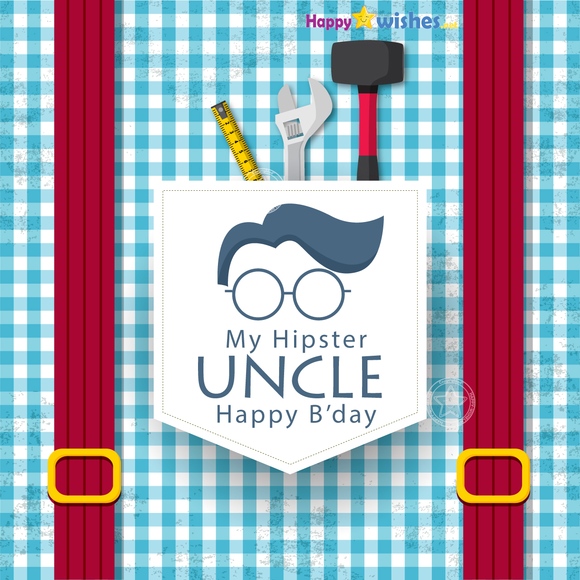 We hope these quotes cover all the emotions of a nephew and niece toward their uncle. Well, all the uncles whether paternal or maternal they have the special and unique style of loving and pampering their nephew and nieces. These are the best wishes that you guys can share with your uncle. Maybe we have exaggerated the qualities of an uncle. But everybody feels happy when you praise them. So making them happy on their birthday would be the first and primary thing that you can do for him. Share all these wishes with your uncle on his birthday and tell him how special he is for you. You may also like our other article like Happy birthday wishes for aunt.