The excitement of celebrating the birthday of your 2-year-old baby is gripping you with great enthusiasm. You are still thinking about your baby's 1st birthday, and then suddenly the day has come so fast for his or her second birthday. Happy birthday wishes for your 2-year-old baby must be heart touching, adorable, cute, sweet, and cuddly messages perfect to show your motherly or fatherly love towards your bundle of joy. You can write beautiful birthday wishes for your child and decorate with glitters and colorful papers beside his cot and his room. Moreover, you can also inscribe the beautiful messages in a collage of his or her lovely photos right from those pictures which were clicked after your toddler's birth.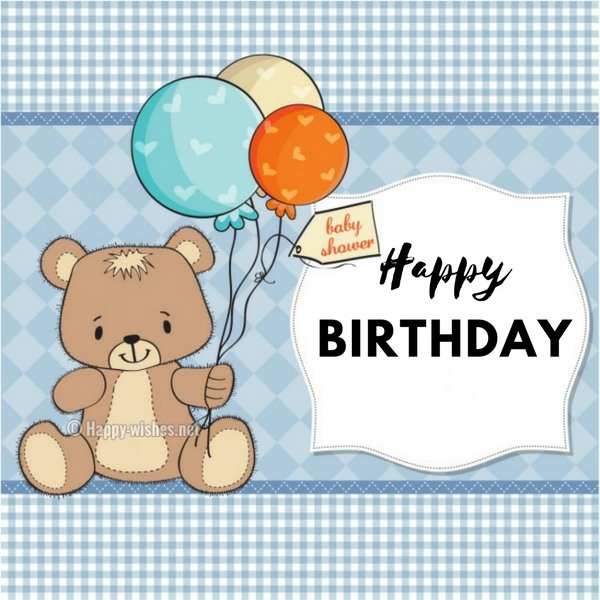 Birthday wishes for 2 year old Baby from Parents
If your little bundle of joy has just turned two, then you can dedicate these messages to welcome the completion of two years in the earth. Some of the loving birthday messages 2 year old Baby from Mom and Dad are: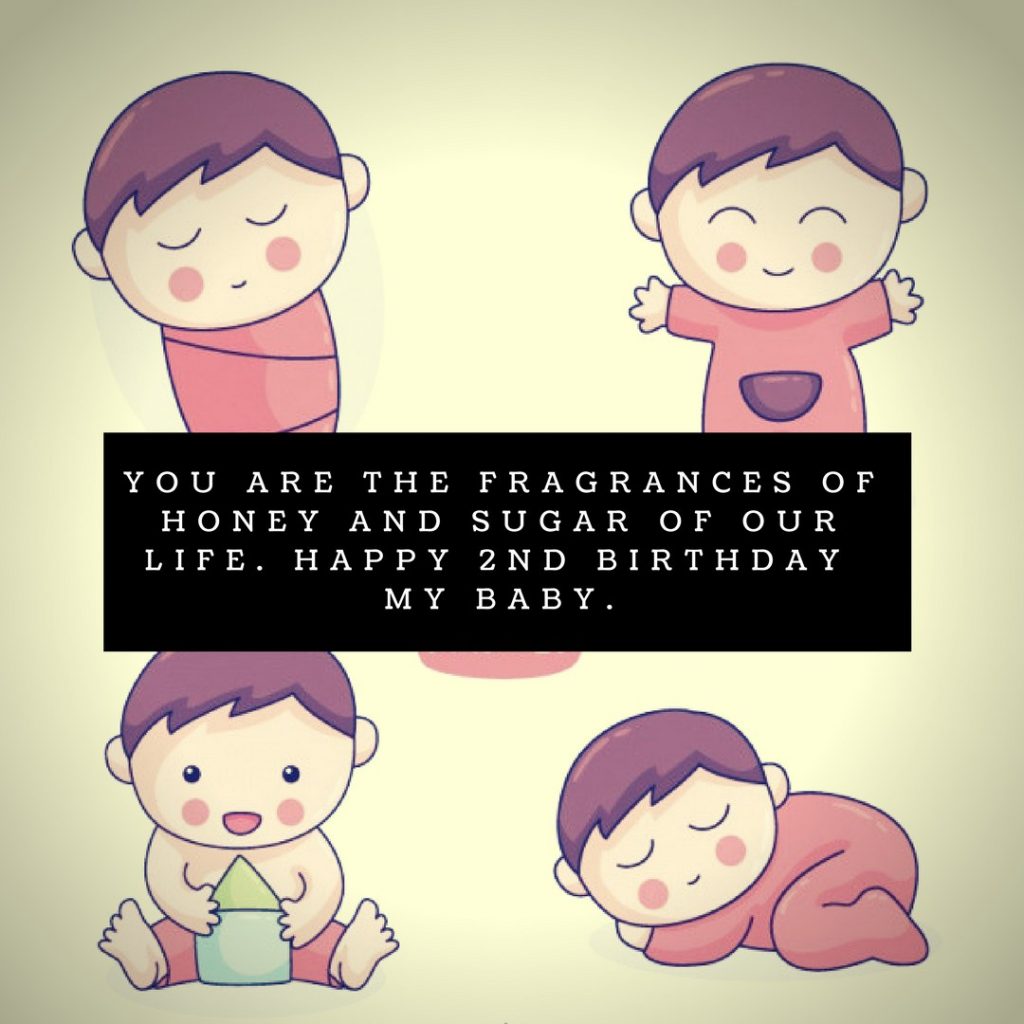 You are the fragrances of honey and sugar of our life. Happy 2nd Birthday, my baby.
On this day, an angel from the heaven has chosen us as her parents. This is your second-year life on this earth. The previous birthday was spent on eating, sleeping, and crying, but now you are yet to discover the world. Enjoy your day! Happy birthday, sweetheart!
On your second birthday, I wish that your life will be filled colors of rainbow and fragrances of flowers.
It is hard to believe that you are two years older. You appeared in this world like a dream. Our time with you is flying so fast because we enjoy every moment with you. Watching you grow is happiness. Every small landmark for our lovely baby charms us all the time. Happy birthday to the most crying and cheerful child.
Two years ago you got separated from my womb. When I look at you I feel happy that you learned to call me mamma, walk, talk, play and run. Happy Birthday and lots of love to my baby.
Your smile is the utmost lovable thing in the entire world. You are my world and I wish you to remain this way. My little one, happy birthday!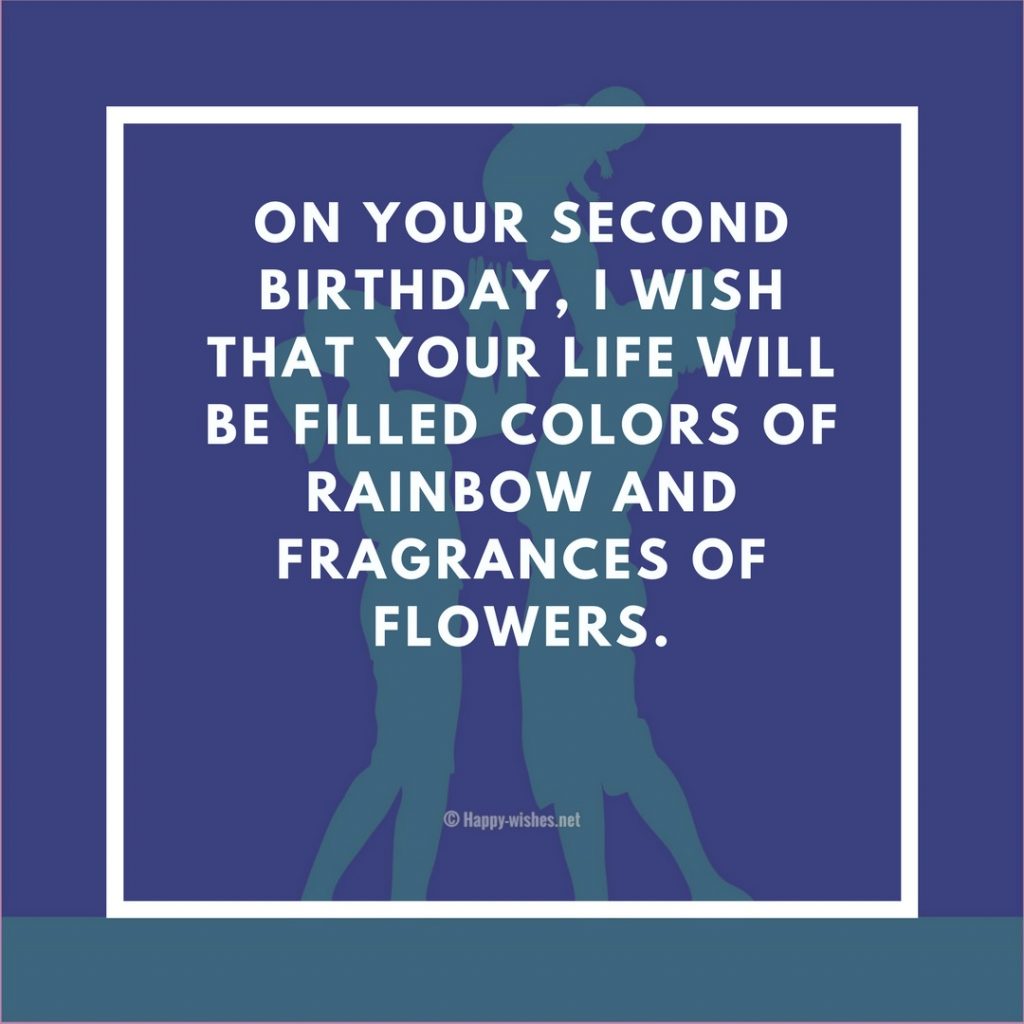 My little angel has just completed two years of happy life. Every day you become more cute and cheerful. I and your Dad love you and wish you a happy birthday.
We can never forget the day when you first spoke your first word. The way you talk to make us laugh with joy. On your second birthday and we wish you a bright future and fun childhood ahead.
I and your Dad think that you are loaded with all the cuteness in the world. You have redefined the real meaning of cuteness in an all-new level. Our baby is the cutest and sweetest in all over the world. Happy Birthday to you dear.
"Bear hugs and lovely kisses for my little toddler
Happiness is the ultimate thing which I want in your life.
Today is your day, you desire every happiness of this world
Your Mama and Papa will do everything for you.
Happy Birthday, dear.
Birthday wishes for 2 year old Baby from Relative and friends
If it is the birthday of your distant relative (brother, sister, nephew, niece ) or any friends kid, then you may consider the below birthday messages to be sent on their birthday.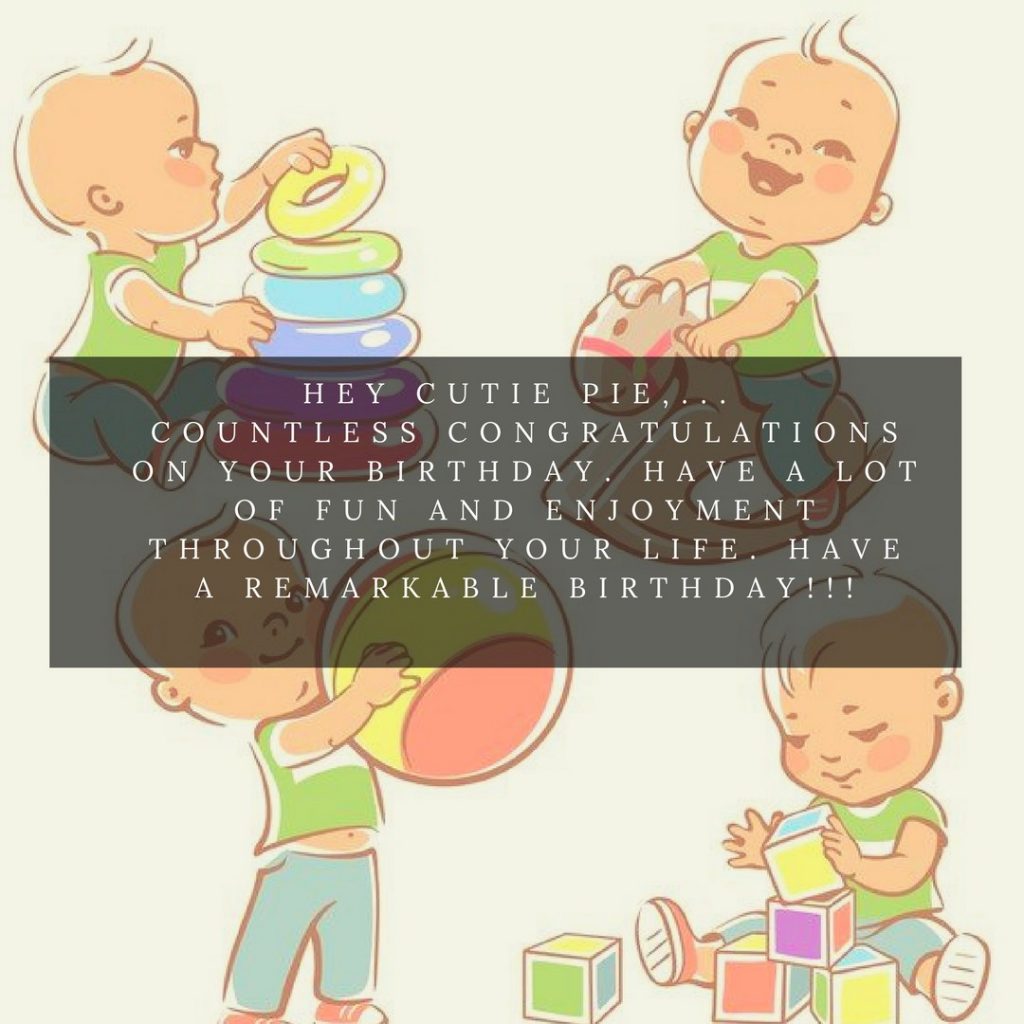 Hey Cutie Pie, Countless congratulations on your birthday. Have a lot of fun and enjoyment throughout your life. Have a remarkable birthday!!!
My sister's baby, I may not show you my feelings, but you are always in my heart. Happy Birthday and May God bless you.
In the song of your parents' lives, you are the sweetest music. Happy 2nd birthday.
Picking you up and snuggling you in my arms, a glance into your eyes and being besotted by your cute smiles. I wish that the time stands still so that I could enjoy these beautiful moments. Happy 2nd birthday.
You are just 2 years old, but you have given us happy with your cute smile for a lifetime. Happy 2nd birthday.
Whenever I take you in my arms, I feel deep and loveable. Happy 2nd birthday.
Every time I hold your little feet, my heart bounces a beat. Whenever I hold your little hand in mine, it prompts me to think that life is so good. Whenever I pull your chubby cheeks, it gives me all the happiness I seek. Happy 2nd birthday.
You are your Mom's identical image, Your Dad's little Princess, and your Grandparents friend for life. Happy Birthday little angel.
A hug with you diminishes away my sadness,
A loving touch of your tiny finger dissolves away my annoyance,
I am stimulated by your innocent eyes, that you are my life's biggest gift. Happy 2nd birthday.
Happy Birthday little Prince. Enjoy your birthday with candies and eating lots of chocolate, loads of sweet, ice cream. Enjoy playing games. Today is your birthday enjoy the day with happiness.
Birthday wishes for 2 year old Baby Boy 
Your baby son has completed two years of life in the world. Here are some of the best birthday wishes for him. These are: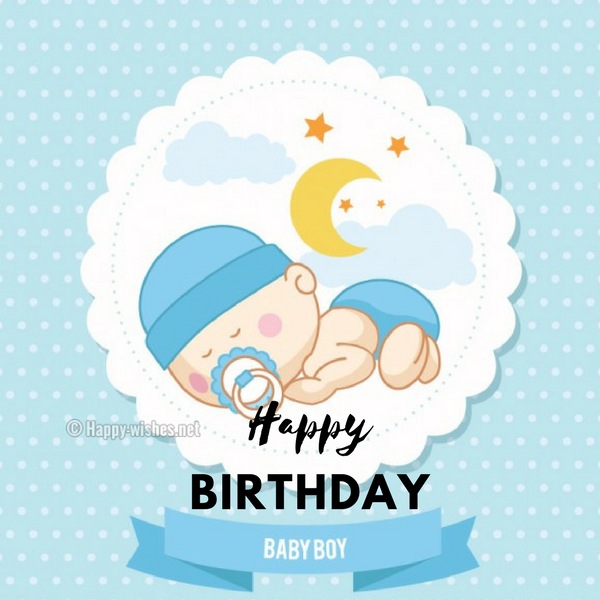 It is time to celebrate the birthday of my cute baby boy. You are only two years old after all. Your first year is mainly spent crying. Happy birthday my dear son.
Happy birthday to my cute super hero. You have completed two years of your life. You're so cute that I will cuddle you whole life.
You are the little super hero of our lives. Have a great birthday ahead.
Heartiest birthday wishes to my two year old cute little brother. Your big sis will always love you and protect you.
Your smile diminishes my anger and replace it with a cheerful smile. It is just tempting to see you smile innocently. Happy birthday little baby.
Let us sing a birthday song for our little bundle of joy. He is the rising star of the next generation.
You are the little darling of our life, celebrating your birthday means lots of fun. Here is the wishing star for my little baby on his 2nd birthday to wish him the best future.
24 months ago, the world greeted you with happiness and pleasure. Today we feel so happy to see your sweet face. Happy Birthday my cuppy cake.
Watching you grow every day is a lovely view
I am sure you will grow up to be the loveliest person like your parents.
Lots of love and Happy Birthday dear Baby.
Tiny fingers, curvy toes
Lots of smiles, with shiny ribbons and bows
Celebrate your birthday as you bloom and grow.
Happy Birthday to the cutest baby boy.
Birthday wishes for 2 year old Baby Girl
Your baby girl has completed two years of life in the world. Here are some of the best birthday wishes for him. These are:
You are the sweet footnote of my life's song. Happy birthday to my little princess on her 2nd birthday. I love you.
Today, I celebrate the birthday of my amazing two year old angel, I hope you grow to be wise, beautiful and always keeping it genuine. You are my amazing daughter. Happy Birthday my dear.
On completion of two years of life, I take an oath to love, protect and be present for you always, enjoy your birthday to the fullest, and have a happy second birthday.
Happy birthday to my super angel, you have turned two and now I can say how big you are. I wish you all the happiness my dear.
I am happy to be part of your second birthday. I know this day will be memorable to you. You are my little angel now and forever.
You are a blessing, a great gift to my life, I hope you enjoy this birthday with all the candy, sweets and hearty wishes. I love you baby with true blessings from the almighty god.
 I am scrupulously blessed to be the mother of such a beautiful two year old princess. I hope this day is endlessly with you. Have an enthusiastic birthday my dear.
Your position in my life is in extraordinary appreciation, you are an amazing daughter and I love you so much. I hope you enjoy the cake and sweets on your second birthday my beautiful angel.
Happy birthday my sweet little baby with chubby cheeks. I want to touch those cheeks every day. Happy 2nd Birthday beautiful daughter.
So, here are some of the best wishes and quotes perfect to wish your baby on their 2nd Birthday.