Call it Work off, Leave, or break, there is no doubt that it is essential for regular employees. Nobody can deny the emotion of "not feeling well." It is not an illness per se but is a sign that your body and mind are tired of working and you do need a break to soothe your soul by simply resting, or doing your favorite activities. Not only this, but you might also need a day's off for completing any other work since the office job is not the only responsibility you need to fulfil. You need to spend some time with your family as well. You might need to take your parents to doctor, visit your children's PTM, taking your wife for shopping, attending a family function, partying with your gang etc etc etc …
The fact is that the boss would understand your concern, but there are fewer chances that s/he would approve your leave application. Any boss prioritizes his/her work since they are paying you, and want you to prioritize their work only.
Anyways, the topic for our discussion is not the illness, neither it is to promote pursuing your passion or fulfilling your personal or professional responsibilities. We, here, are discussing the ways to seek a day off, and the messages you can drop so that your boss cannot help but approve your leave. It might sound a tedious task because most of the time, we avoid taking leaves to avoid any argument with our boss. There are many reasons why you need a break sometimes, and we would not go into the extent to recall each reason and justify it. Below, we have enlisted some Sample Leave Messages to Boss. You can take help from these templates and use them while sending a day off request message to your senior, or boss.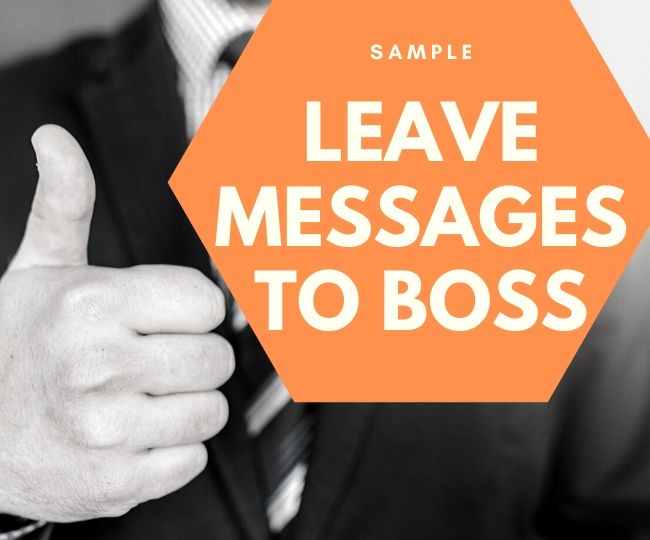 Sample Leave Messages to Boss
Hello Sir!
I need to apologize because it won't be possible for me to come today as I am not feeling well today. It might be due to the viral or the changing weather that I have come down with cold and fever. I hope my condition would improve tomorrow and I would definitely reach on time. I request you to understand and approve my leave application.
Thanks and Regards
XYZ
Dear Mr.
I am so sorry that I am not able to come to the office today. I am not feeling like working for the past few days because of my diabetes problem. It is due to the deteriorating conditions that I have decided to visit my doctor and he has fixed the appointment for today. I apologize for the inconvenience you would have to face in my absence, and I will make sure that my work does not suffer as I have no pending work and I will join the office tomorrow and restart my work.
Regards
XYZ
Hi Sir,
I have to inform you that I won't be able to come to the office today. I am well aware of the fact that today's meeting is very important for the company, and that is the reason I need to apologize for the inconvenience. The fact is that I have caught the viral fever and it would impact other employees as well. I was very excited for today's presentation, but won't be much help to you since my presence would only disturb others. Hope you understand.
Thanks and Regards
XYZ
Hello Mr. —–
I wish to thank you for inviting me to the meeting, but I am really sorry as we would need to postpone this meeting since I won't be able to attend this meeting. It is due to the toothache that I have to visit a dentist as soon as possible because I am not able to eat or drink anything at all. I was quite excited about today's meeting, but it would be difficult for me to get an appointment after today. The situation is deteriorating because I was avoiding the pain for a long time and the problem may deteriorate in the absence of proper medication. I really hope you won't my absence for one day and approve my leave application.
Dear Boss
This is to inform you that I can't come to office today as my migraine has reached to the extent and I urgently need to visit a doctor. You were right when advised me to take a second-half yesterday, but I ignored the headache and resumed my work with a pain killer. I think because of avoiding the constant headaches that I am facing the worse. Sorry for the inconvenience, and for ignoring your suggestions. Hope to see you soon.
Kind Regards
XYZ
HELLO SIR
I was about to thank you personally for the fabulous party you gave us this weekend, but it has impacted me negatively and I won't be able to come to the office today. It might be due to the excessive drink or the food, but I am having severe stomach pain since morning. I do not want to cause any kind of inconvenience to anyone and that is the reason I have decided to take a day's off. No work of mine is pending as I had completed my task before the weekend. I apologize for today and hope you approve my leave request.
Thank you
XYZ
Dear Mr. —
I am writing this mail to inform you that I will not come to the office as I have got eye flue and this problem is infectious. I don't wish to trouble others with my illness and would prefer working from home. I have consulted a doctor and he has suggested me to use special spectacles. Anyways, I can work if it is urgent for you. You can assign my task via mail, and I would complete it after taking the medicine and some rest as well. Hope you understand and acknowledge my passion for work.
Regards
Hello sir!
I hope you are aware of my duct allergy. I always remain very conscious to avoid any problems, but yesterday I had to cross a road where construction work was taking place and it has severally impacted my health. I need to visit my doctor as soon as possible and that is the reason I cannot come today. I am sure that the doctor will help me recover very soon so that I can return and continue my work very soon. Hope you understand and approve my leave application.
Good morning Sir
I want to apologize because I won't be able to reach the office today. It is because my ankle got twisted due to the broken road as I was wearing high heels. It has caused an ankle strain and I am not even able to move my leg. I can't come to the office with this sprained ankle. I really hope you understand my problem.
Sorry for the inconvenience
XYZ
Dear Sir,
It is to tell you that I cannot come to the office today as my doctor has discovered a problem of low blood pressure in me since I was feeling a bit tired for some days. He has given me proper medications but has also suggested me to rest for a day or two. Therefore, I request you to approve my leave for today. I would come to the office tomorrow if I would feel better.
Thank you
XYZ