The Festive season is around the corner,
Cherishing those moments forever;
Celebration without our beloved ones,
Is like happiness in vain;
Celebrations are always incomplete without our friends and family. They are the biggest source of our happiness, with them we go crazy, share all the madness. And when it comes to celebration, they add lives to our celebrations. Parties are fun-filled, food-filled, music-filled events meant to celebrate special events with your loved ones.
If you are planning a dinner party in the near future and sending out dinner party invitations, then don't wait for anything else, take your phone and invite them. It's so easy right. 21st-century hosts are really on good terms with GOOGLE! Yes, Because Google is always there to rescue you. It gives hundreds of invitation messaging ideas, wherein you can peep in and choose the desired one.
So, if you are planning to invite your friends and family to be a part of your joys and celebrations and planning to write an invitation message and are confused about how to write, what all to include, then-No worries. You can refer to the below list of Dinner Invitation Messages for every single occasion.
Have a Happy Dining!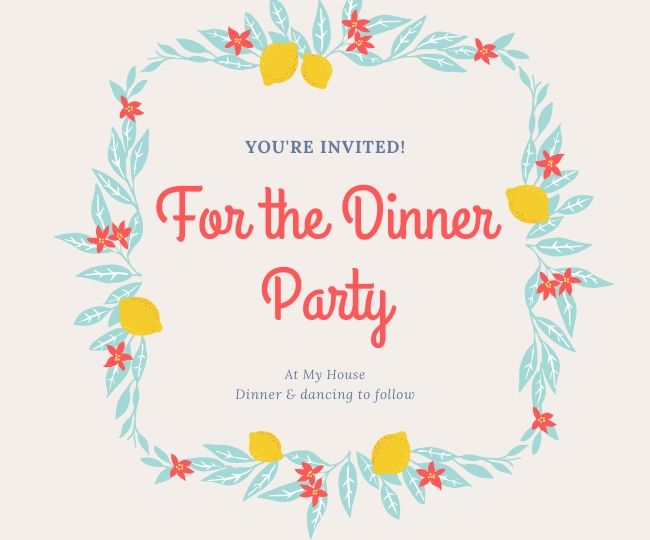 Dinner Invitation Messages – Sample Wordings
Dear friend,
It's been a long time since we met up,
Unlimited gossips, drinks, and countless selfies are awaiting us,
Come over for dinner,
Will reminisce all the memories together,
See you at my place for dinner.
 Join us for the birthday celebration of my mother at ABC resort;
we hope you'll make your presence. See you tonight.
Thank you
Come and celebrate the season with us.
It has been long since we are inviting you;
No excuse will work this time as you have to come to celebrate a wonderful eve.
Cheers! Join us for an evening of festive drinks and merry-making.
Dress code: white and red
Merry Christmas!
Hello, Christmas eve is near
Excitement is at its peak,
Come over,
For all the fun that awaits you.
This one is for all my PubG friends,
"Winner Winner chicken dinner"
If you win, the chicken platter is yours;
Come over, celebrate and keep your spirits high!
Make your presence for the fun-filled games, drinks, and food.
We are cordially inviting you to make your presence and partake in our celebration for the birthday party of Grandma. Let's make it memorable for her and the guests as well.
We hope to see you.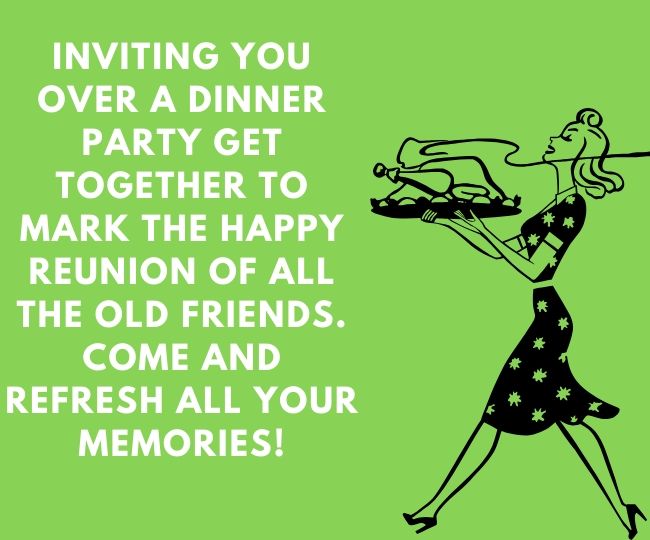 Mix and mingle!
Join us for the fun-filled musical night,
Drinks and delicious food,
And it's going to be great fun.
Inviting you over a dinner party get together to mark the happy reunion of all the old friends. Come and refresh all your memories!
Season of snow,
Season of jingles and mingles,
Season of bakes and cake,
Ho! Ho! Ho!
Come over, Dine in and laugh all the way.
Merry Christmas!
"What a bright time.
It's the right time
to rock the night away"
Cheers, and join us and celebrate with us tonight!
Join us to celebrate the craziest New Year's party of the season.
Ding! Dong! Ding!
New years is coming
Let's get the champagne popping,
And make your Spirits high,
Come over, Enjoy the madness, Go crazy and party hard!
Come to the last day of the year,
And welcome the New Year with all happiness and joy,
Come and make your presence.
Happy New Year!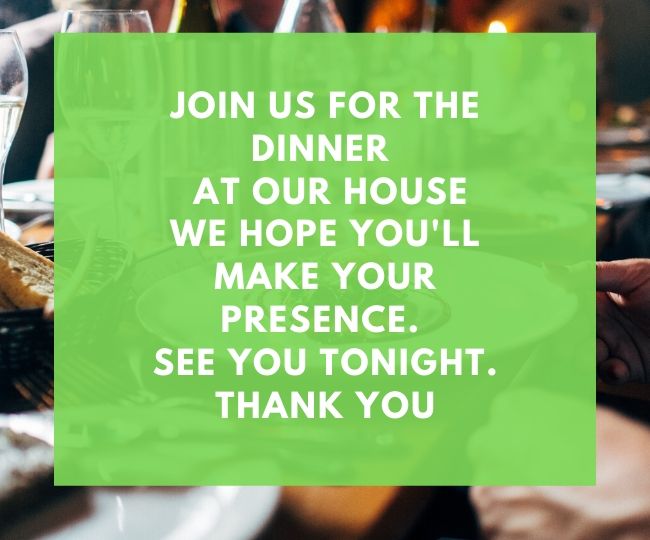 You are cordially invited to share the joy with us. Your presence will mean a lot to us. Having you at our party will double the joy and excitement. Please join us as we all celebrate the evening with all our friends and well-wishers.
Hope you will join us.
it's always a pleasure to have you around; let's make this as a reason to sit together and share some delicious food at my place tonight. I hope you'll come over.
Food is love, And nothing makes a bond stronger than sharing the food with our loved ones. We invite you to join us for dinner tomorrow at our residence.
Dear darling, I learned to bake some amazing stuff and would really love it if you could come over and appreciate my new baking skills. Don't worry, it won't be a risk, it will really taste great!
let us all forget and take a break from our hectic schedule and extend our professional relationship to a personal acquaintance. We invite you to join us for the dinner party at X café.
We have decided to throw a joyful party on Christmas Eve. You are cordially invited to share the joy with us.
A surprise party for my sister will be arranged on 23Dec. We want you to come at the right time. Without you, our party will be incomplete. Please do come and join us.
Thank you