With literally no time left for Christmas, we have enlisted some adorable wishes and messages you can send to your grandson. There is no doubt sending unique and loving Christmas wishes and quotes is one of the tasks in all grandparents' checklist. You can quickly recall all other fun activities your grandson loves to experience during the festive season to make sure that you host the best Christmas party for the apple of your eyes. Telling them something about your Christmas plans would definitely heighten their excitement with of course the cute messages that we have enlisted here.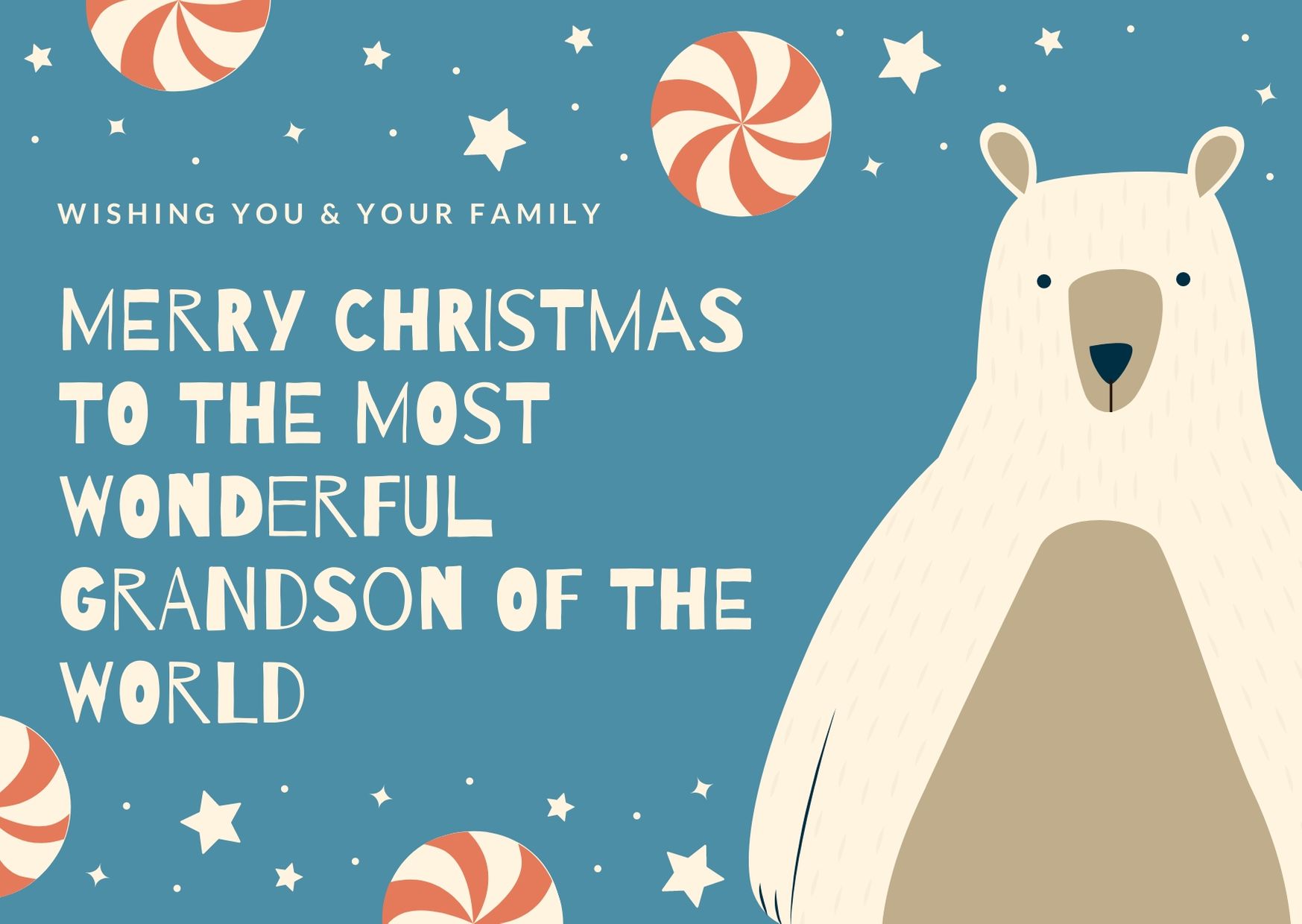 Unique Christmas wishes messages for grandson
Merry Merry Merry Christmas day to the most wonderful grandson of the world.

Just like you are a shining star of our lives, May Christ fills your life with light and colors.

Merry Christmas to my handsome grandson. May Christ fulfill all your dreams, and may you remain the happiest person ever.

A Merry Christmas to you darling. I wish you all the happiness and prosperity of the world.

Christmas comes once a year; so is the occasion of showering our love for you. We wish all your wishes come true this year and you become the luckiest person ever.

To my charming grandson, you deserve all the happiness and prosperity around there. May you succeed in whatever field you choose for your career!

My love and blessings are always with you. Have a very bright and luminous year ahead. 

 I am happy that your wait has finally ended as your favorite festive has arrived; So are the gifts! Merry Christmas to you, and all the best for the surprises. 

I have tried to make your day special as you like it. Hope you like the surprise of your grandparents.

The best feeling in the universe is to sit tranquil in a chair and write special messages for grandchildren. Thanks for giving me that happiness. May you have the merriest Christmas ever!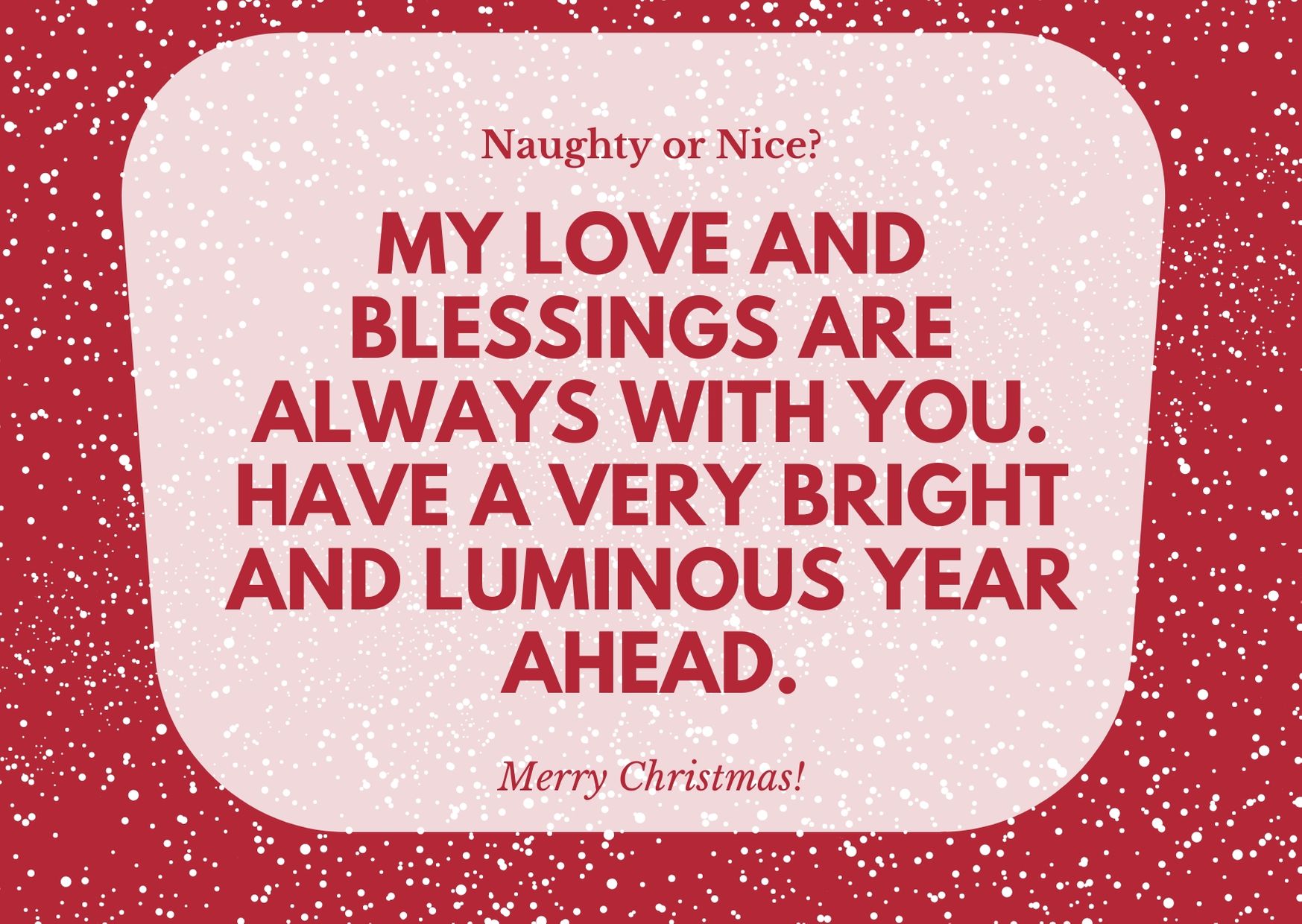 Just like festivals are incomplete without sweets, life is incomplete without bliss. May you have a jovial and blissful life ahead! Have a very happy new year and Merry Christmas.

Light, colors, sweets, chocolates, and grace makes a day Christmas; I wish you get these things the entire year and may your festival spirit remain the same every year.

To my loving grandson, I just wanna say that you're my lifeline and I wish god to grace you with a luxurious life.

I wish you enjoy this day to the fullest and it becomes one of the memories you will cherish forever.

No matter how old you grow, you would always be our little angel. I wish all your wishes come true, and Christmas bring you luck and grace for the coming years.

Home is where you can celebrate the festivals to the fullest. We wish you a merry Christmas and hope to see you soon.

Christmas holidays have begun and all of us are holding our heart in your wait. We wish you bring light to our lives. Merry Christmas in advance.

Christmas brings numerous gifts and blessings; I wish you receive god's grace and blessings along with the material presents. 

Hope all your days are filled with joy and you live a colorful life forever.

For us, you're like the star on Christmas tree; the only one required to complete our life and to fill it with light and colors.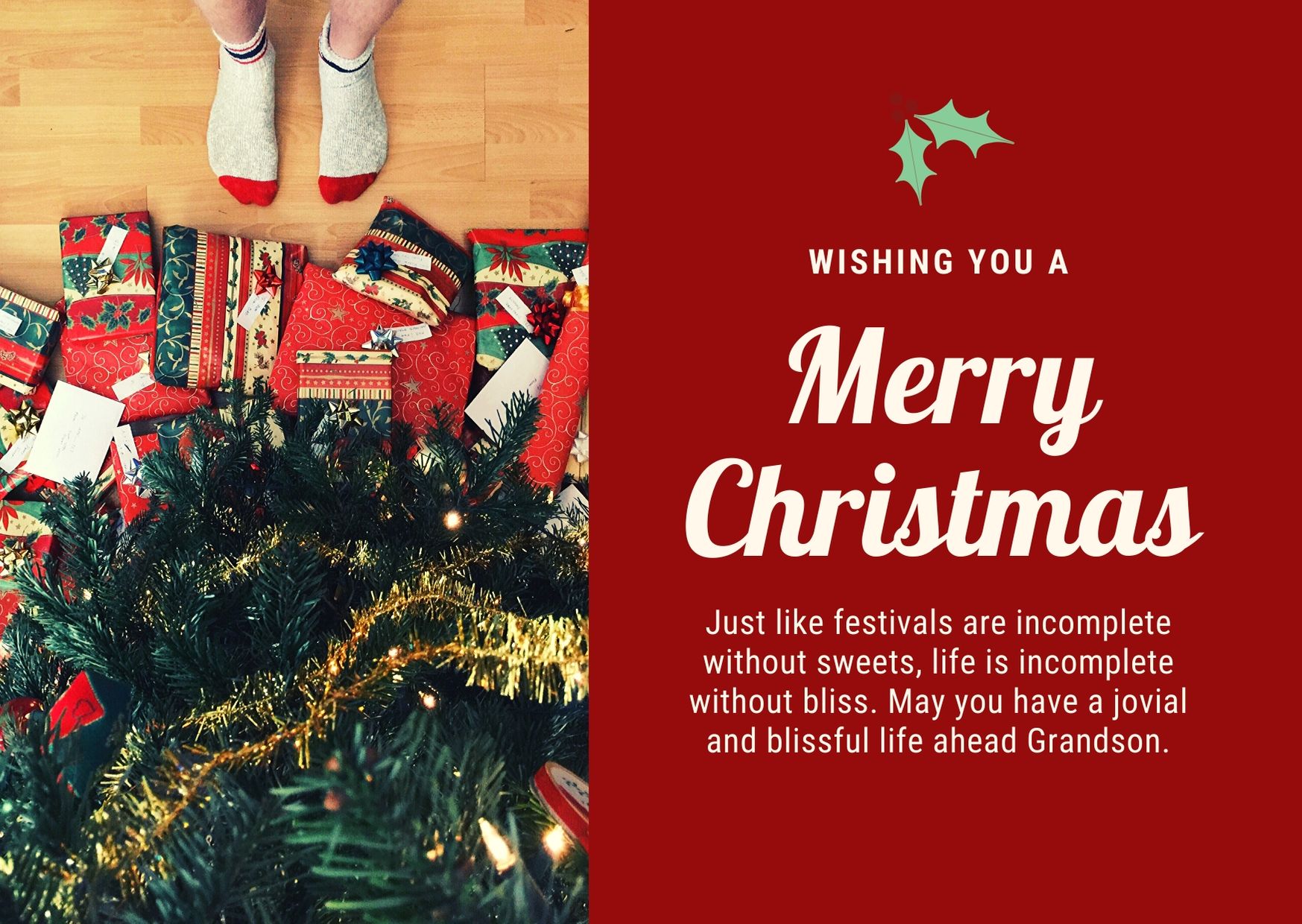 Not just 'Merry Christmas.' I would say, have Happy Holidays and a year with abundant opportunities.

May you wake up a bit early to open the gifts as you used to do, and start your special day with our blessings and love! Merry Christmas!

My love for you is infinite like the sky, and limiting my blessings in a few words is impossible. So, Merry Christmas would be the best thing to say.

This is for the most adorable boy I have ever seen, I hope you grow up as handsome as your father and respect everyone around you.

Do you know that you are god's grace upon us and have completed our life long desire of becoming grandparents? Your loving and proud grandparents wishing you a Merry Christmas!

On this day of Christmas, we wish your life to be filled with joy, prosperity and loads of adventure just like Christmas tree is full of gifts lights and colors.

Merry Christmas to the most loving and caring grandson in the world. We wish you all happiness. Hope to see you soon.

Lots of love for my shining star. May Christ fill your life with love, peace, joy and fulfill all your dreams. 

Christmas is equal to holidays, happiness and family. It's to remind you of the time we have spent together and the fun we used to have on Christmas evenings. May the spirit of Christmas refresh your soul and you have the same fun and adventure at your present place.  

Merry Christmas to the light of my life. May this New Year bring new light, enthusiasm and new opportunities in your life. I wish all your despair and depression disappear from your life.

The inseparable part of my family has a family of his own. May you and your family live a blissful life and achieve all the success in the world. I wish you a very Happy Christmas and a wonderful new year.

May Jesus grant all your prayers this Christmas and you have a peaceful year ahead. Merry Christmas and Happy New Year.

Holidays ought to be happy! May your Christmas Holidays be the happiest, and you form life long memories with your friends and family.

Others can only see the words and their meaning, that I am wishing you a very merry Christmas. It is only you who can understand the love and blessings hidden behind these words. Merry Christmas and a very very Happy New Year my grandson.

Health, happiness, and honor are the three pillars, and I wish you achieve all of these along with a blissful life.