It is always a good thing to start your day on a positive note. A simple message of motivation and inspiration in the morning from a loved one can change the course of our entire day. Most of us lack the enthusiasm to live life and achieve our dreams. In the rut and chaos of life, our inspiration seems lost.
Here are some inspirational good morning messages that cannot only inspire someone to be better and more productive but also motivate and strengthen the bond between you and your loved ones.
You can share these wonderful messages with your friends on Facebook or Whatsapp or leave them a small note to inspire them for the forthcoming day so they can have a constructive start to the day.
Inspirational Good Morning Messages
Someone rightly said that today is a gift which is why it is called the present. This day is a present from god. Make the most of it and do not let it go waste. Good morning!
This is my endeavor to remind you to start your day with positivity. Leave all your uncertainties and fears on your pillow. Embrace the morning with vigor! Good morning!
Life is too short to spend it sleeping. Open your eyes to the beauty that awaits you. Embrace the day, thank god and get in the shower! Have a lovely morning.
It's a beautiful morning and the perfect time to turn your dreams into reality. You are a beautiful strong soul who can take the day head-on! Wishing you an accomplished day ahead.
Life is too short for us to keep it waiting. Wonderful things are written for you in your destiny and you shouldn't delay them any longer. It is time to wake up to a beautiful day outside.
Every morning is a new opportunity for us to live a life we truly desire. May today be a fulfilling day for you where you live, laugh and love to your heart's content. Have a lovely day!
This message is a token of my love for you. I want to remind you to never lose your grit and strength of mind. You are destined for greatness and god willing you will rule your kingdom. Good morning to you!
There is nothing that can stop us if we really out our mind to it. Look at the sun that's been shining bright for centuries just to light us up. Be the sun and spread light and shine around you. Good morning!
The night is gone and so has the darkness. A beautiful day is out to great you with its light and joy. Wake up and let it brighten up your life and morning!
Today is another day to prove yourself to the world and leave a mark behind. You have so much to offer to the world. Give it your all and have an amazing morning.
The birds are singing the song of prosperity to bring you cheer. Its time you cease the day and bring in constructiveness to your day. Good morning mate!
A new day is a new blank canvas. Don't bog yourself down with the canvas of the previous day. Start afresh and paint the day today as bright as you can.
Every day comes with new hopes and possibilities. All you need to do is open your eyes to it and grab it with all your might. Good morning!
All good things come to those hustle. When you wake up positive you have the ability to strive towards your aim with a renewed vision. Good morning!
I woke up this morning wanting to send you an inspirational message. But the only thing I can come up with is that you are an inspiration to many others. Good morning.
Let yesterday be buried under the bed. Stop worrying about what didn't happen yesterday and strive towards what can be achieved today. Good morning!
If you wake up with the thought that something wonderful is bound to happen to you, it will. Be strong willed and everything else will follow you itself. Good morning.
A small idea can also be realized into a big dream. As long as you wake up and make it happen, nothing can stop you. Good morning.
Opportunities are like the sun rise. If you miss it, you will have to wait a day to see them again. Don't lose this opportunity. Wake up to this beautiful day and realize your potential.
You can either keep sleeping today and complain tomorrow or wake up and work hard today and be relaxed tomorrow. Good morning!
Time lost can never be back. I don't want you to waste precious time of your life that you can't have back. Wake up and take the day head on!
No matter how bad things may get, always be grateful that you could open your eyes and see the day. God loves you and you shall have a gorgeous day ahead.
Today is a brand new day for a brand new you! As long as you believe in your might, you will never faulter. Good morning.
Sending you good morning wishes and some flowers to remind you of the beauty that surrounds you in this world. May you never fall short of appreciating it.
There is always a light at the end of every tunnel. Just like there is a day at the end of every day. Open your eyes and you will be able to see the light. Good morning.
You may face new challenges daily
so get ready to learn new skills daily.
Good Morning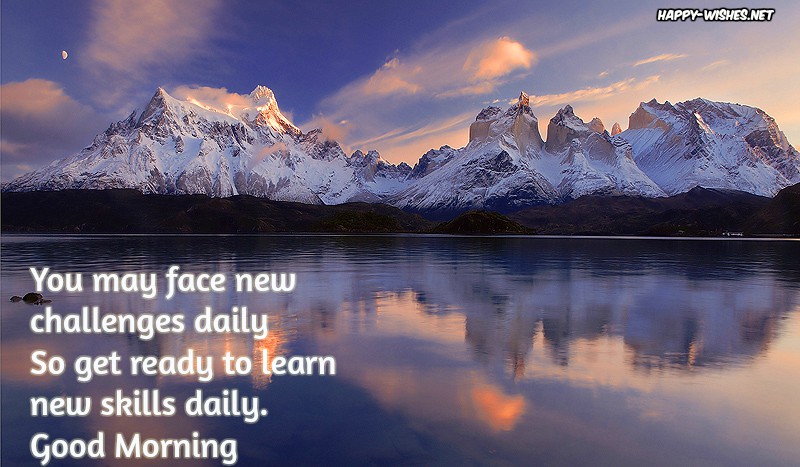 Spend your night watching dreams
utilize your day in chasing them.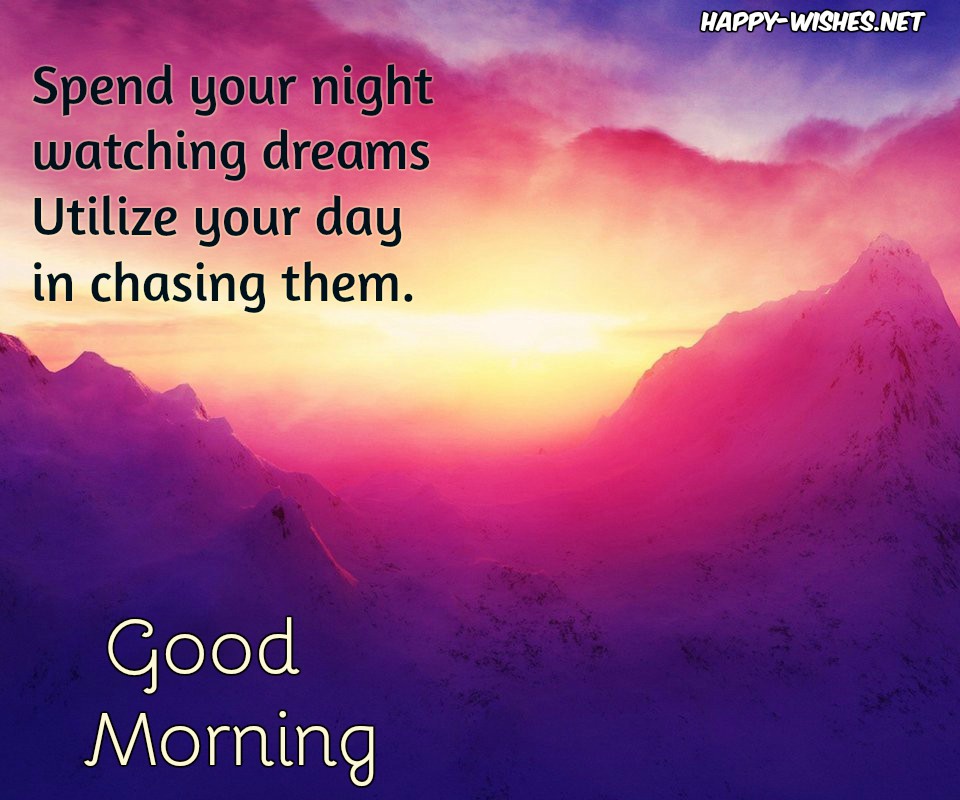 A day without work
is a day wasted
Good Morning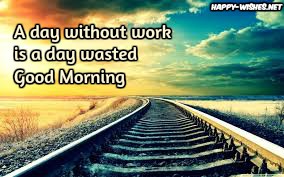 You may be doing good in life but, every morning comes with a message that the best is yet to come.
Good Morning
There are few things that can change your destiny
Your focus, hard work, and will power.
Good Morning
You don't get the success
you create it
Good Morning
Half Work Done, Is no work done
Good Morning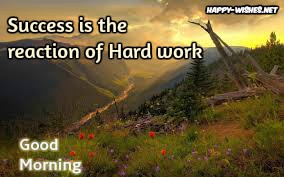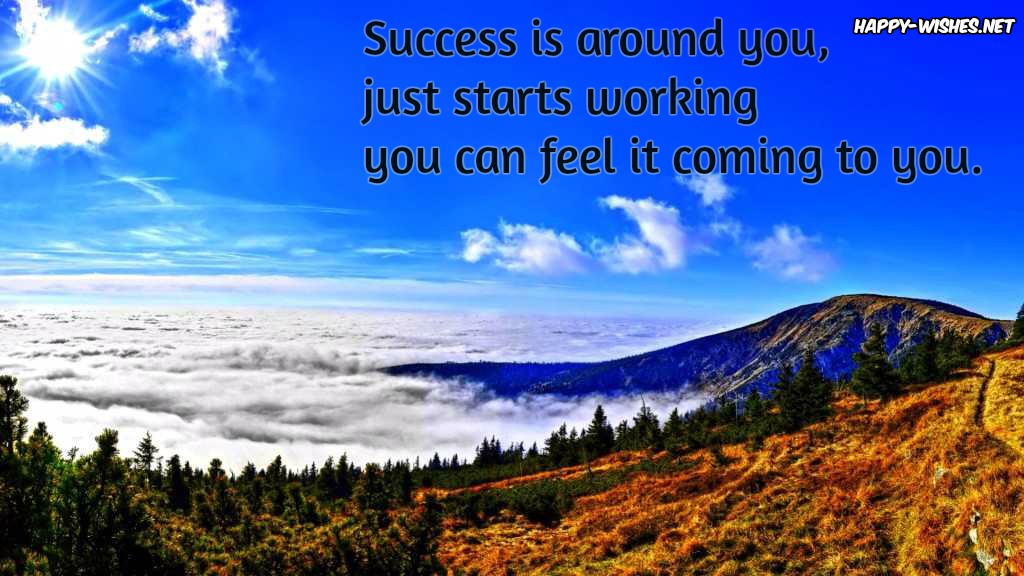 Success is around you, just starts working you can feel it coming to you.
Think positive in life Because you can do your best only when you are positive.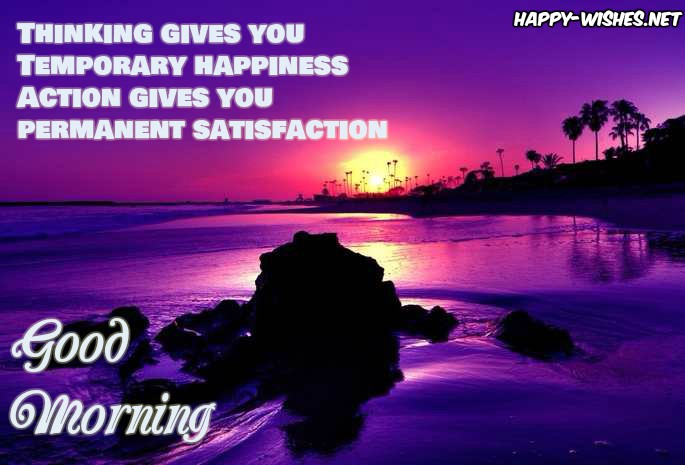 Thinking gives you Temporary happiness,
Action gives you permanent satisfaction
Good Morning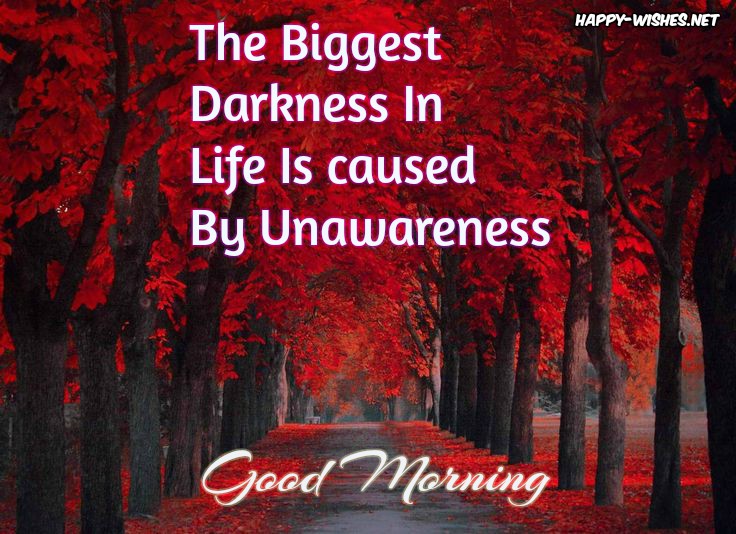 The biggest darkness in life
is caused by unawareness
Good Morning
There is only one thing that can help you when
nobody is around you and that is your knowledge.
Inspirational Good Morning Messages And Quotes
Loosers only ask for success.
Champions just go for it.
Good Morning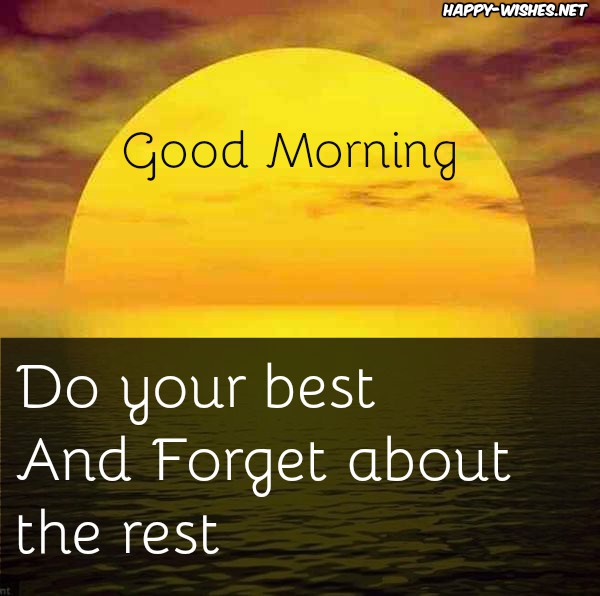 Do your best And forget about the rest
Good Morning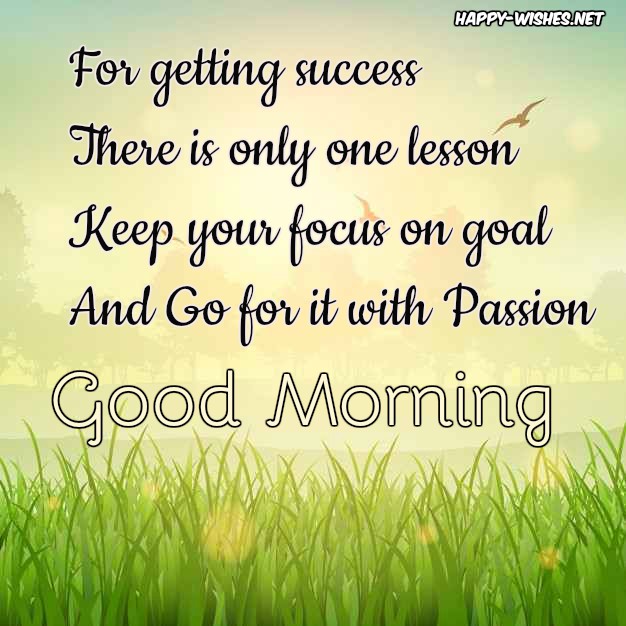 For getting success
There is only one lesson
Keep your focus on the goal
And go for it with Passion
Good Morning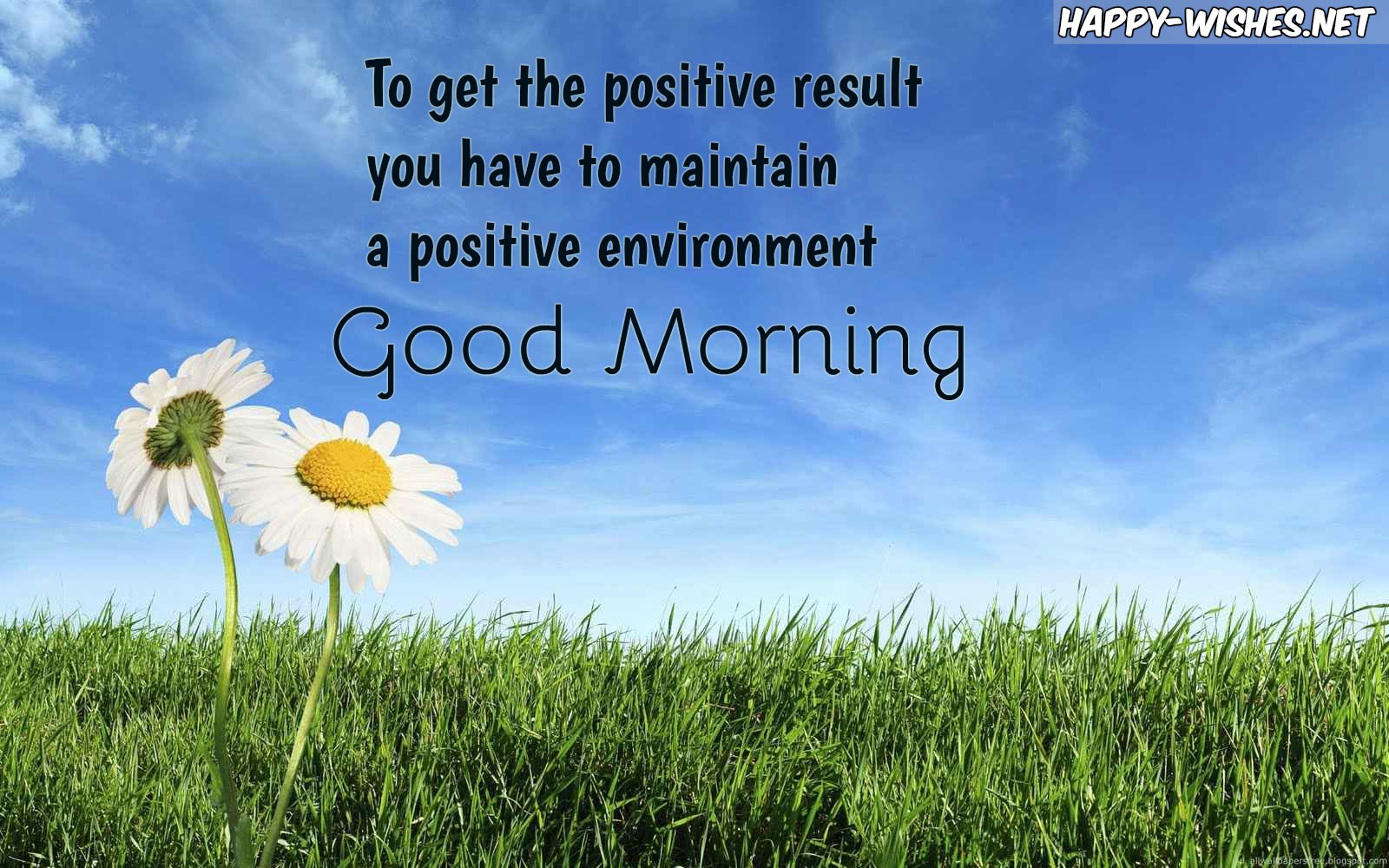 To get the positive result
you have to maintain
a positive environment
Good Morning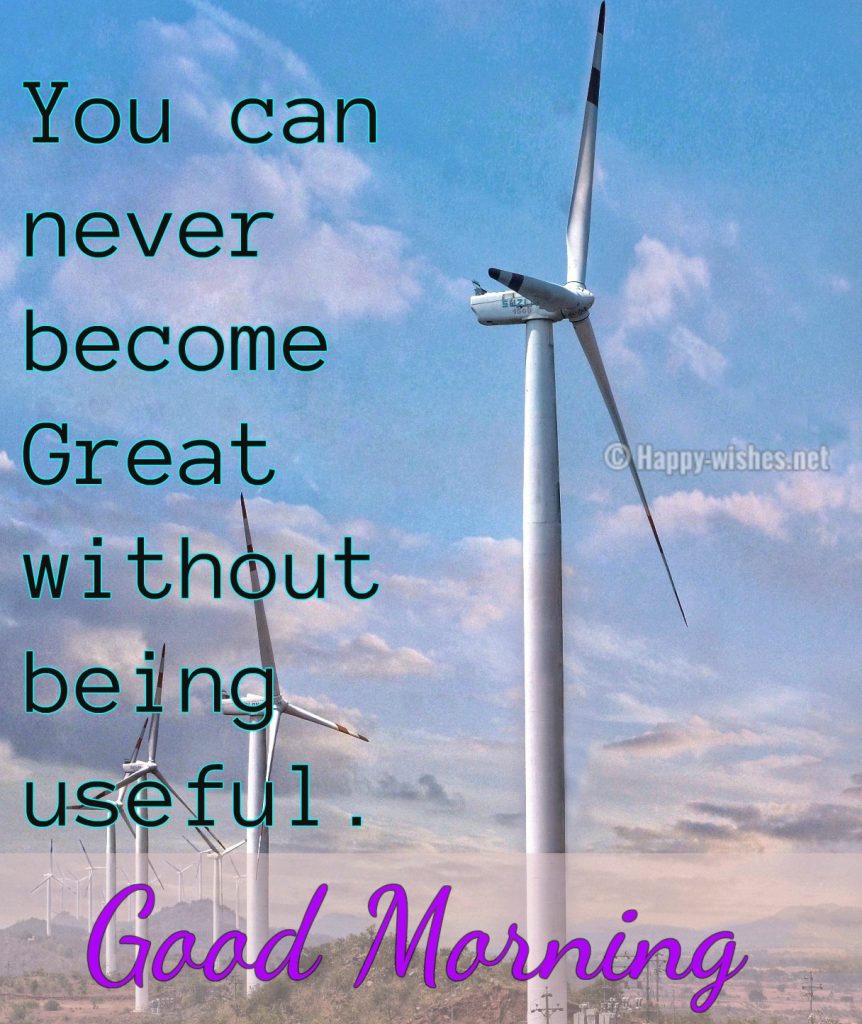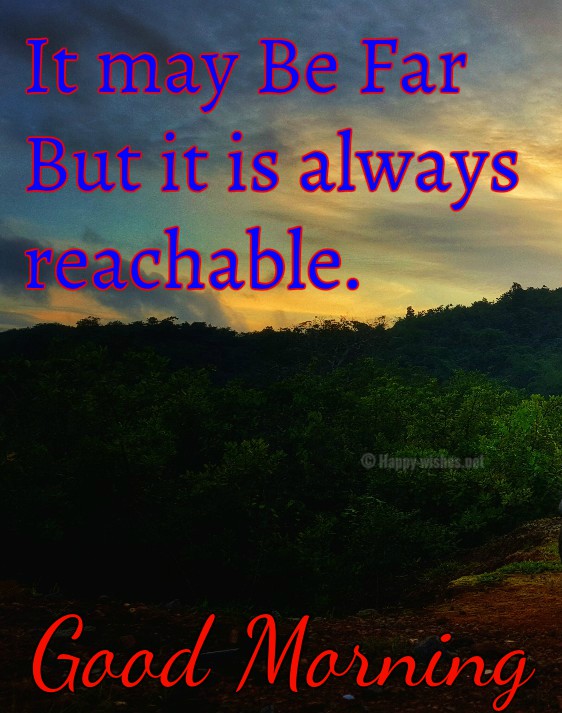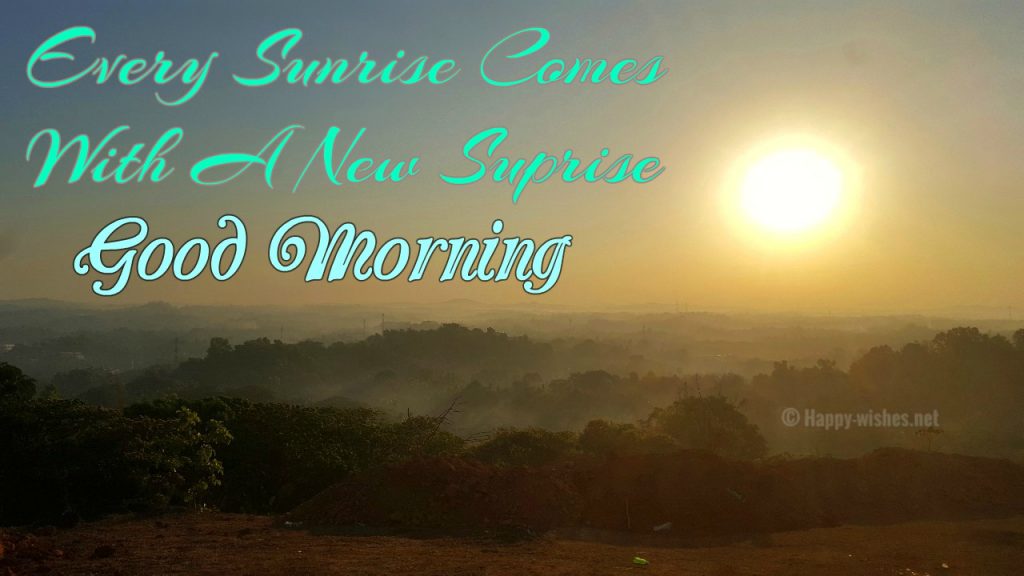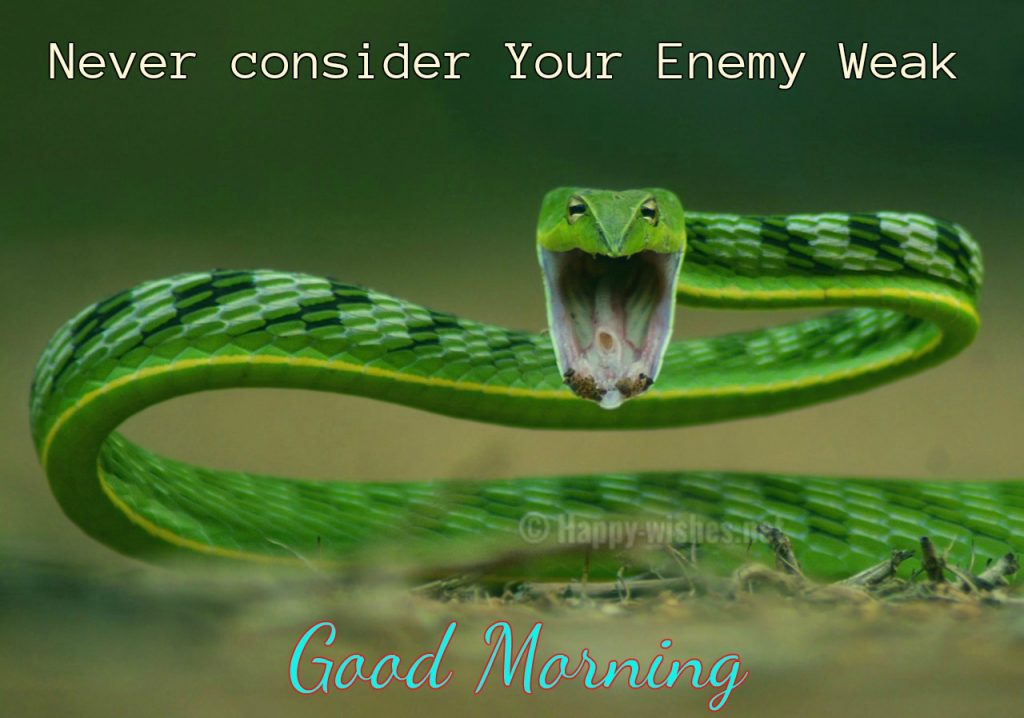 Well lots of people do not get success in life
as they are afraid of executing their best plans.
Good Morning
If You want to use the best of you
then just let's start and just do.
Good Morning
When Idiots are doing rest
Champions were doing there best.
Good Morning
Working hard will
make your life softer,
Good Morning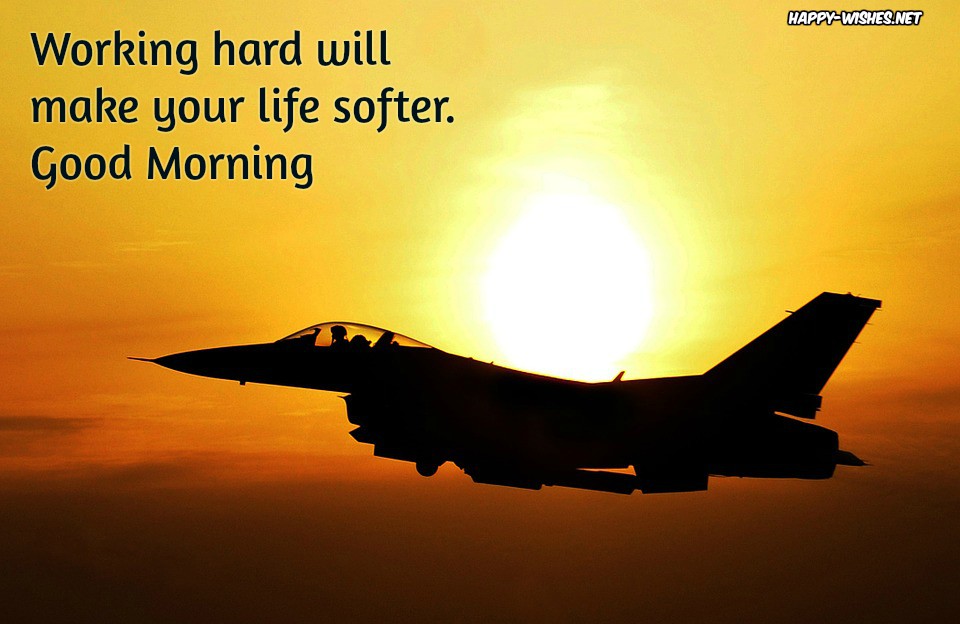 if you want to be the best
then start giving your best
Good Morning
Working hard is the best Policy
At the first step you learn a lot
at the second, you earn a lot
Good Morning
Always find some work to do.
Because workless people are worthless people.
Good Morning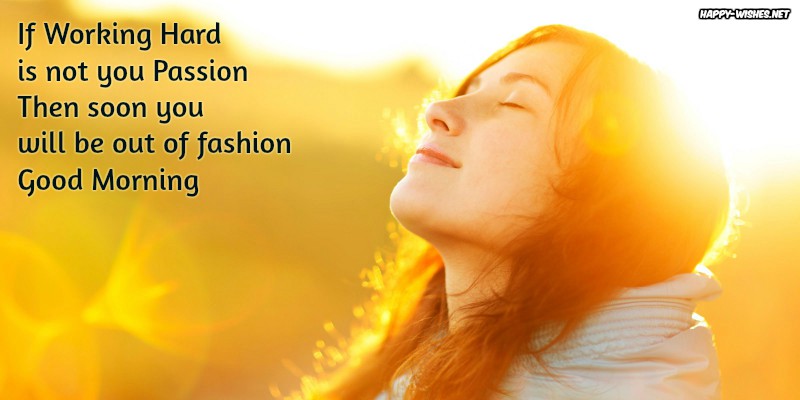 If Working Hard is not you Passion
Then soon you will be out of fashion
Good Morning