Every parent in the world has so many dreams, hopes, and aspirations for their child. Everyone wants their son to be successful, rich and famous. They want to see their children well-settled in their careers and life. From the very first day of the school, the parents want their child to perform better in studies. They wait eagerly for the report card in every exam and when their son gets good marks they become very proud and happy. As their son enters college they proudly wait for his graduation day. A graduation day is the best day in the life of any parent.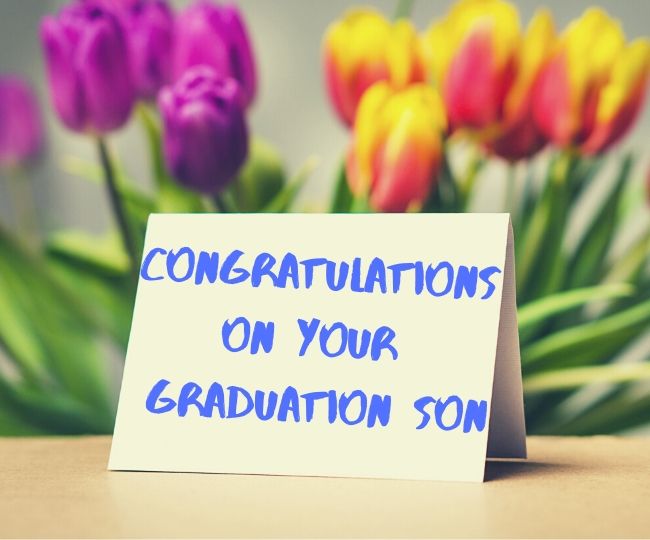 Graduation Quotes & Messages For Son
My dear son, today you have made us so proud and happy. We congratulate you on your graduation day. God bless you.
Congratulations! Dear son on your hard-earned success. You are finally a graduate now. Well done.
We have been eagerly awaiting so long for this day to come. Today you made our dream come true, my dear son. Congratulations! On your graduation day and wish you all the very best for your further studies.
Dearest son, you have given us so much happiness in our life. The day you passed out of school with flying colors, and now completing graduation with high marks. We are so proud of you and congratulations on your well-deserved success.
You are the shining star of our life, beloved son, we are proud of your achievements. By becoming a graduate, you made us even more proud. We hope and pray that you continue to achieve greater success in your higher studies. All the best wishes for your future.
Nothing is impossible to achieve if you believe you can, you will, you have proved this right by your firm belief in yourself, by the hard work you completed graduation with high marks. Congratulations and keep up the good work.
Heartiest congratulations! Our son you made our day by becoming a graduate. We hope to get much such great news in the future.
Congratulations! New graduate, beloved son today we feel so blessed to be your parents. May you continue to make us happy in the future by your achievements.
This graduation is the stepping stone of your life, finally, you made it with your hard work, dedication, and sacrifice of so many things. My son as a mother I feel so accomplished today. Congratulations and I pray for your bright future ahead.
You are the best gift God has ever given us. Today we are so thankful to God for fulfilling our dream. Congratulations on your graduation.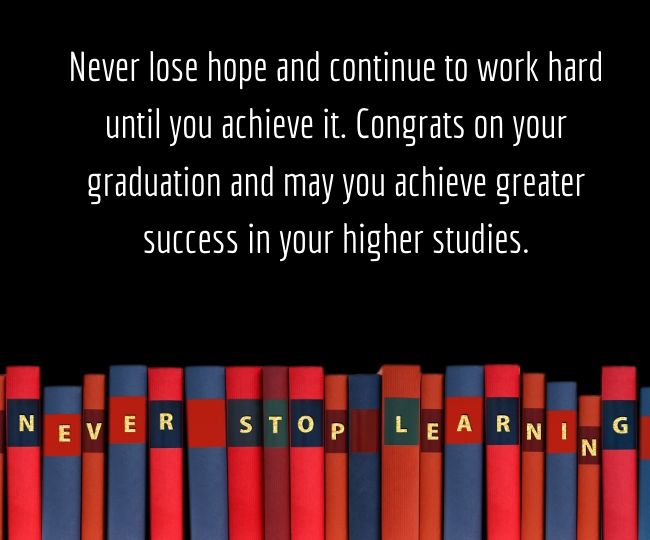 Inspirational Graduation Messages For Son
Nothing is impossible, dear son. The same rock, that is annoying in a shoe can be used to build roads and bridges. With your firm determination to succeed, you finally made it. Congratulations on your graduation.
We must have ambition, determination, sincerity, and dedication to be successful and you made it possible by these qualities. Congratulations to my dear son for being a graduate and best wishes for your future.
Don't let the limited beliefs of other people take on your life. You proved everyone wrong by completing your graduation with flying colors from a reputed college, dear son and made us proud.
As the famous quote says, where there is a will, there is a way. You paved the road for success with your strong will. Congratulations, son on your graduation.
Be brave to fight the battle of life, and you have been a brave fighter. You fought against all the odds, my son and finally emerged as a winner. Congratulations on your hard-earned success and graduation.
God helps those who help themselves. You helped yourself by doing hard work, dear son and passed graduation. Congratulations from all of us. Have a bright future ahead.
Chase your dreams and you shall achieve it. You had a dream to pursue higher studies, dear son and you did it by passing graduation. Good luck for your future.
My adorable son, never stop learning in life and always learn good and new things. Congratulations on your graduation and continue to learn good things.
Never lose hope and continue to work hard until you achieve it. Congrats on your graduation and may you achieve greater success in your higher studies.
Conviction and dedication are the rules of success. You completed your graduation with conviction and dedication. Congratulations.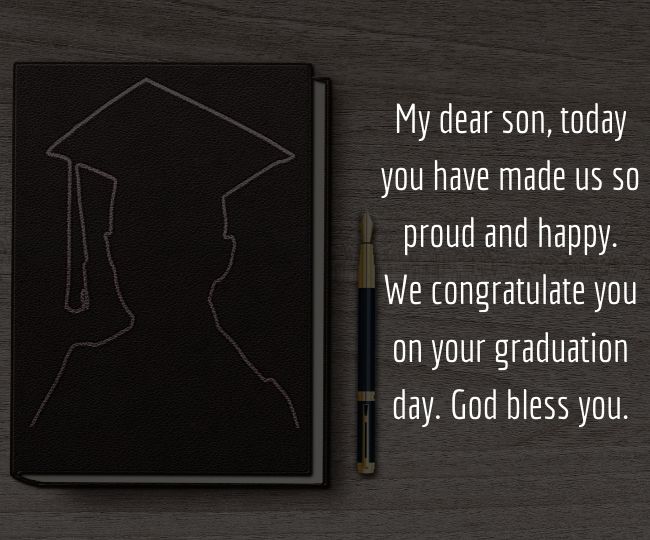 Funny Graduation Quotes For Son
You made it my son, congratulations on your graduation, but could not have been possible without the help of Google.
My dear son, please thank your genes, you are a graduate now. Congratulations.
We did not expect but you did it. Heartiest congratulations on your graduation, my son.
The easiest part is over now, my son your graduation. Now it's time for other serious work. Anyways congratulations.
Please thank your friends, they promised to give you a party after your graduation. Congratulations and party hard.
Congratulations on your graduation, dear son, eat, drink and enjoy.
After two years of continuous trying, you made it possible with the help of Wikipedia, the free encyclopedia. Congratulations dear son.
Thanks to all the chocolates you had, that made your brain sharp and you could crack your graduation. Congrats.
We are all astonished. Congratulations on your graduation.
By daydreaming, you actually made it possible, congratulations on your graduation.
Now that your graduation is over dear son, please pursue your other interests.
We know graduation is just a cakewalk for you. Congratulations and all the best for your future.
It's so easy to be a graduate nowadays, just copy-paste from google and Wikipedia. Congratulations and keep up the good work.
Just like you graduated with the help of Google, we want you to be further successful in your studies. Congratulations.
Thanks to your good friends, Wikipedia, Google you made it to the top. Congratulations on your graduation and good luck for your next journey.
You have cracked graduation by the help of your good friends, dear son, now I hope you get a good job too.
You did the least expected, you completed your graduation dear son, hope you continue to surprise us.
Congratulations on your graduation. Where's the party?
My sweet son, congrats on your graduation. Eat lots of sweet chocolates and celebrate.
On your sweet success, my sweet son, share sweets with everyone and enjoy it.