Our friends and family members are always there for us. As the famous quote says,  A friend in need is a friend indeed. It is a great privilege to be blessed with good friends and family members. They do many things for us like helping us with our work, making us happy when we are sad. Talking to a friend is a great way to distress ourselves. We often forget to say thank you to our friends and family. It may be a small thing to say thank you but it helps to make our bond and relationship stronger with our family and friends.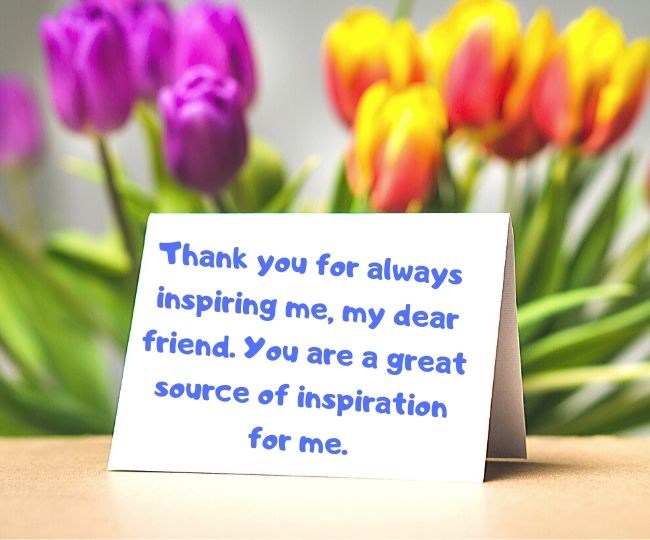 Thank You Messages For Friends
Thank you for always inspiring me, my dear friend. You are a great source of inspiration for me.
My dear friend, you have been a guiding light in my life. Thank you for always showing me the right path, I would have been a lost soul otherwise.
You often disturb me, while I am asleep and call me at midnight to chat but I still love you. Thank you for being my best friend.
Last night I was feeling so low, but a chat with you brought a smile on my face, I felt so relaxed and went to sleep peacefully. Thank you for always being my soul mate and a good friend.
You are my childhood friend and we spent so much time together. Today you are far from me, but I miss you and miss those days. Thanks for being my childhood companion.
My dear friend thank you for doing my school assignment on my behalf, as I was unwell.
Dear friend, you always saved me from the scolding of my teachers. You have been my life savior. I want to say thank you to you for that.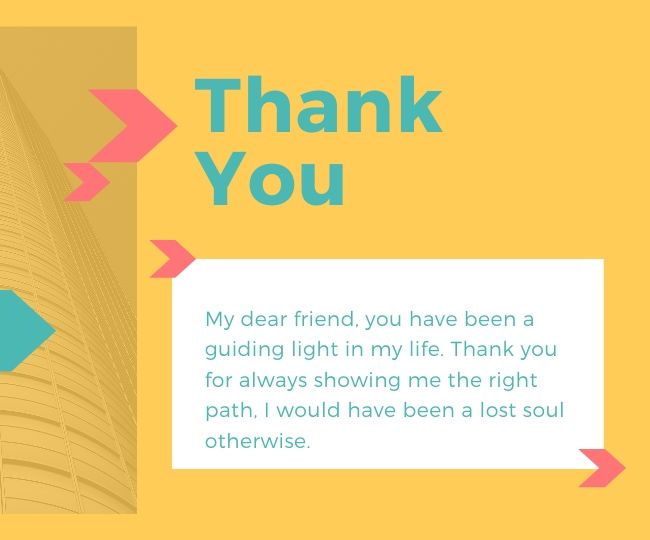 I can't imagine my life without you, my friend, with all the moments that we shared together, be it joy or sadness, it was indeed a beautiful journey. Today I cherish all those good memories. Thank you dear friend.
Thank you dear friend, for giving me a surprise birthday party and making it a grand occasion. I am grateful to have you as my best friend.
The journey of life becomes so easy when there is a good friend like you. You always helped me to get through the tough times and hold my hand in the time of despair. Your company makes me feel so happy. Thank you my friend.
A good friend is God's gift. I am so lucky and grateful to God for blessing me with a friend like you. Thanks a lot my friend.
I was really confused about joining this new company. Thank you for giving me your valuable advice and guidance, which helped me to reconsider my decision.
My friend I want to thank you for your contribution to my charity.
Though we fight a lot over silly things, still we are so happy in each other's company. Thank you my friend.
Thank you for giving me the exam notes, when I could not attend college due to health issues. It helped me a lot to pass the exams.
Thank You Messages For Family
I am proud to have such a lovely family. You have always helped me get through my work easily. Thank you to my family members.
When there is such a good family like you, there is hardly any need for friends. Thank you for being a friendly family.
I am forever grateful to God for blessing me with such a great family. You have always protected me from the evils of this world. Thank you so much for your love and affection.
My family always helped to fight against all the odds in my life. Thank you to all my family members.
If we are fortunate enough then only we can be blessed with a loving family. I thank everyone in my family. My protective father, my loving mother and my caring sister for all your love and support for me.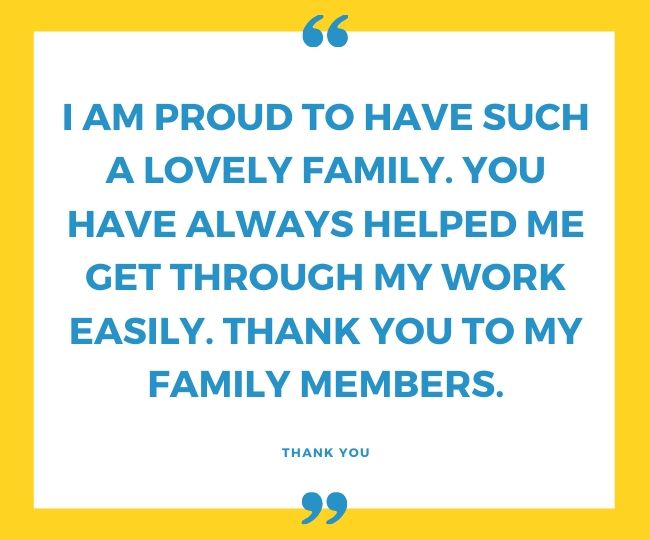 I dedicate all my success and fame to my family members. Thank you for always supporting me and standing by my side like a rock.
My dear family, you have faced so many hardships in life to give me a happy life. You have sacrificed on so many good things in life only for me. Today I am happy, wealthy and successful only because of you. I can't thank you enough for your love and support.
No one in the world cares for us as our family members care for us. They are always there to protect us from bad things and show us the way to good things. My family taught me to live life in a disciplined manner, they instilled good manners and values in me. They taught me the value of hard work, discipline, and dedication. Today I reached the apex of success only because of my family. Today I want to give them a heartfelt thank you.
I believe that my family is the greatest family in the world. I thank God for giving me such a lovely, supporting and incredible family. My family members always supported me through the thick and thin of my life. Today I want to thank my family members for their love, support, and appreciation for me.
May God bless everyone with a family like mine. The journey of life becomes so easy with a good family. I want to thank my family to be always there with me to share my joys and sorrows. You have always shown me immense love and support. You made me smile in times of sorrow. With You, life is a happy and beautiful journey. May you all be always happy, cheerful and joyous. Thank you, my beautiful and incredible family.