Anyone who has ever appeared for an exam knows how stressful and challenging the entire process can be. The preparation that precedes the exam is often taxing and demanding. One needs to study hard and be determined to pass it successfully.
It's a big day when a friend, family member or a relative has to sit for an exam. With stress levels sky-rocketing before the exam, they may seek some moral support from the people around them. This is the time when you can swoop in and make them feel relaxed with some words of wisdom. A simple good luck wish or a motivational message can double their confidence and give them a much-needed push before the exam.
All most of us really need, is some love and a vote of confidence by our near and dear ones. Go ahead and wish your friends, family and relatives good luck, so they do well and make you proud!
Exam Wishes Quotes & Messages
If you do not go after what you want, you will never achieve it. Give it your best shot. Good luck.
When you truly want success, you will never be ready to give up on it. All the best for your exams. Never give up!
Your desire to succeed should be greater than your fear of failure. Keep this thought in mind and you will never fail. Good luck!
Success cannot be achieved by accident. It can only be achieved through meticulous hard work and perseverance. All the best for your exams.
Focus on making yourself better. Every exam you take, teaches you something new. Learn from it and you shall be successful. Best of luck!
May good luck follow you to every exam hall and never leave your side. Best of luck for your exams dear!
Don't let the pressure hold you back in any way. It is just an exam and soon you will be free! All the best.
Be calm and composed, as you write your exam. Think of all things positive and keep away from stress.
There is no shortcut to success. You need to climb the stairs of hard work. Good luck for your exam!
In order to achieve an extraordinary result, you need to study extraordinarily hard. Study well and do well!
Good luck messages for your Exam
Leave no page unturned and let no time be wasted. Sending you good luck wishes and lots of positive vibes.
Better grades give you a better life. The better you fair in your exams, the happier you will be later. All the best.
Exams are nothing but opportunities to prosper in life. Grab this opportunity and shine bright. Best of luck.
No one can be sure of passing or failing. But we can all be sure of whether or not we give our 100 %. Best of luck.
My prayers and your hard work are a sure shot combination to your success. All the best!
There will be no question in the exam that you will not know. You are smart and intelligent and you will do great. Good luck!
You do not need luck in your exam. You know everything! Never forget how smart you are and what you are capable of. All the best!
Finally the day that you had been preparing for is here! Give it your best shot. Best of luck.
You did what you had to and now let destiny take its course. Just be confident and do well. Best of luck.
Do not panic and stay calm.
Drink water and write on!
All the best!
Motivational messages for your Exam
May your efforts shine through your papers and may you pass with flying colors. All the best for your exam!
You can never truly bank on luck. But you can always bank on hard work, determination and focus. May you never lack these qualities. Best of luck.
Exams are nothing but small tests we must pass, to get on with our lives. You need not worry about them. Have faith in yourself and you will be successful towards the end. Good luck!
As long as you believe in yourself, no challenge is big enough for you. I am absolutely certain that you will pass your exam with flying colors. Good luck.
Take a deep breath, say a small prayer, think of all your hard work and start the exam. You will do great. All the best.
You have done your bit. Now relax, eat good food, sleep well and get up on time tomorrow. I assure you everything will be great. Best of luck.
Do your best and forget the rest. I am sure you will do your best and the rest as they say will follow. Best of luck!
Giving an exam is not just about what you have learnt from your syllabus. It is also about learning patience, calmness, courage and focus. Be focused and do well.
As long as you are positive, you can achieve anything and everything. Stay positive and do well in your exam.
Take this opportunity to show everyone around you what you are made of and what you can deliver. I wish you all the very best for your exam.
Funny Exam Wishes
May your relationship with exams be short and may you soon break up! All the best!
I hope you pass with flying colors, because you won't look good living on the streets. Best of luck for your exam.
Everyone says that luck plays no role in excelling in exams. But with the amount of hard work you have put in, I sincerely hope the luck fairy pays you a visit. Good luck!
May you ask for many complimentary sheets in your exam. All the best and do well.
Drink as much water as you can my friend. As soon as the exam is done, we are going out to party! Best of luck.
Be 'Nike' in the exam tomorrow and 'Just do it'. Wishing you all the best for your exam.
Stressed spelled backwards is dessert. Eat many desserts and don't worry about tomorrow. Everything will be great. Good luck!
Kick those exams in the butt! You have everything that it takes to succeed. Sending you lots of positive vibes for your exam.
I hope you do well tomorrow.
Well, you have no other option either.
All the best my friend!
Remember to be relaxed, complete all the questions and think outside the box. Or your mom will make you live outside the house. Best of luck!
Exam wishes for Friends
We are both in this boat together. Let us both do well tomorrow. I am confident and have full faith in you my friend. Do not worry and stay positive. Good luck!
Do not take unnecessary stress. In fact, enjoy these days as they may not come back again. Have fun and do well in your exams.
Do not stress or spoil your health
Have wonderful exams and let God take care of the rest.
Exams are horrible. I hope these days go away soon and we get back to our banter. All the best mate!
Learn well and write well. You and I both know that you are great and will shine through. Wishing you good luck for all your exams.
Don't let the exam fear scare you. Challenge it with your knowledge. You know you will do well and be the class topper!
The result is not in your hands. Studying hard and paying attention in the class is in your hands. You have done your bit now leave it up to fate. Good luck.
Everyone says you are a genius. It is time we put your knowledge to test, my friend. Do well in exams!
I know you are good in studies, still sending you some positive vibes and best wishes so you excel in all your exams.
Praying that you come out as a champion in all your exams. My best wishes are always with you! Good luck my friend!
Exam wishes for your boyfriend or girlfriend
My only advice to your darling, is to be diligent. If you believe in yourself, you can achieve anything. Good luck and lots of love!
I have always been proud of all your successes. I am sure you will make me proud yet again. All the best, sweetheart.
Keep calm my angel. This exam is nothing in front of your hard work and preparation. Sending you good luck and positive energy!
May you remember everything you studied and not falter at any question. May you also remember how much I love you and that I will be waiting for you outside. Best of luck!
I want to wish you the best, my love. I have seen you work hard. Success is bound to follow you wherever you go.
I love to watch you grow and outshine. You are made for great things in life and this exam is just a small hurdle you need to cross. All the very best, love!
I believe in your determination and resoluteness. You should too! Have a great time writing your exam. You will do great.
I will be praying for you while you give your exam. You have nothing to worry about. Just be relaxed and give it your best shot.
My dear angel, success is already yours, if you believe in yourself. Never lose hope and be confident in your knowledge. Best of luck.
Success is nothing but small repeated efforts every day. This exam is yet another effort in the broader scheme of things. All the best!
Exam wishes for Students from their Teachers
I have seen your struggles and triumphs. I know what you are capable of. Just believe in yourself and your battle is half won. All the best.
Wishing my most favorite student, all the very best for your exam. May you excel in every endeavor of yours.
As your teacher, I know you are made of steel and can overcome anything. This exam will be over in no time and you will pass it with flying colors. Best of luck!
I do not worry about your future at all as I have seen you work hard. Good luck for your exam tomorrow!
My advice to you is to be good and do well. Everything else will come to you itself. Best of luck and do well.
I see in you, an ability to change the world. Believe in yourself with the same confidence and nothing can stop you from making your dreams come true. All the best.
As a student your job is to learn. Never lose an opportunity to learn and never be bogged down by exams. Good luck!
Always remember that hard work is your best friend. As long as you work hard, you can never fail at anything. Best of luck for your exam.
Don't take these exams so seriously. If you succeed, it means you learnt your lessons well, if you fail, you have the opportunity to learn them again. Either way, knowledge always wins. Good luck!
Education is your ticket to a happy future and exams are an inevitable part and parcel of life. Best of luck!
Exam Wishes Quotes with Images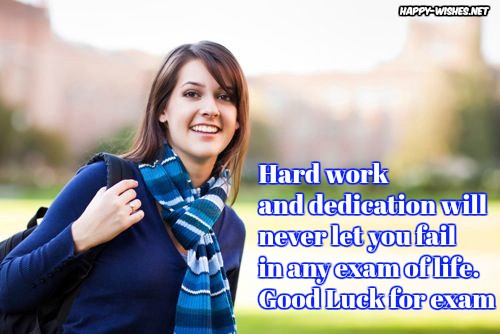 Hard work and dedication will
never let you fail in any exam in life.
Good Luck
Don't worry about your exam,
you have vanished all the worries
by studying hard in the year.
Good Luck For Exam
It's not about getting grades,
it is always about what you have learned.
Good Luck For Exams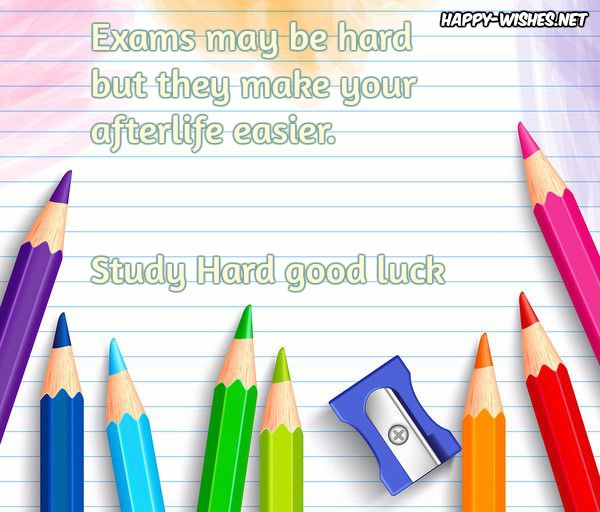 Exams may be hard
but they make your afterlife easier
Study Hard good luck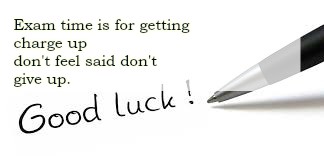 Exam time is for getting charge up
don't feel said don't give up.
Work hard in your exams
and make us proud
Good Luck.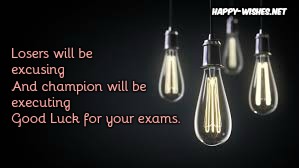 Losers will be excusing
And champion will be executing
Good Luck with your exams.
More you will study hard now,
more you will be relaxed in exams.
Just give a finishing touch to
your one-year hard work
Good Luck For exams.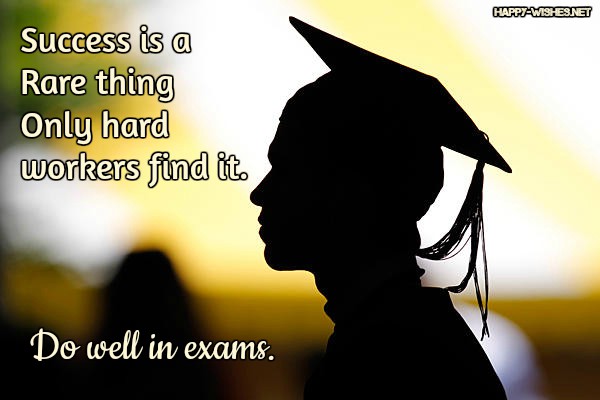 Success is a Rare thing
Only hard workers find it.
Do well in exams.
May you will succeed in the exams.
Well, an incomplete preparation
can not give you hundred percent results.
Don't hate your teacher when he says something to you.
You will love them when you will meet bosses.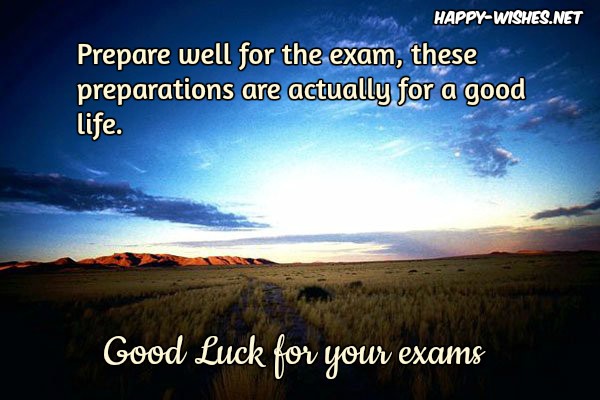 Prepare well for the exam
these preparations are actually for a good life.
If you want to live a steady life
Then focus on your studies.
We hope you guys liked all these exam wishes quotes with images. These inspirational quotes will give them a positive energy before the exams.  So it is a time to earn respect and play the role of an experienced elder friend or relative.