Music is a soul stimulator. Music makes this world a better place. No matter the emotion you are experiencing, music can make you feel better instantly. In fact, for any thought that crosses your mind, there is a song somewhere in the world that you will be able to connect to.
This is the power of music. Whether it is singing, listening, or playing an instrument, music can uplift anyone, anywhere, anytime! It doesn't just entertain, but it inspires. Music is the poetry that is lacking in the world today. Every word, every tune and every note conveys so much more than the obvious.
If you are connected to music somehow, if you sing, write, play an instrument, or only prefer listening to it, you will relate to these inspirational music quotes. No matter what you are going through or where you are, plug in some music and start reading, for you are going to be supremely inspired by the power of music!
Inspirational Music Quotes and Sayings
Music is the soul and wings of the world without which it cannot fly!
The only language of love in today's world is the language of music. It can transcend boundaries and break barriers.
Out of all the different languages spoken, written and learnt all over the globe, music is everyone's favorite.
Let yourself find inspiration in the beauty of music and take refuge in it when you think the world is shutting you out!
No thought can be as beautifully conveyed as in a song.
Regardless of what you speak, wear, eat or read, as long as we have music in our soul, we all remain peas of the same pod!
Music is higher than philosophy and wisdom. It transcends even without logic and literature!
Music can create, inspire and drive us into a positive direction. It is a vent that we all need, to escape from our realities every now and then.
For anyone tired and exhausted with their lives, my only suggestion is to open yourself to music and see the beauty you are missing out on.
Your soul is empty if it has not known music yet.
Close your eyes and empty your mind. You will find your rhythm and music.
The world is full of rhythm, all you have to do is listen to its music!
You will never be as inspired, as when you are, listening to your favorite musician play your favorite song that speaks right to your soul.
Find the solace in music that you lack in your mind and the lost inspiration will return.
Music is all around us. It can be found in the ruffling of tree leaves, splashing of waves and gush of wind. All you have to do is listen.
For God couldn't be with every one of us all the time, he gave us the gift of music.
Music by far is the best tool to unite us all and remind us that we are all children of the same creator.
Music can turn your ordinary reality into a piece of heaven.
The most beautiful and inspirational sound in the world is the sweet melody of a mother singing to her child.
Humans cannot fly but they can surely sing and let their spirits fly instead.
For every feather that you lose in your hustle, music gives you a new one!
If you have music in your soul, you have magic in your life!
Words and emotions may fail you, but music will never give up on you. For all the pain you have, let music heal you.
Music is the fairy dust that can transform your mundane, ordinary life into a magical episode of happiness.
Poetry and music can together save us all from all the negativities of the world.
Never stop believing in the power of music. It has and will always continue to transform lives and evolve minds.
For every doubt you have in your mind, a simple note can steer you towards victory and triumph.
Music can turn the coldest, dullest winter into the most beautiful sunny spring!
A man with a voice and guitar, can change the course of time.
Who can survive without a little music and rhythm in their life? A soul devoid of melody would never achieve solace.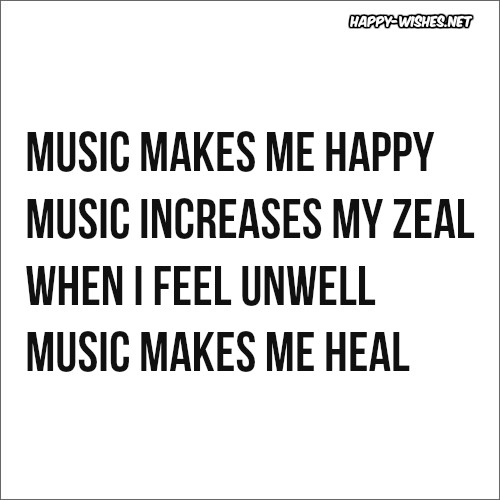 Music makes me happy
music increases my zeal
when I feel unwell
Music makes me heal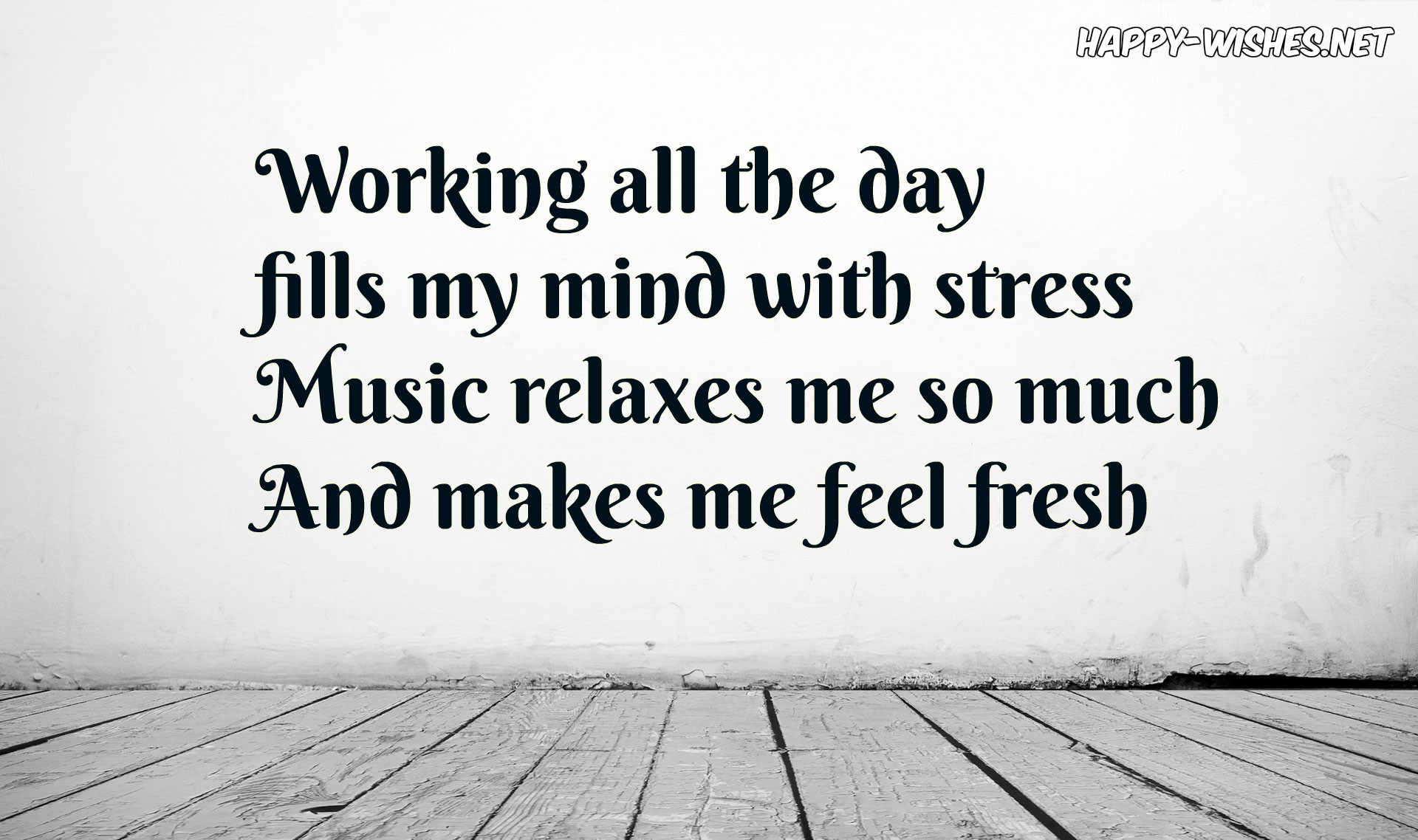 Working all day fills my mind with stress
Music relaxes me so much and makes me feel fresh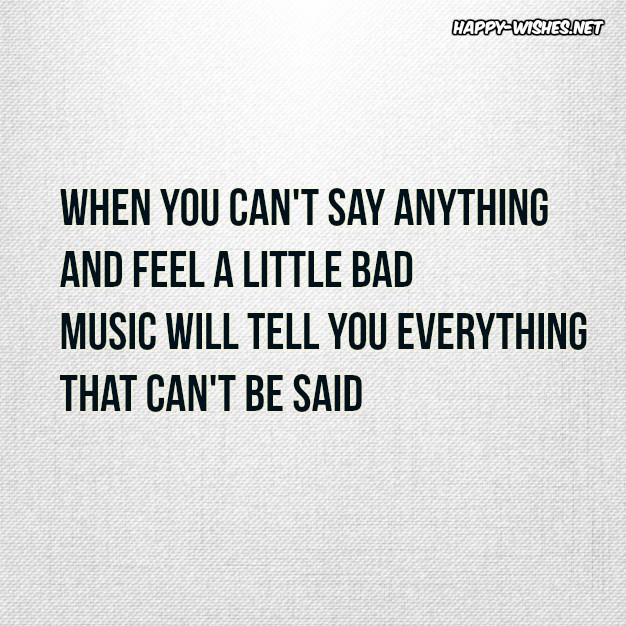 When you can't say anything
and feel a little bad
music will tell you everything
that can't be said
When the mood is disturbed
And the mind is stuck
My heart says one thing
Let the earphone plugged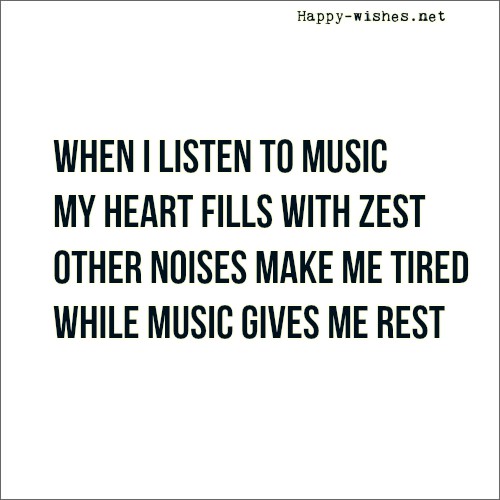 When I listen to music
My Heart fills with a zest
Other noises make me tired
while Music gives me rest
if you like music then you will definitely like all these music quotes. These quotes tell the importance of music in our life. life looks so boring without music. Music relaxes our mind. When your mind gets stuck in some kind of thinking that you want to avoid, then music helps you to forget that thing. Enjoy all the quotes.