A relationship is one of the prime facets of life. It makes our life smooth, easy, and loving. Having a person with you is relieving to a greater extent because you have someone in your life with whom you can share your deepest darkest secrets, talk it out, care, and love endlessly. It makes your life a better place to live. However, managing a relationship is just another story. It takes efforts and perseverance. Every relationship goes through ups and downs. The quality of the bond is tested in the downs. So, when your relationship is on the darker side, revive it with your partner by sending them quotes about a relationship. Remind them how much you love them and things will start falling into places. Here are some of the quotes you can share with them:
Best Quotes About Relationship
They say we are most alive when we are love and I can completely vouch for it by my own experience. Thanks for coming in my life and showing me what living feels like.
Love is composed of two different beings inhabiting one single soul.
The best thing about life is holding on to your person no matter what tears you apart.
You know you are in love when you do the things you never thought you ever would.
You know that it is love when the happiness of other person matters more than you.
The best feeling in the world is having someone by your side. Thanks for being my someone.
Love is the best cure for any problem in this world.
I know it is love because I cannot wait to spend rest of my life with you.
Life is all about giving and there is no feeling greater than love because the basic concept of love is about giving.
True love is not hide and seek. It is seeking the same person over and over.
Love finds you when you are not prepared and the best love stories happen when you are least aware.
The most important thing in life is to give love and get love in return.
The quality of our life depends on the person we are with and I am blessed to have someone like you in my life.
You know its love when the reality is equivalent to your dreams.
You know the love is worth fighting for when you cannot go a single day without that person.
Love makes you feel bliss. It carves out the best person within.
You do your best when you are in love. Love strengthens your soul.
At the touch of love, everyone becomes less like them and more like the person they love. And that's the magic of love.
Love is about trying harder. It is never giving up on the person.
Love is madness. It makes you go crazy. Lucky are those who get to experience the insanity love offers.
A relationship is built on understanding and love. Nothing can tear apart those who have deep roots.
Sometimes setbacks are important to realize how much you mean to each other.
Love alone can do the magic. All you have to do is trust.
Love is all about taking a leap of faith and accepting whatever you get.
Love is not about sleepless nights and crying. It is about laughing till our stomach hurts and sleeping soundly because you know someone is there to take care of you and your needs.
A relationship is all about falling in love with the same person over and over.
Love is a game of two people where both of them win.
With love, everything is possible.
Love makes your life worthwhile.
Love is about finding home in another person.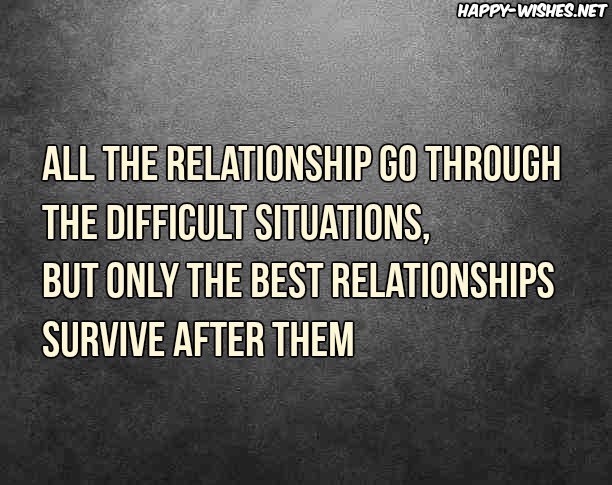 All the relationship go through
difficult situations,
But only best relationships
survive after them.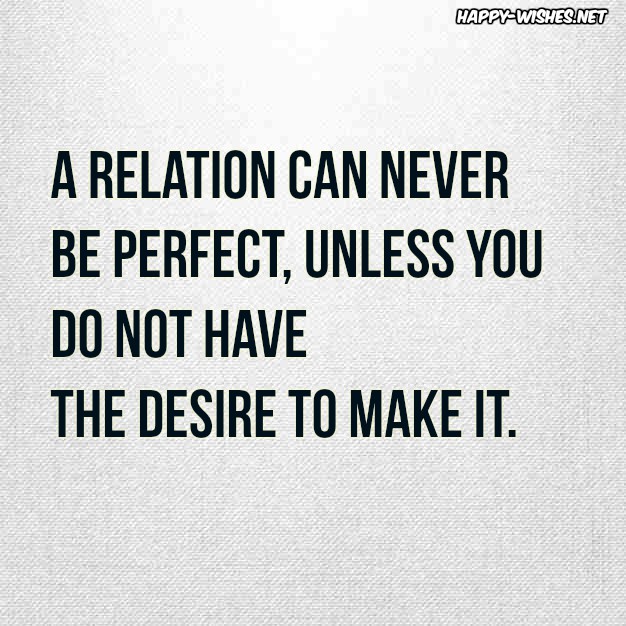 A relation can never
be perfect, unless the people
do not have the desire to make it.
These relationship quotes cover all emotions that a personal experience from good or bad relationships. You may like these deep and thoughtful quotes on success and failure, depression.