Women's Equality Day is celebrated each year on August 26. This day is a very important day in the history of the world. It is on this day that women were given the right to vote. Since then this day has been celebrated every year to commemorate women empowerment and equality.
Women's are the heart of the society. The world off late is seeing a shift towards equality. Today, people are more conscious and accommodative of genders around them. Though the main aim behind the ideology of feminism is to celebrate equality, but it is still important to celebrate special days for women, because of it the feminine characteristics, that our society is normally ashamed of.
This Women's Equality Day, make an effort to acknowledge the women around you and the men who support them. Whether you are a man or a woman, you must appreciate the women in your life. Let your mother, sister, grandmother, wife, friend, girlfriend, colleague, and neighbor, know that they are valued.
Here are some quotes to inspire you and the women around you to always keep striving for the best and to never settle for anything less than what you truly deserve!
Women's equality day quotes
The only way forward is to break the stereotypes of today! Never shy away from dreaming beyond the ordinary.
For the world to progress, we need to move forward together. Always empower and acknowledge the ones around you!
Lucky are the people, who are blessed with a feminine presence in their lives!
The most difficult job in the world is that of a woman. You have to constantly prove your worth in every sphere and dimension. Warm wishes to you on this special day!
A woman can be anything she wants as long as she decides to never fear anyone. Cheers to all the strong women out there.
Extending my warm and heartfelt wishes on this special day! It is because of women like you that this world is able to flourish!
Start this special Women's Equality day with a promise to never undermine a woman and treat everyone alike!
We should all learn to treat the women around us with dignity, respect, and gratitude. A happy Women's Equality day to you all!
On this Women's Equality Day, let us thank the many faceless, loud voices from the past who fought for our rights and gave us the life we have today!
Let us celebrate the women in our lives who hustle and the men in their lives who support them unabashedly. Happy Women's Equality Day!
Let us all learn how to throw like a girl and take pride in it! Happy Women's Equality Day!
The important thing to follow is not to compete in a battle of genders but to achieve equilibrium. Happy Women's Equality Day!
To all the women who have struggled or are still struggling in their lives, we are all with you! Happy Women's Equality Day!
Don't ever let anyone tell you that you don't matter!
You matter. Your opinion matters!
Happy Women's Equality day to you and every opinionated woman out there!
A nation can only progress if it acknowledges and identifies the rights of its women.
It is amateurish and foolish to believe that this world can function better without the involvement of women. Let us all continue the fight for equality. Happy Women's Equality Day!
This Women's Equality day, take a pledge that no matter who you are, or what you do, you will never forget to practice equality in your life. It is only with equality that both men and women can flourish together!
Happy Women's Equality Day! The fight is not over yet. We all have miles to go before we sleep.
This Women's Equality day, learn to not just focus on your development, but to help anyone around you who is fighting for their recognition in the world. Let us empower the people around us!
Happy Women's Equality Day! Never forget the importance of this day and never let go off your right to vote. Make your voice counts always and every time!
If you limit the women
Then you are not a human.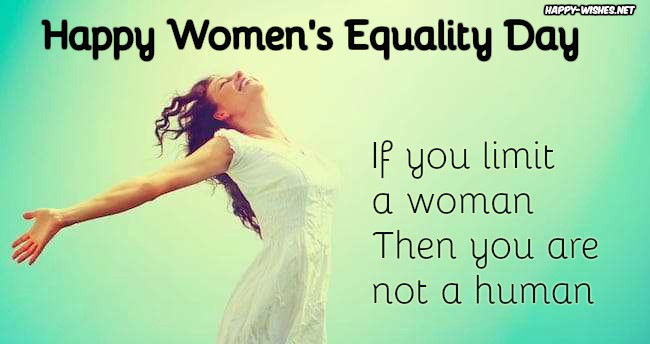 Listen to her voice
Respect with her choice.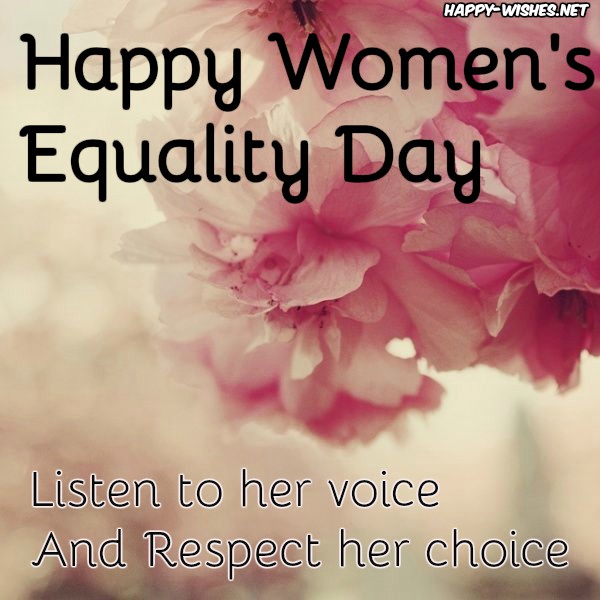 We can get what we want,
we don't need anybody's grant.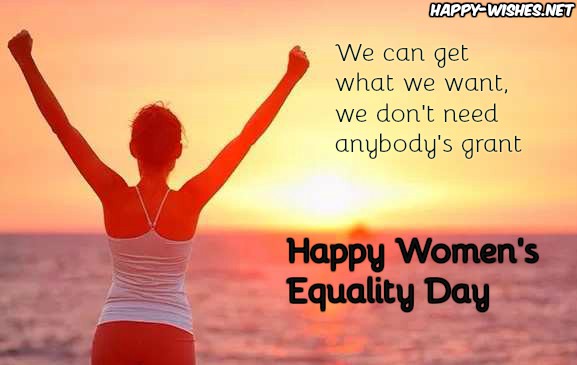 If you can fly up to the sky
I can go even high
Happy Women's Equality Day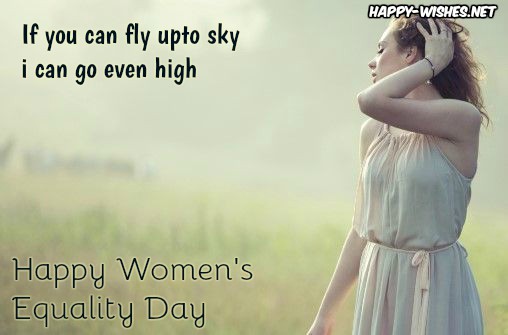 We have written all the beautiful quotes for the beautiful women of the society. The World cannot be so beautiful without the women. These are respectful quotes for women.