It is the birthday of your daughter and as a mother you must not take this occasion lightly. You must make this day memorable for your dear daughter and you must treat your daughter with gifts and her favorite eatables. Moreover, if you want to surprise your daughter with extra birthday treat then you can write a beautiful message in a greeting card and tell her how much she means to you. So, when you intend to write a beautiful message, you must use our wonderful collection of beautiful birthday messages which you can write or get ideas to create your own birthday messages.
Our birthday quotes will inspire you to create birthday messages for a perfect birthday card for your daughter. Giving a gift is not important but the value of your gift for your daughter will increase if it is enclosed with beautiful and heart touching birthday wish in a greetings card.  Our birthday wishes for daughter from Mom are created in perfect words which are the Mom's expression of love towards their daughter.
Birthday Wishes For Daughter From Mom
Here are some of the beautiful quotes and messages for a perfect birthday wish for daughter wished by her Mom. These are:
Happy Birthday to my beautiful girl! On this day 15 years back I was the first one to hold you in my arms. Till then I always remember that moment on your every birthday. I love you so much!
You are the angel of my life and my life-time treasure. I am the happiest person in the whole world to have a daughter like you.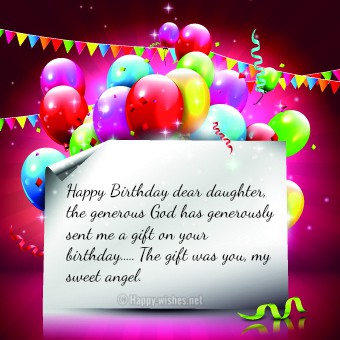 I have prayed to god that my dear daughter to be blessed with a healthy and wealthy life because it is her birthday.
On your birthday, my only wish for my dear daughter is that she may get a beautiful career, 6 digit salary, a beautiful sporty car, a duplex apartment, a loving husband, two beautiful kids and other endless list of the things she deserves.
My love, you are the most extraordinary girl, so you deserve to get the most extraordinary birthday treat and a birthday gift.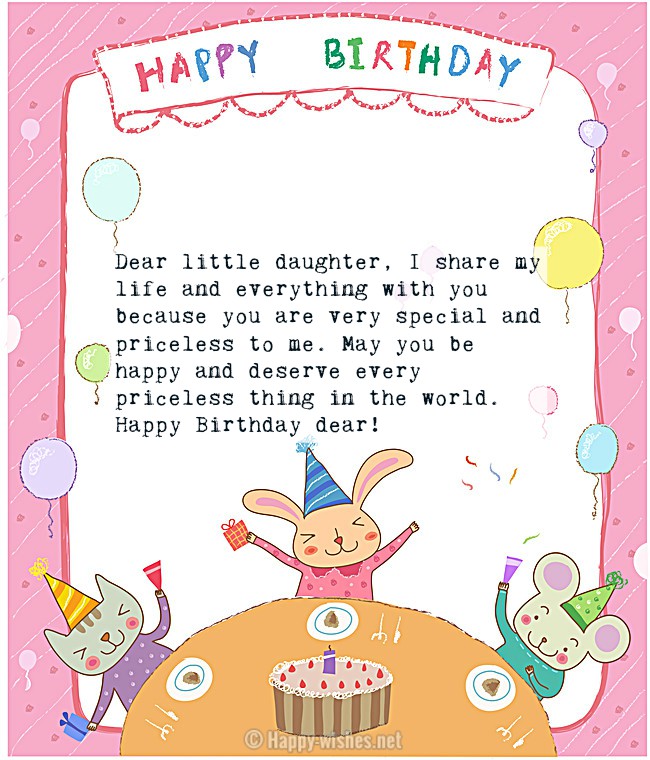 Happy Birthday dear daughter, the generous God has generously sent me a gift on your birthday….. The gift was you, my sweet angel.
Dear little daughter, I share my life and everything with you because you are very special and priceless to me. May you be happy and deserve every priceless thing in the world. Happy Birthday dear!
"My Princess, from the core of my heart I am sending you birthday wishes. I want to make you understand that you are the source of my happiness. My happiness will be increased to double if you be a successful lady when you grow up. Happy Birthday dear!
Today is the beginning of your new life, you are growing up and becoming more mature. Just be humble and always learn to love and respect others. I am always with my daughter. Happy Birthday my Princess!
My sweet little bud, I wish you the best birthday ever in your life. You are such an amazing girl and I love you
My daughter, you are so good that you look like a carbon copy of me and your dad. Love you sweetheart and best wishes for birthday to you.
Happy Birthday dear daughter! Today is the day where you can do whatever you like without any ban. You are free to go for shopping, movie or party. Enjoy every moment and treat yourself with a best birthday treat.
My princess, do you know that you are the most beautiful and obedient daughter in the world? Do you know that your Mom's special moment is to see you grow up? I am delighted to have a daughter like you who blooms and fragrance my life like a rose. Happy Birthday dear daughter.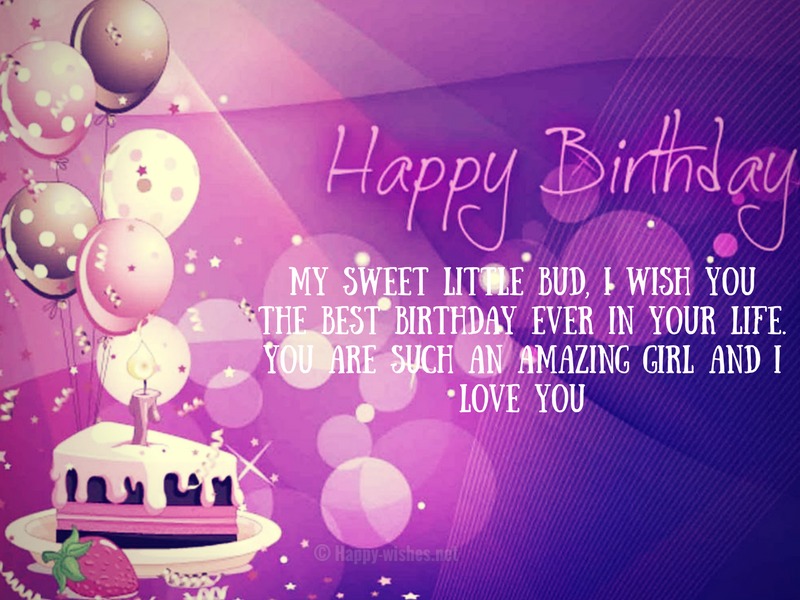 My dear angel, our distance does not matters. Still no one can stop me to wish you a Happy Birthday. I want you to know that I will be always there for you. Happy Birthday my child.
Dear daughter, for the sake of you I can leave every luxury and wealth in the world since you are the only wealth I have. Happy Birthday dear daughter.
So, here are some of the best quotes and birthday wishes for your daughter which is quite perfect to make her day. When you will send her these quotes and messages she will be very happy. You must carefully select the messages to wish your daughter a blasting happy birthday.