A good teacher is hard to find who gives you good education and builds up your personality. If you have an ideal teacher who gives you a lot of time and toils hard to teach you good manners and good things in the life should deserve your utmost respect and love. But if that teacher is about to leave you I mid-way due to some reasons, then you must make sure that you give your teacher a nice farewell. You can show you love towards your teacher and tell them how you miss your dear teacher who has taught so many things. So, we have good collection parting messages and farewell quotes so that you can wish your teacher on his/her farewell day.
It is the last day at the school or any other educational institutions for your dear teacher. So, you can use our quotes to send a heart touching goodbye note, farewell quotes and messages on a card to show them how you and the rest of the classmates will dearly miss your teacher.
Farewell Quotes For Teacher
Here are some of the best heart touching farewell quotes for your teacher which you can convey to him or her on their farewell day. Some of the quotes are as follows:
Learning under your guidance will never be the same without you. I hope that your new school will be is full of fun and smart students as usual. Farewell and thank you for being my best teacher ever!
You taught me never to stop dreaming, and never give up hopes. I promise to keep this in my mind.  A tearful good bye to you my dear teacher. Miss you and your mind blowing lectures.
Though technology has made new educational devices to help the students to learn easier. But nothing can come near to the capability of your inspirational teachings.
We are down to hear about your leaving this school. But the positive side is that there will be more students who will get the chance to hear your comforting words and valuable teachings. We are proud to be your students. Good bye!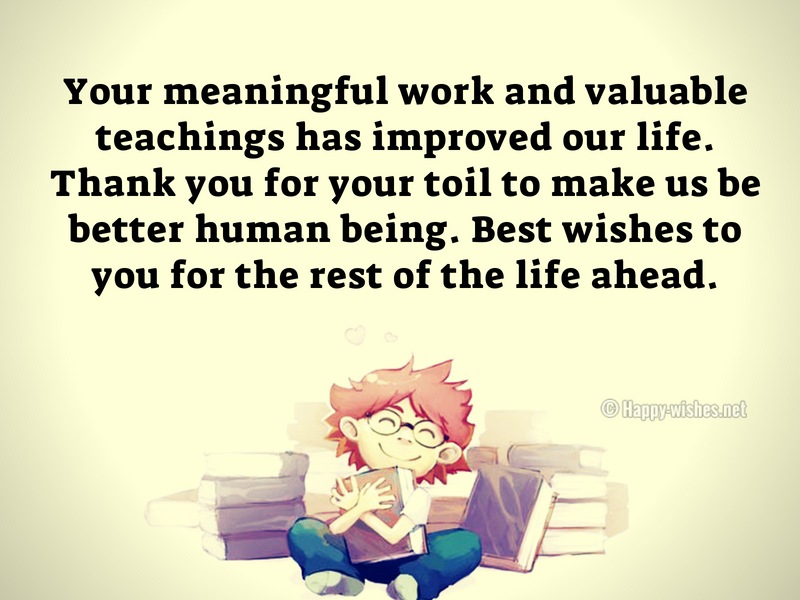 Your meaningful work and valuable teachings has improved our life. Thank you for your toil to make us be better human being. Best wishes to you for the rest of the life ahead.
You are the source of our successful good marks in the exams. I would like to give you a salutation for being the best teacher, farewell to you Sir.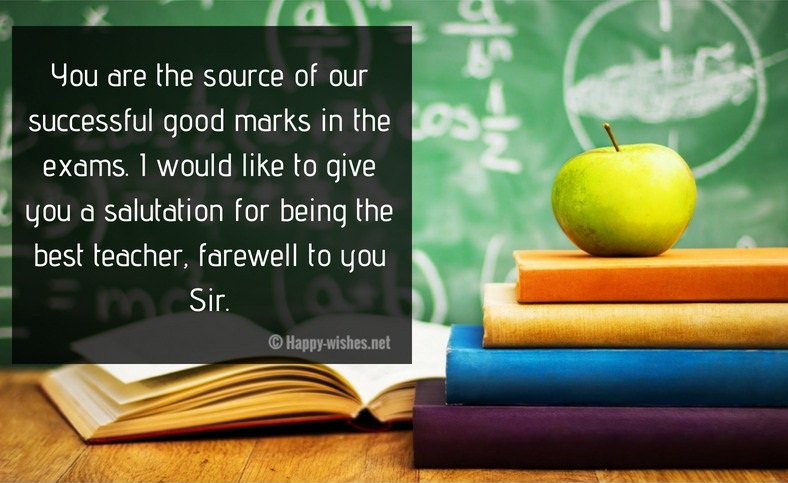 Long vote of thanks is useless for me, I just want to say that no one has the match against you. You are simply the best teacher for life. I will miss you sir so much.
Astronauts, musicians, engineers, doctors, lawyers and all the other successful professions have one thing in common –  the guidance of a good teacher who gave its students hope to follow their dreams. Farewell, to you my dear teacher.
I know that you will be successful in your life ahead. But one thing is that you will be missed dearly. Best of luck to you!
Thank you for teaching me the good manners, valuable information and facts of the world.  Thank you for making me what I am. Goodbye, farewell to you!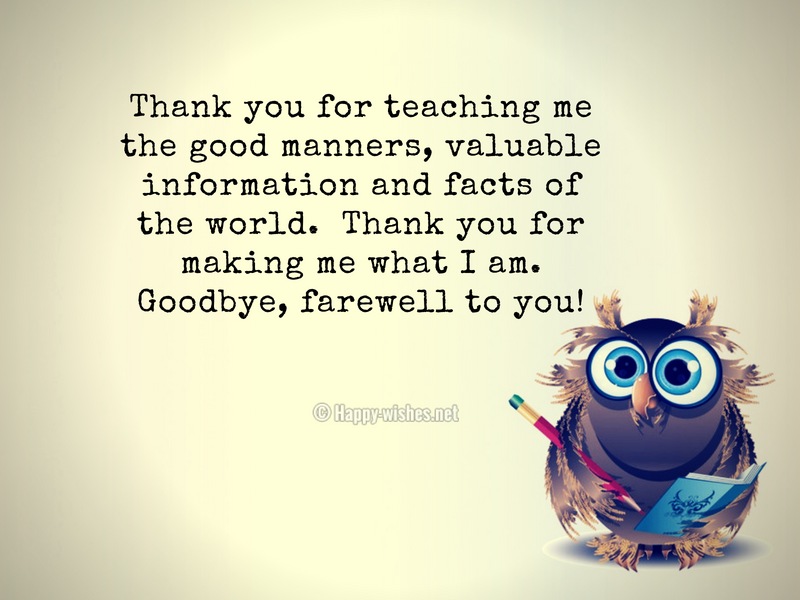 You have improved my flaws and mistakes; you supported me with your kind words full of confidence and care. I wish you all the best my dear teacher whom I learnt a lot! You are certainly an ideal teacher. You will be missed forever, farewell to you.
Teachers come and go but their memories and teachings are really hard to forget. But only the best loved teachers are remembered always.  Sad farewell to you Madam.
Teachers are the ultimate inspiration for the rest of the journey of a student's life. It is an important role played in shaping for a student bright future. Thank you for being my teacher and guiding and shaping my life. Farewell to you.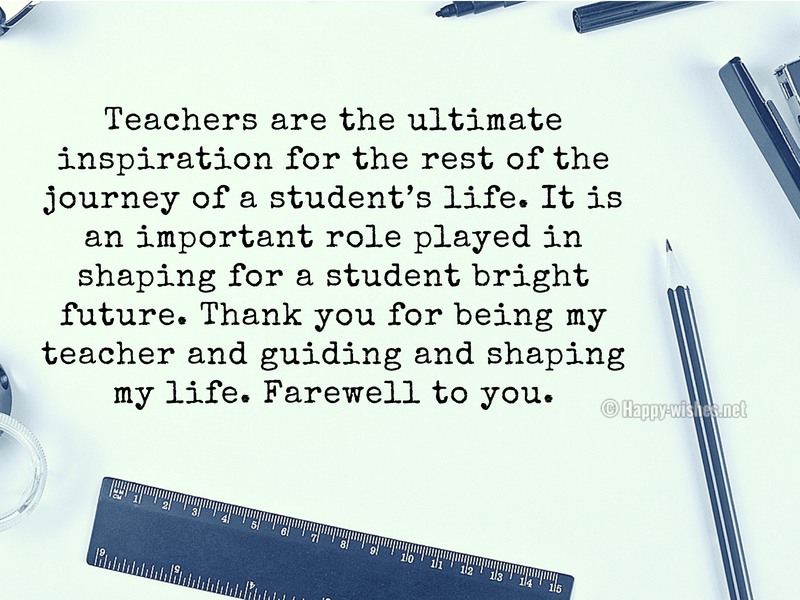 I've prayed the almighty to help you gain success in life.  So, I'm wishing you good luck and a tearful farewell.
Thank you for the loving ways of teaching us, educating us and empowering us. Farewell and love you.
Words are hard to speak especially on your last day at school and with us. I just want to say that you were the best. Goodbye.
Loads of prayers, good thoughts, and a little luck toward your life ahead.  I wish the best for you and great success for you.
The future of the world lies in the hands of determined teachers like you… because that is the ultimate source. Thank you for being with us and guiding us. Your teachings will always be remembered.
You have inspired me to search pursuit of greatness and success. Goodbye and good luck on your future ahead.
Schools, colleges and universities achieve greatness and good reputation from the teachings of an outstanding teacher like you. Thank you, my teacher and farewell to you.