A girl is always a daddy's little princess irrespective of her age. When the birthday of a daddy's daughter arrives, he is very much excited to send his princess a birthday wish to wish on her birthday. When you send a birthday wish to your daughter then it is the most unique way to wish her since you have expressed your feelings from your heart in form of the unique birthday wishes and quotes. You can send your little girl happy birthday wishes using our wide collection of birthday wishes for daughter from Dad.
You can use the messages and quotes from our website to even create your own birthday message just by taking ideas from it. You send the wishes and quotes to your daughter in form of text messages, e-mail, write in a greetings card, or you can post it in the social media websites. Here are some of the birthday wishes and quotes which you can send to your daughter on her birthday. Some of the quotes are:
Birthday Wishes for Daughter from Dad
On this day, the sun shines even brighter. The cool wind blows even cooler. The stars are ready to come out and light up the night sky. The sun and the wind has given their blessings to my daughter on her birthday. The stars are yet to give their blessings. All of them are excited to celebrate my daughter's birthday. But to me every day is my daughter's birthday. Happy Birthday to you dear.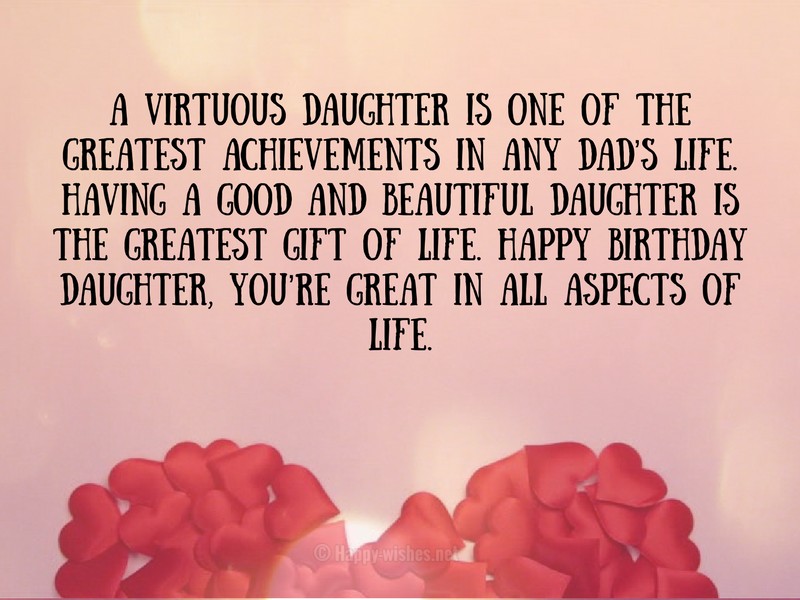 A virtuous daughter is one of the greatest achievements in any Dad's life. Having a good and beautiful daughter is the greatest gift of life. Happy Birthday daughter, you're great in all aspects of life.
My darling little princess, today you turn a year older and today I add one more year of loving you. Love you always and always be your daddy's little girl.
You came to my life as light of hope when my world was filled with darkness. The smile on your face makes me happy and diminishes all my worries and tiredness. You are my good luck and pillar of strength. You are my daughter and my lifeline. Happy Birthday to you, Daddy loves you the most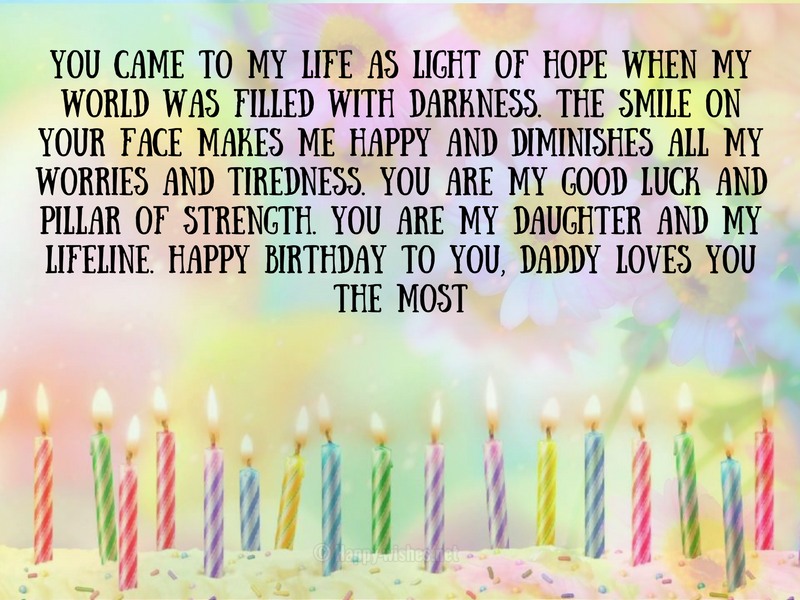 My beautiful daughter turn a new age today and has turned a new phase of life. All as a father I can do is to pray to God to make my daughter happy. Happy Birthday dear.
See Also: Birthday Wishes for Baby Girl
Today is the day when you were just a baby to come in our world. Now that you are growing fast from a toddler to nice young woman. Stay blessed and love you always. Just have a rocking birthday.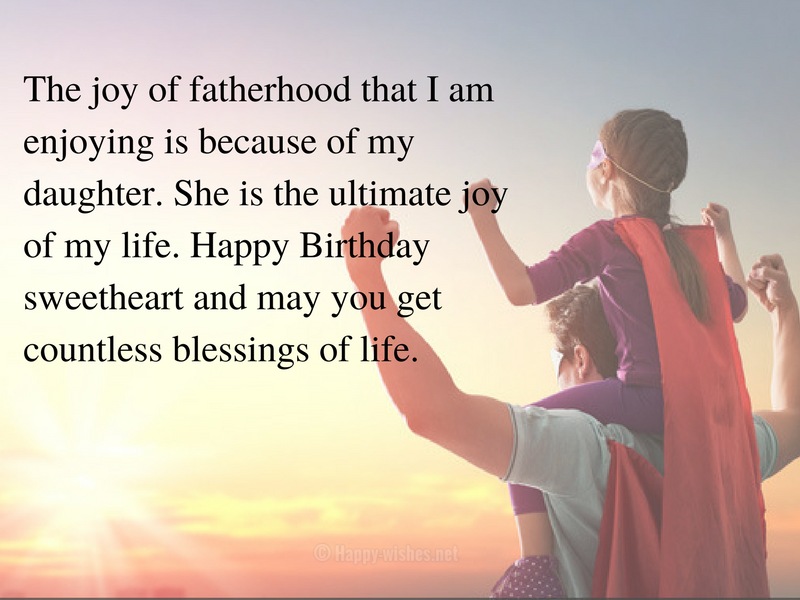 The joy of fatherhood that I am enjoying is because of my daughter. She is the ultimate joy of my life. Happy Birthday sweetheart and may you get countless blessings of life.
Hurray! Another year is added to the age of my little girl. You're 31 today and I'm sure you'll achieve all the good things in your life.  Have a great birthday celebration today my daughter.
Each time of the day and night there is only one person in my mind. That is you my darling daughter. You are daddy's life, have a hearty birthday!
I love your smile and everything that defines you my dear daughter. I hope this birthday will give you best of everything in your life. Heartiest birthday wishes to you from your Papa.
Having you in my life is a blessing from God. Seeing your smile makes me happy. And celebrating your birthday in a unique way is my dream which I make it true every year.  Happy Birthday daughter.
I want to take you to the sky. If it's not possible, then I should buy you an airplane. My love for you is never ending my daughter. Happy Birthday dear.
I love you dearly and your birthday is the best thing in my life! I am just your dad but you mean the whole world to me. Happy Birthday my darling daughter!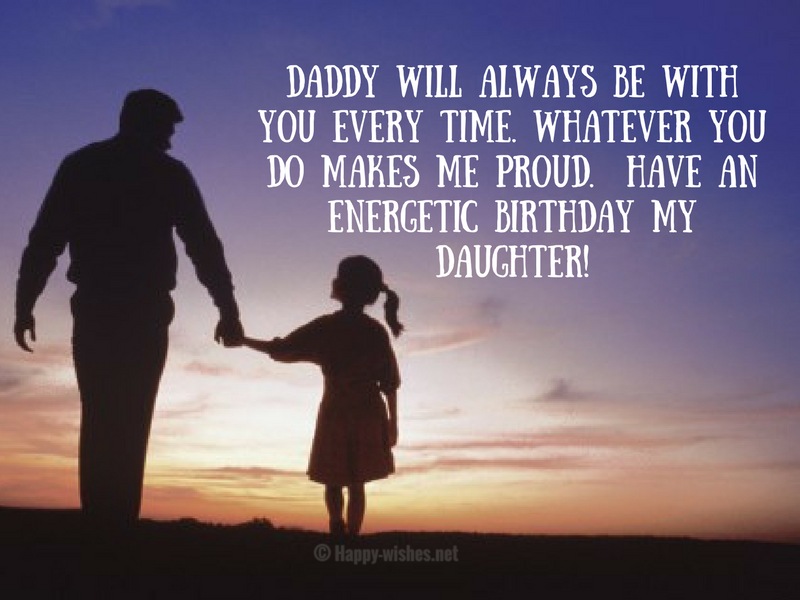 Daddy will always be with you every time. Whatever you do makes me proud.  Have an energetic birthday my daughter!
Dad will give you a best kiss today because it is your birthday. Your dad will buy you the gift because it is your birthday. Your Dad will give you the best birthday party because this is the day you were born. Happy Birthday. I love you so much my daughter.