Mornings are a new beginning. Every morning we get a chance to be better than yesterday. We get a chance to outperform ourselves and make our life a better place to live. Most of the eminent and successful people follow one simple mantra of waking up early and beginning their work in the wee hours of the day. It is one of the simplest ways to succeed in life. However, it is not as simple as it seems. It requires discipline and dedication from the person but with continuous habit, it can become a part of your life. We usually send good morning messages to our closed ones but how about sending them some positivity to begin the day? It will not only motivate but also create a positive beginning to their day. Here are some of the good morning positive quotes you can send to your people:
Good Morning Positive Quotes Wishes
The day has begun and the 24 hours of the day are waiting to be created. Choose your time wisely and turn your impossibilities into possibilities. Good morning. Have a great day ahead!
Wake up early. Go for a walk. Drink plenty of water. Observe the nature. Listen to the chirping of birds and feel the peace within you expand. Life is not about stressing yourself out. It is about finding happiness from little things even in the hard times. Good morning. Have a good day!
Belief is the first step of success. Believe you can do it and you will already be half way there. Good morning. Have a nice day!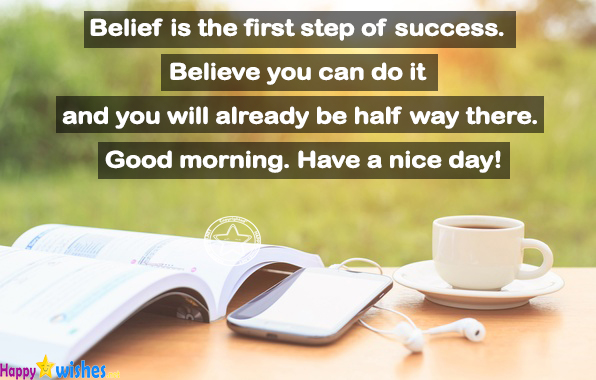 Self-doubt is the most venomous gift you can give to yourself. The only way to succeed in life is to get rid of the self doubt entirely. Begin to see the silver lining in every situation and work hard. Good morning. Have a good day!
Do not wait for the "right time" instead make the time "right". Clear your perceptions and get rid of the unnecessary clutter in your mind. Good morning. Have a great day ahead!
We all get equal amount of time everyday but the quality of our life is determined by the choices we make in these 24 hours. Believe in the importance of time and do not waste it on unnecessary people and situation. Your time is precious than any hardship in the world. Good morning. Have a nice day!
Keep going forward and do not look back. Looking back is only for the weak. Revel in the process of moving forward and letting go. It is the only way to success and happiness. Good morning. Have a nice day!
The future depends not on the past but on the present. Work on your present and eventually your future will be created. Believe in yourself. Good morning. Have a good day!
Dream big and work your best to make your dream come true. Do not stop dreaming even in the hardest of times. Keep dreaming high and push yourself towards them each day. Good morning. Have a nice day!
Life is going to be tough. There are going to be hardships and failures but what matters is your perception towards them. You can either choose to lament or get up and do something about it. Do not give up. Good morning. Have a nice day!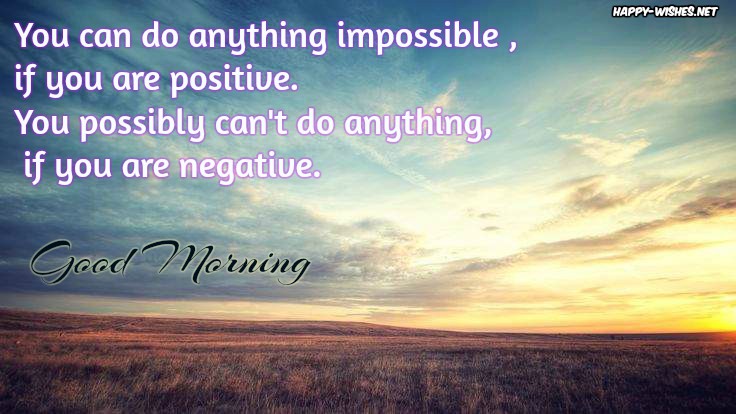 You can do anything impossible ,if you are positive.
You possibly can't do anything, if you are negative.
Good Morning.
If you want natural energy booster,
then start thinking Positively
Good Morning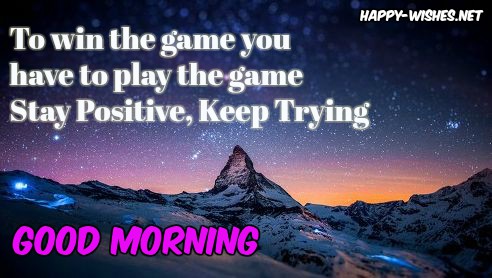 To win the game you
have to play the game
Stay positive,Keep trying
Good Morning.
Chances are few
and hence champions are few
Don't let go your chance.
Good Morning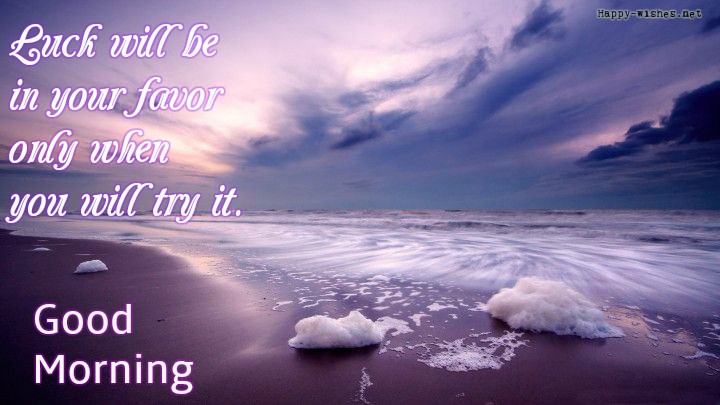 Luck will be in your favor
only when you will try it.
Good Morning.
If you want people to trust you.
then first Trust yourself
Good Morning
Don't stop your efforts in the middle.
Just think you are only half way far.
Good Morning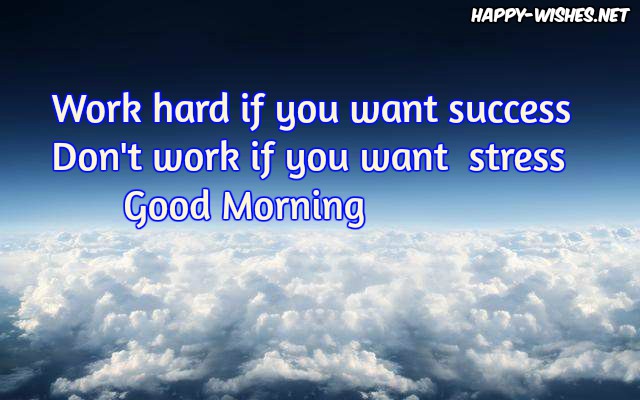 Work hard if you want success,
Don't work if you want stress
Good Morning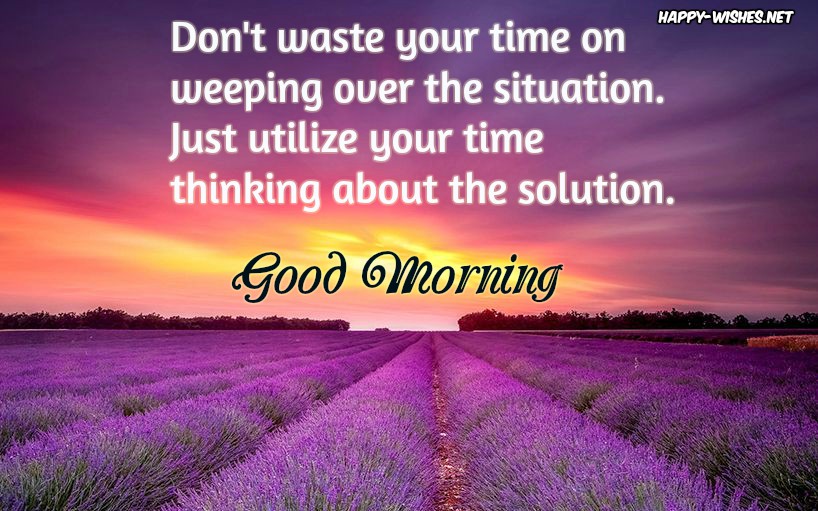 Don't waste your time on weeping over the situation.
Just utilize your time thinking about the solution.
Good Morning
If you fail then don't blame,
Retry , get success and enjoy the fame.
Good Morning.

Start where you are. Start from somewhere. The change can be made by merely focussing on one thing at a time and sometimes the biggest thing to do is to start. Good morning and give a fresh start to your day!
Look into the mirror and promise yourself a life you always dreamed of. Make yourself a priority and start working on your dreams. Compliment yourself. Pick yourself up but never give up. Be your own accomplice. Good morning. Have a nice day!
Nothing in the world can break you if your determination is bigger than the failure. Do not stop and keep going. Good morning. Have a nice day!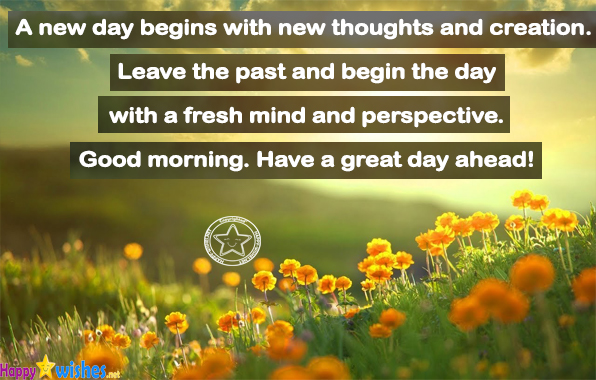 A new day begins with new thoughts and creation. Leave the past and begin the day with a fresh mind and perspective. Good morning. Have a great day ahead!
Only you have the power to make a change in your life. No one can do it for you. People can teach you to walk but cannot walk it for you. Think wisely and bring the change you always dreamed of. Good morning. Have a beautiful day!
We hope you guys liked all these positive good morning quotes. These are best quotes that you can share with everyone to spread some positive vibes in the morning. These positive quotes are just the energy booster. You may also like our other article on success, failure, depression, and exam wishes.